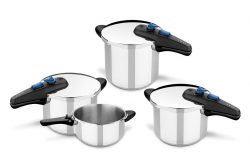 If you are thinking of buying an express pot, pay attention because this is one of the star models in the Spanish market. The Monix firm, which has been in the homes of our country for more than 60 years, presents this Monix Veloce as one of the most balanced super-fast pots on the market.
As we have said, there are Quick pots and Super Quick pots. The former reach a pressure of about 80 kPa, while the super fast ones can reach 100 kPa in two adjustable rings. Well, this Monix Veloce is one of the second, super fast ones.
As we have talked about on the blog, cooking with a pressure cooker like the Veloce de Monix are all advantages. You save money, you save time and the dishes you prepare will conserve their nutrients much better. The only downside? That express pots have a higher price than conventional pots. Fortunately, more and more manufacturers are competing and prices are dropping.
MATERIALS
For the construction of this Monix Express Veloce Pot, the Spanish firm uses super resistant 18/10 stainless steel. This material, apart from being almost indestructible, has a great advantage. It is absolutely harmless, in the sense that no substance or metal will transfer to food.
Stainless steel is also used for surgical purposes precisely because it is one of the most stable materials. And as for its resistance, it is extreme. It will not scratch even if you use metal utensils directly on the surface of the pot.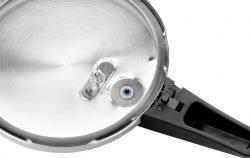 The Monix Veloce model, like all pressure cookers, does not have a non-stick surface made of Teflon or other chemicals. Its non-stickness is given by stainless steel itself, but remember that this material can reach very high temperatures. If you put the heat on high and with very little oil and no other liquid, of course it will stick.
If, on the other hand, you control the temperature well, stainless steel will provide you with an outstanding non-stick. We start by poaching onion almost all the recipes with an express pot and it has never stuck to us;)
As for washing, it is very simple. The body can be put in the dishwasher without problem. However, we recommend washing the lid and handle by hand to avoid damaging the internal mechanisms and valves. Anyway, the lid and the handle is not something to get dirty. They will have to be washed with a little water to remove the remains of steam and condensation, and that's it. Washing this Monix Veloce pot is really easy.
And finally, as for its compatibility with induction cookers, no problem! They are absolutely compatible with all types of kitchens. You can use it in gas, glass-ceramic, induction or electric cookers.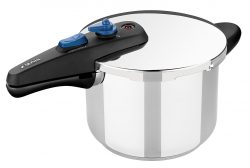 SUPER QUICK COOKER WITH TWO PRESSURES
One of the advantages of high-end pots like this Monix Veloce is that they have two rings that allow you to regulate the internal pressure. And this is what differentiates speed cookers from super speed cookers.
Quick Cookers usually reach an internal pressure of between 60-80 kPa. However, Super Fast pots such as the Veloce de Monix, have two rings. When you put it on the fire and it reaches the first ring, the Pot will be at 60 kPa. If you let it continue to climb, it will reach 100 kPa, and from there it will no longer rise.
But cooking at 100 kPa allows you to prepare recipes in almost half the time of a traditional pressure cooker. You must bear in mind that it is not the same pressure that you may need to cook vegetables as a 1.5 kg piece of meat. It is best that you look at the recipe book to calculate the times.
In any case, this Veloce de Monix guarantees that in a few minutes, you can have your recipe on the plate.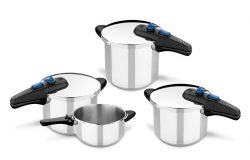 MAIN FEATURES
It is a Spanish brand that manufactures under the strictest quality controls of the European Union.
Made with the best materials (18/10 stainless steel) with a thickness of 5.3 mm.
It has four security systems.
Triple forged diffuser bottom to ensure optimal and homogeneous heat distribution over the entire surface of the pot.
Total compatibility with all types of cookers (induction, vitroceramics, electric and gas).
Two rings to select the desired pressure, at 60 kPa or 100 kPa.
Available with bodies of various sizes, compatible with the same lid.
BETWEEN YOU AND ME
If you are considering buying a super fast pot, the Monix Veloce is undoubtedly a reasonable option. In its price range (without going to German brands like WMF), it is one of the best options. It is a Spanish firm that has the confidence of those who have been supplying our homes for 60 years.
It has four safety devices to make it impossible for something to fail, the highest quality materials and, most importantly, two rings to regulate the pressure and cook faster. And the best thing, the price of this pot when it is lowered, is of absolute scandal.
ADVANTAGES OF THE MONIX VELOCE EXPRESS COOKER
It is a Spanish firm that has been manufacturing kitchenware for 60 years, which gives peace of mind.
It has four security systems.
Super fast pot with two adjustable rings at 60 and 100 kPa.
Full induction compatibility.
Full dishwasher compatibility.
It has various sizes and various bodies that can be used with the same lid.
The price, without a doubt.
DISADVANTAGES OF THE MONIX VELOCE EXPRESS POT
It is not easy to find it in large areas.
Stainless steel is heavy.
YOU MAY BE INTERESTED
If you are looking for a super fast cooker and you care about design, quality and finishes, and are willing to increase the budget slightly, look. The WMF Perfect Plus Quick Cooker is manufactured in Germany, has two adjustable pressures and has been, for many years, the Best Seller of quick cookers.
The biggest advantage of the WMF Perfect Plus is the sheer amount of spare parts you can buy. If a gasket breaks within 6 years, you can buy just that rubber. Or just the handle, or just a lid … And all the refills are super easy.
We give you the information and you make the decision. Whatever it is, it will be successful!