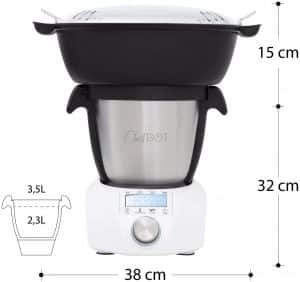 The ChefBot Compact Steampro Kitchen Robot is not just any robot. It has been developed by a Spanish company and launched as a direct missile into the high ranges at a knockdown price and therefore, among other things, it is a true best seller. It is a multifunction robot with high cooking technology, practical, functional and fast, with 23 kitchen functions. It is a very complete robot, which can develop a large number of types of cooking and food processing, which makes it a true kitchen assistant.
Its manufacturer, the Spanish firm Ikohs, has launched this excellent product to compete directly with its most direct rivals, the Mambo family of Cecotec. Both brands share many similarities and this Chefbot model has become an absolute bestseller. Why? Let's see it!
First, we leave you with a short video where the acclaimed Chef Samantha Vallejo-Nágera explains all the virtues of this Chefbot Kitchen Robot, within a video!
Chefbot Compact a fondo. Masterclass con Samantha Vallejo-Nágera
Ranking Top3 Best Kitchen Robots
Ability
This this Chefbot model has a large capacity glass. It is in the market average or even a little above. Basin with a total capacity of 3.5 liters, and a useful capacity of 2.3 liters. With this it is possible to cook four or six servings without problem (always depending on the type of recipe and what the diners eat. Its power is 500W, enough to develop all the functions it has.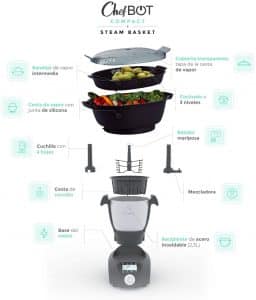 Materials
The ChefBot Compact Kitchen Robot is made of the best material for the kitchen, the safest and safest: stainless steel. With this they guarantee that there will be no transfer of flavors or odors, and the recipes will be completely safe. The rest of the materials, of course, are free of BPA and other toxins.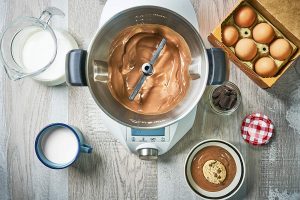 Features of the ChefBot Compact Kitchen Robot
Practical, versatile and very complete in its functions, the ChefBot Compact Kitchen Robot uses cutting-edge technology to cook and process food, preparing all kinds of recipes with excellent results. Among its main characteristics, the following stand out:
23 cooking functions : cook at low temperature, cook, sauté, mince, boil, steam 3 levels, stir slowly, fry, grind, confit, blanch, ferment, whip, whisk, emulsify, knead, keep warm, cook Bain-marie, chop, turbo function and simmer, among others.

It includes a book with 100 recipes adapted to the robot and the nutritional needs of the family. It includes tips, tricks, methods and a cookbook for all kinds of tastes.

It has 10 speeds plus turbo.

Cooking temperatures from 37º to 120º

It can work uninterruptedly for 90 minutes

Easy to remove and dishwasher safe accessories

Compact robot that is easy to store.

It has a transparent and resistant splash cover to avoid burns and accidents in the kitchen.

It has a steam outlet regulator for better control of cooking

It has, among its 23 cooking functions, 8 special functions for cocktails and pastries.

Contains the following accessories: Reversible cutting disc Food Processor exclusive of the brand, 4 blades of ice crushers, 2 accessories (basket and rack) for steaming, 1 spatula to stir without breaking the food, 1 special slicing disc for grating the ingredients in the same bowl of the robot while it cooks, 1 whisk for stirring or emulsifying, and a stainless steel bowl, with a useful capacity of 2.2 liters, with the anti-splash cover.

It includes a 2-level steamer, and can be cooked simultaneously in the jug and in the steamer to take less time.
Its Quick Slice System allows you to exchange blades quickly

Closing lock

Compact body and motor design for better storage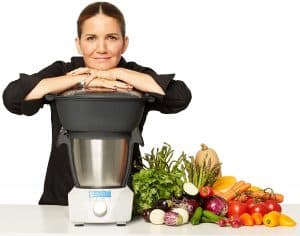 Advantages of the
ChefBot Compact Kitchen Robot
The benefits of this robot are many and varied. It has 23 processor and cooking functions that make it the perfect robot for preparing all kinds of cooking recipes, as well as having functions for processing food and 8 special ones for pastries and cocktails. Among its main advantages, the following stand out:
Excellent value for money given the large number of functions it develops

Thanks to its turbo function and its speeds, it is a robot that stands out for its speed

It is very comfortable, versatile and easy to use, thanks to its screen with functions, which is very intuitive

Thanks to its multiple cooking and food processor functions, it is a true "chef" at creating impeccable cooking recipes.

The possibility of steaming in the jug and in the basket saves time and the use of other utensils in the kitchen

Very easy to store, thanks to its compact design

The variety of accessories allows you to avoid having to use other kitchen utensils

Its closing lock and its anti-splash cover ensure optimal operation, without accidents in the kitchen

Its accessories are dishwasher safe, which saves a lot of cleaning time

Imaginative recipe book, in tune with the most innovative trends in cooking, and suitable for all kinds of recipes and culinary tastes.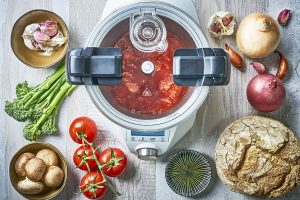 Disadvantages of the ChefBot Compact Kitchen Robot
No drawbacks have been detected, perhaps the power is a bit low, but it seems that, according to users who use the robot profusely, it perfectly performs all its functions.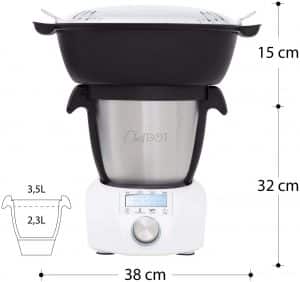 Between you and me
The ChefBot Compact Steampro kitchen robot is practical, fast and easy to use. Thanks to its two-level steam cooking, you can cook two straights at the same time. It has many kitchen and food processor functions, which greatly facilitates the task of cooking, and tasks such as grating, cutting or blending, saving a lot of time in the kitchen. It is a true kitchen helper, which due to its compact design in its main body and in its motor, it is easy to store.
Its recipe book is extraordinary, it contains many tricks, techniques and tips, and it is perfect for making all kinds of recipes, adapted to all tastes. In addition, it has a very interesting value for money and one of the best on the market in relation to all its functions and the accessories that are included with the robot. If this Kitchen Robot has become a true best seller, it is for something. Its equivalent rivals cost four times as much and this one, for this price… It's a perfect buy!
Maybe you are interested
We cannot fail to name its most direct rival, the Cecotec Mambo 8090 Kitchen Robot. This Mambo robot shares many similarities with the ChefBot. To begin with, both are Spanish firms and they are high-end products with very contained prices. The Mambo 8090 is the most balanced of the Mambo family and is a best seller. That is why IKOHS took the glove from the firm and puts its ChefBot in front of the Mambo 8090. Which is better? In our opinion, either of the two is a sure hit. It will depend on the accessories you use the most and the kitchen functions that you value the most.
You already have the information, the final decision is yours!