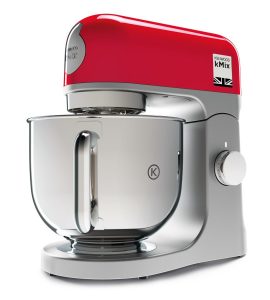 Lovers of top-quality pastries are in luck. Now we can enjoy the Kenwood kMix, model KMX750WH, a special kitchen robot for preparing delicate recipes, both sweet and savory, to surprise any guest. It is a robot specially designed to mix, beat and knead, with absolutely professional results. Anyone who is fond of cooking can make delicious breads, cakes, cookies, and many other culinary delights. In addition, with its additional accessories you can mince meat or make fresh pasta.
The Kenwood firm, of British origin, has been manufacturing kitchen machines for more than half a century. They are pioneers, from their origins, in the manufacture of various kitchen products such as robots, mixers, juicers and a long etcetera, with full quality assurance and with the most innovative existing technologies. Buying Kenwood is buying professionalism, confidence, and a guarantee of quality in the kitchen. That is why this Kmix kitchen robot from Kenwood is already born with a star under its arm.
We leave you with a short video of the main features of this Kenwood kitchen robot.