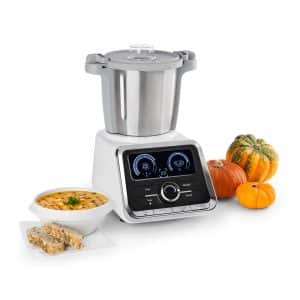 Although still little known in the Spanish market, the Klarstein GrandPrix Kitchen Robot is positioning itself in the kitchen robot sector with great success. It has multiple features that make it a perfect kitchen robot for various food processing and cooking tasks, thanks to its easily interchangeable parts. It is fast, easy to assemble, disassemble and clean, and performs many very practical functions, which will save us time in the kitchen, and the use of other pots and utensils.
Ranking Top3 Best Kitchen Robots
Materials
It is made of stainless steel, to ensure its strength and durability, and the chassis is made of BPA-free plastic.
Capacity and Power
The Klarstein GrandPrix kitchen robot has a 2.5-liter capacity container, ideal for preparing recipes for a family of up to 4 people and a power of 1500 W, divided into 1000W for heating resistance, and 500W for movement the motor.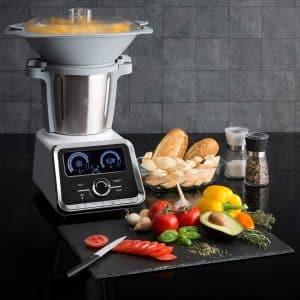 Main Features of the Klarstein GrandPrix Food Processor
The Klarstein GrandPrix Food Processor is an easy-to-use and highly versatile robot, thanks to its interchangeable accessories to easily prepare a number of kitchen functions such as kneading, cutting, whipping, roasting, boiling, mixing or shredding. Its most important functions are the following:
Manual setting of speed, temperature and time via control panel
It has 12 speed levels : from 1 to 3 to knead, from 4 to 6 to mix and stir the dough, and the maximum speed to beat until stiff or process harder foods.

Adjustable temperature up to 120º and from a minimum of 30º

Very precise adjustable times, ranging from 1 second to 90 minutes

Electric resistance heating technology

It has 7 different accessories, which are interchangeable: stainless steel blades, accessory for stirring and mixing, butterfly remover accessory, two containers for steaming, a container for simmering, a spatula, measuring glass up to 100 ml .

Accessories valid for the dishwasher, with the exception of the blades and the bowl, which are easy to clean.

It contains a scale to weigh the ingredients directly into the container, with a minimum weight of 3g.

Intuitive panel with an easy-to-use digital display

Mechanism for removing accessories

Automatic shutdown when the preset time runs out

Security system. The robot will only activate and start working when its accessories are correctly attached. In addition, it has anti-splash protection.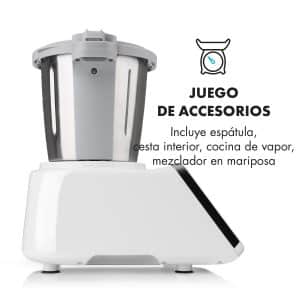 Advantages of the Klarstein GrandPrix Food Processor
Comfort in its use, since the time, the speed are adjusted manually, a strong point of this robot.

Its kneading function leaves the doughs homogeneous, thanks to its rotation system, which works with total precision.

Its 7 interchangeable accessories make this robot a complete and versatile household appliance, capable of performing multiple kitchen tasks.
Its kneading function is perfect, and thanks to its speed levels it can be mixed, stirred, beaten and kneaded, always achieving perfect textures.

Broil and boil functions with manual temperature settings, very useful for easy cooking.

It can be cooked at a low temperature (minimum 30º) and thanks to its steam accessories it is possible to prepare healthy recipes free of fat.

Safety system with splash protection. The robot will only activate when it detects that its accessories are correctly positioned. In addition, the robot will also stop working if the lid or container is removed.

Easy to install and disassemble accessories, to perform various kitchen tasks quickly if they are necessary to prepare the same recipe: knead, chop, etc.

Except for blades and bowl, all accessories are dishwasher safe and very easy to clean.

Considerable savings in the use of other kitchen utensils, which will not be necessary. This also includes considerable time savings in food processing.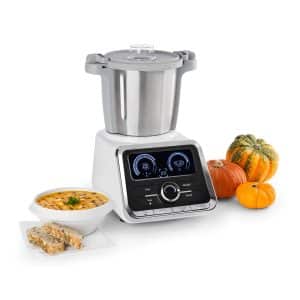 Disadvantages of the Karlstein GrandPrix Food Processor
It is a magnificent robot with many features and that works very well, with a great value for money. The only handicap, for the most technological, is that it does not have Wi-Fi connectivity. A cookbook is not included either.
Between you and me
Although it does not have Wi-Fi connectivity, this detail may be irrelevant for many, and yet it has many other strengths that make it a multifunction and versatile kitchen robot. Its 7 included accessories, which are easily and intuitively interchangeable, allow many complementary kitchen tasks to be carried out quickly and without complications. It is a robot designed for beginners and people who like cooking but do not dare to work with programs already configured and prefer to set time, speed and temperature manually. Plus, it's great value for money.
This robot is basic in its features, although it has many functions that are very complete. But if what you are looking for is something more sophisticated, with automatic programs, Wi-Fi connectivity and other more advanced features, this kitchen robot would still be insufficient for the most gourmets and chefs, who are looking for sophistication. But to perform functions with a kitchen that cover a wide range of kitchen tasks, it is a very suitable robot.
Maybe you are interested
If this is not the robot you were looking for, you may be interested in taking a look at the Cecotec Iron Mix kitchen robot, similar in some of its functions, but much more sophisticated, with cooking functions such as boiling, sautéing, poaching, keeping food hot or cooking in a water bath, 12 cutting speeds, uniform and efficient heating thanks to its innovative stirring function while cooking and a steamer to cook healthy, low-fat recipes on two levels.
In addition, it presents a sophisticated security system, the Double Security Check System, a double security and closure system (one in the jar and one in the robot) to avoid accidents and splashes when preparing hot recipes. It's a more sophisticated robot than the previous one, but it's also great value for money.