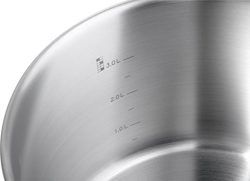 Today we review this high-end five-piece casserole set from the prestigious German brand Zwilling. This manufacturer, as many of you will know, has been manufacturing household items since 1731, and now, almost 300 years later, it offers us this kitchenware. The Zwilling Twin Classic combines the best of the firm, let's see why.
Zwilling always uses the best quality stainless steel to manufacture it . This 18/10 alloy ensures eternal durability. When a new manufacturer starts making kitchenware, it may or may not be excellent. But when a company has been doing it for 300 years, that they continue to dominate the market today is the best guarantee. In addition, listening to customers throughout the centuries allows you to polish your product until you get details that make a difference, such as:
The edges of this Zwilling Twin Classic drum kit are folded. What do they get out of this? If you want to pour the contents of the casserole directly into another container, do not splash anything. It seems silly, but not all incorporate this detail.
On the other hand, all its Twin Classic pots include content marks on the inside . This way you will know exactly how much water to add, or how much you need for more or fewer people. This is really useful.
In this short video, although it is in German, it is possible to see in detail the quality of the finishes of these pots.