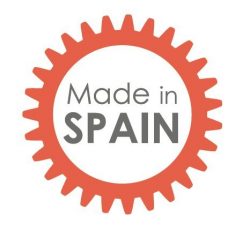 Our house is our sacred place, of tranquility and harmony, where everything must be perfect for it to function properly. However, in our kitchen we must pay much more attention; the implements we use to cook our food must be of high quality. That is why today we want to talk to you about Alza Space. Alza is a brand that has been dedicated to the manufacture of pots. Since 1925, it has a totally unmistakable and original style.
This is a brand that has an experience that has made them constantly improve, innovating in the quality of their products. But it has also put good quality products on the market at very competitive prices.
Space by Alza is a super fast pot that helps reduce cooking time by 70%, but also allows us to save time and energy. The food that is cooked in this pot preserves all the nutrients we need to keep us healthy. It is available in different capacities: 2.5, 4, 6 and 8 liters.
Materials
One of the advantages of the Alza Space super-fast pot is that it has a very innovative construction. It has a thermo diffuser sandwich bottom, it has layers of first stainless steel, then aluminum and finally again stainless steel. These achieve a homogeneous and maximum use of heat. Also, with this diffuser bottom you will reduce the cooking time by up to 70%, which will also allow you to spend less time cooking and more time enjoying your meals.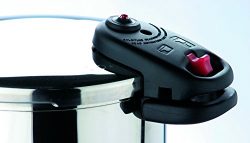 Compatibility
When we buy a pressure cooker, it is very important to know its compatibility. Pressure cookers are products that last a long time. So you are more likely to buy another kitchen or move house, before changing your pot. That is why it is very important that it is compatible with all types of kitchens. In the case of Alza's Space pressure cooker, it is compatible with Gas, Electric, Vitroceramic and Induction cookers . Finally, it can be washed in the dishwasher without major problem.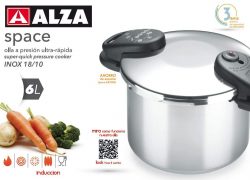 Main Features
There are many great features about the Alza Space Super Speed ​​Cooker. We want to tell you about our favorite features and the ones that stand out the most about this pot.
One of the first things that strikes us about this pot is that instead of having a bayonet handle, it has two handles. This will not only allow us a firmer grip. But we will also save much more space in the kitchen. Both on the burners and in storage.
As we mentioned before, one of the most attractive things about the Space Alza is its thermo diffuser sandwich bottom. This is built with three layers. The first in stainless steel, the second in aluminum and the third again in stainless steel. This will allow us to achieve maximum use of heat, the more homogeneous the better.
This is a super quick cooker. It means that we will be able to cook food much faster, we will even save 70% of the time.
It has a triple security system. First we have the operating valve that allows us to maintain the pressure of the pot at all times. Only by letting the steam come out, we can cook much better. The second in aluminum and the third again in stainless steel. The second is a safety valve that acts in the event of an exaggerated pressure rise. And the third security system is a side window lock. The latter is the ultimate item to make sure we are completely safe using this pot.
And, last but not least, is that the Space de Alza is a pot compatible with all types of kitchens. You will have no problem if you have to move it to another house. And in addition to being super fast, it is a pot that has the possibility of being washed in the dishwasher without any problem, saving us much more time.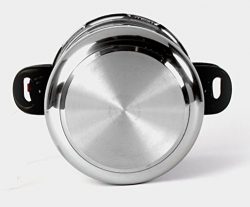 Between you and me
The Alza Space pot is a pot of very good quality that provides excellent service to its users. One of its great characteristics is that it is a super fast pot, so many people will prefer it, as they will make better use of their time and will be able to share more with the family.
Keep in mind that food is very important, so the food cooked in this pot conserves a high percentage of its nutrients. In addition, pressure cooking is much healthier and perfect for people who want to eat a more balanced diet or who are currently on a strict diet.
Advantages of the Alza Space fast cooker
1-. One of the great advantages of this pot is its speed when cooking. It gives us the opportunity to cook our food 70% faster and guarantees that the cooking is excellent.
two-. Alza's fast Space pot has two handles that facilitate grip and also storage. It is very important that we can handle our pot safely and stable.
3-. Its triple security system is a good thing for the less experienced in the kitchen.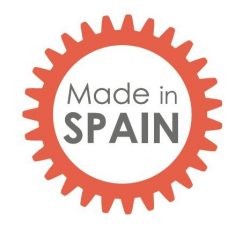 Disadvantages of the Alza Space pressure cooker
It does not include the baskets to cook the vegetables, but this can be purchased as an extra accessory.
Maybe you are interested
If you have not been convinced by the Alza Space or you want to see other options on the market, we recommend the Fissler Vitaquick. This is another good option to choose a pressure cooker that gives us excellent service when cooking our food.
Like the Alza Space, this is a quick cooker that allows us to save a lot of time in the kitchen and share with our friends or family. However, this is a basic pressure cooker that may even be a bit dated with all that other products on the market have to offer.
The selection of a pot will depend on the type of cook and the use that you are going to give it. This selection is very personal. It is very important that you study very well the characteristics of each of the pots that catch your attention and adapt to your budget to make an excellent choice that we will not regret at any time. And that we do not even feel that we have made a mistake in the selection of our pressure cooker.