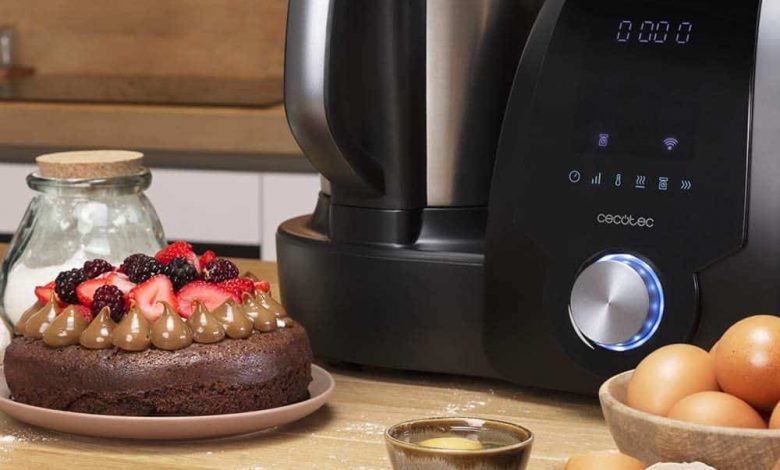 Now yes, the new generation of Cecotec Mambo Robots and we believe that the most interesting quality / price of the 4 is the Cecotec Mambo 10070. Take Spoiler! Why? We see it:
It is a multifunctional kitchen machine that is packed with a host of functions and many useful features at a tremendously affordable price. It has all the functions that we ask of a Kitchen Robot and, although it is true that it does not have some function of its older brother, as we will see we do not consider it as relevant.
Like all Cecotec brand kitchen robots, this model also stands out for the quality of its materials, its resistance and durability. It is located just below the top of the range, the Cecotec Mambo 10090, but that does not mean it has different materials. We see the differences right away!
It is also important to note that the functionality of this robot, as in its older brother, is complemented by the Cecotec App. From this application, users can access a large number of recipes and get the most out of the kitchen robot.
And not least, about the price and where to buy it, we advise you as usual: where you can find it cheaper as long as it is a trusted site. Cecotec has its own Official Store and, on occasions, it is possible to find the kitchen robot on the official website at the same price as in other stores. Buying it directly from the manufacturer seems to us to have many advantages in terms of possible after-sales, warranty or spare parts, and if it is at the same price, how much better! Compare prices and you decide!
OFFICIAL STORE CECOTEC
See here the updated price of the Mambo 10070
Comparison with other Cecotec kitchen robots
Another important aspect is that the Cecotec Mambo 10070 model is classified within the high range of Cecotec. Together with 8590, 9590 (without App), 10070 and 10090 (with App), it forms the new collection of Mambo kitchen robots. And as you can see, it is at the top of the table.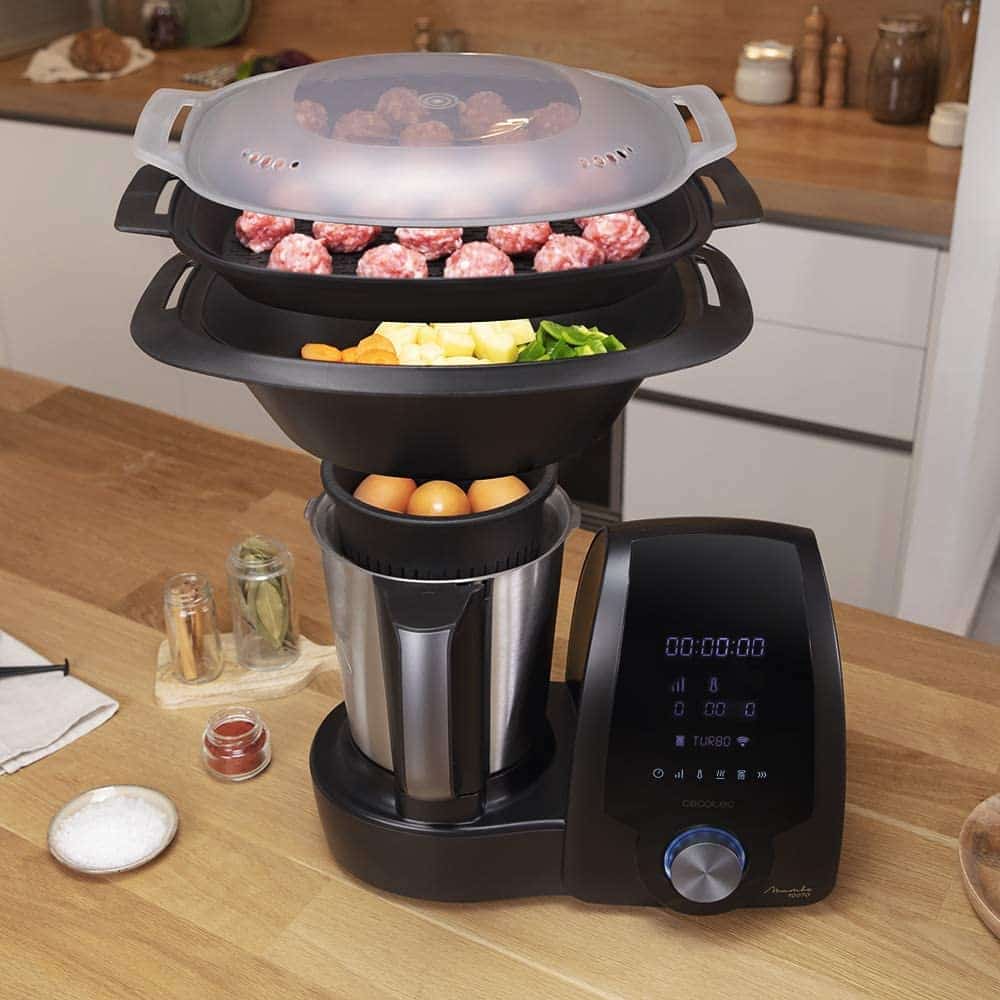 In terms of characteristics, the main difference is the Havana jug. For example, the Cecotec Mambo 10090 model includes this Havana jug with ceramic coating. What makes the difference of the Havana jug is its special non-stick, perfect if what you plan to prepare requires a special delicacy: risottos, custard, chocolate …
In our daily use with stainless steel jug cookers, it is very difficult for food to stick to stainless steel. After all, the food processor controls the temperature and the blades constantly move the ingredients, so nothing usually sticks. If you want to be completely calm because you usually prepare very delicate recipes, go for the top model Mambo 10090, but for 90% of users, this Cecotec Mambo 10070 is the most balanced purchase possible.
In this simple table we leave you the main differences between the four models so that you can see and compare it in a very visual way.
Capacity and power Cecotec Mambo 10070
The capacity of the stainless steel jug is 3.3 liters. This is more than enough to prepare all kinds of recipes in which it is required to incorporate multiple ingredients for about 6 dishes (this always depends on the recipe in question). Plus, this jug is dishwasher-safe.
As for the power of this kitchen robot, it works with an intelligent heating power system in a range of 0 to 10 levels. This system has the ability to simulate a traditional fire with a soft, medium or intense flame.
Cecotec Mambo 10070 functions
Like the Cecotec Mambo 8090, the Cecotec Mambo 10070 food processor also offers 30 different cooking and processing functions. This means that you can prepare a wide range of recipes, with countless ingredients.
The most prominent features include:
Chop
Liquefy
Shreds
Fry
Sprays
Mix
Kitchen
Scald
Knead
OFFICIAL STORE CECOTEC
See here the updated price of the Mambo 10070
Features to be highlighted
Along with the aforementioned, the Cecotec Mambo 10070 kitchen robot stands out for the following characteristics:
It comes with a built-in precision scale for weighing food.
It allows to cook and fry at zero speed. It can even be cooked without a lid.
It also includes the Sofrito function to brown food.
Users benefit from a MamboMix spoon that allows for easy kneading, achieving more homogeneous results.
It also incorporates a boiling basket with capacity for up to 4 servings at the same time.
Its intelligent heating power system prevents food from sticking or burning.
Additionally, its dual gear motor provides maximum performance both at low and high speed.
It can be cooked at a very low temperature while stirring slowly, thanks to the SlowMambo Movement.
It also includes a silicone-coated spatula that allows all prepared food to be easily removed.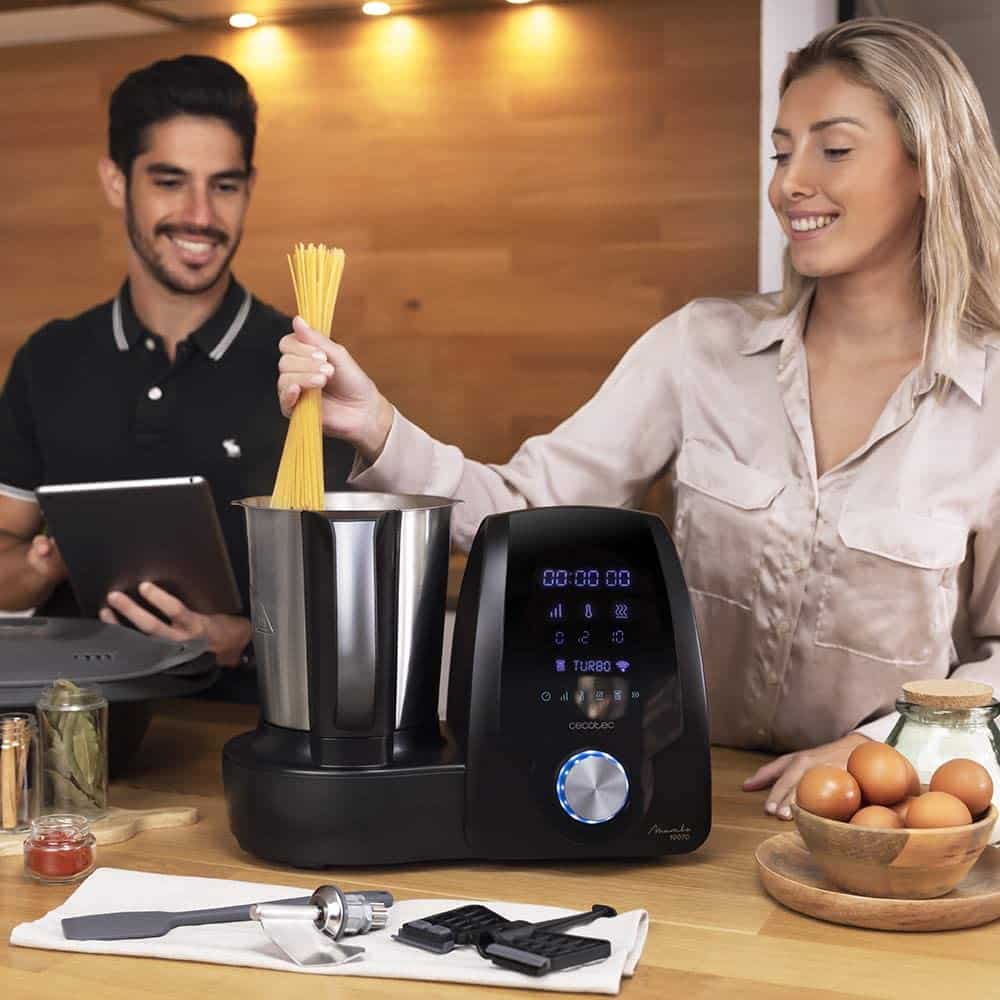 Cecotec Mambo 10070 Materials
A key aspect when buying kitchen machines has to do precisely with the materials. Beyond price being a factor too, the materials will tell you right away whether or not to buy the product.
In this case, and like the Cecotec Mambo 10090 model , the Cecotec Mambo 10070 robot is also made of stainless steel. This is the main material of the robot, as the other parts are made mostly of 100% BPA-free plastic .
high quality stainless steel
Stainless steel is commonly used in the kitchenware industry. This is because it has unique properties that make it a safe, resistant and durable material over time.
As with other kitchen machines, here too high-quality stainless steel has been used to make the 3.3-liter capacity jug. Thanks to this, the jug acquires greater resistance thanks to the durability of the steel.
One reason why steel has also been used in this kitchen robot has to do with the aesthetic and hygienic part: as it is not porous, it is easy to clean, it is very hygienic and on top of that, it is visually very attractive. It can fit into any kitchen décor and keep it looking nice over time.
You should be aware that high-quality stainless steel does not scratch easily. Not only that, steel kitchen machines withstand corrosion and stains without problems. If you add to this that stainless steel is extremely durable, you have as a result a functional and high-quality kitchen robot.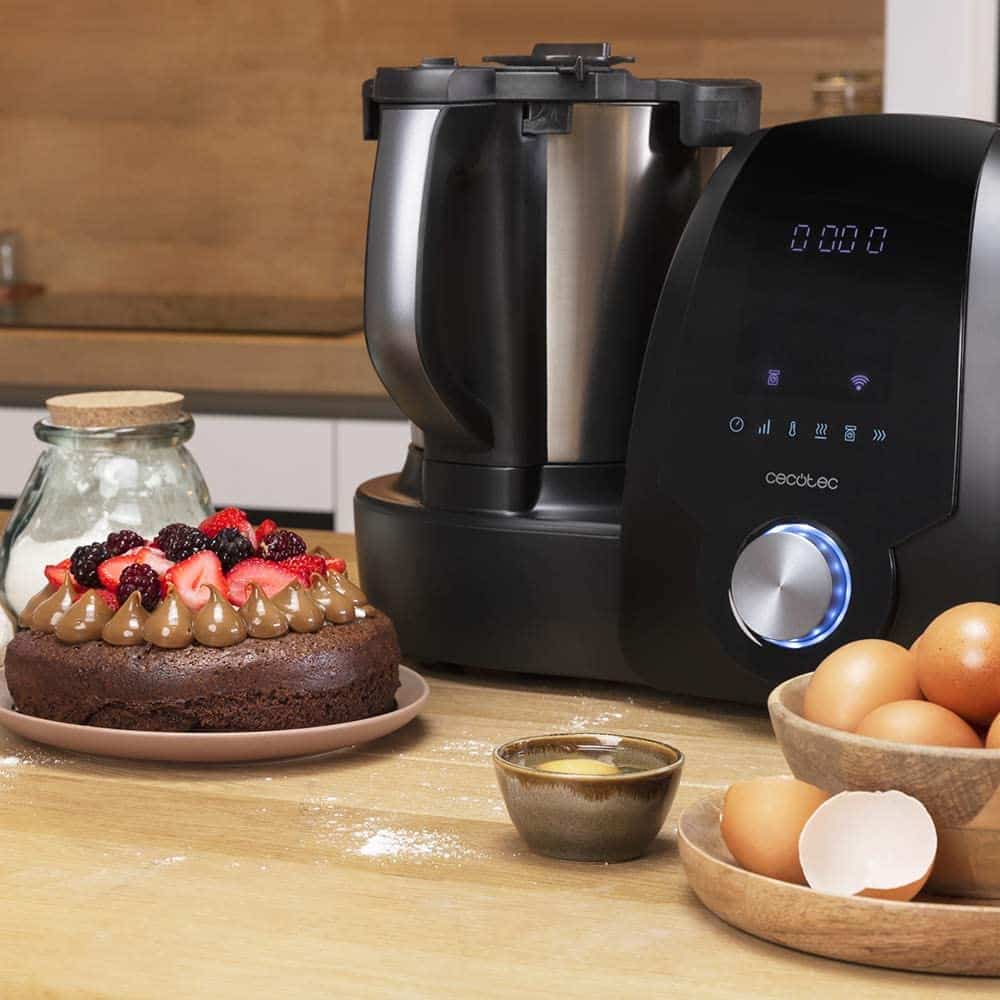 Even the Mambo Cecotec 10070 kitchen robot withstands the intensive use of a family without its components wearing out. This is not to mention that stainless steel is not affected by the action of water and rust.
And for those who are concerned about the cleanliness aspect, there is no need to worry, as the high-quality stainless steel is very easy to clean. Even the carafe can be placed in the dishwasher without inconvenience.
Additionally, stainless steel is a safe material for health. Food scraps do not adhere to the surface and consequently no germs or bacteria accumulate.
Silicone
Another of the materials that we find in the Cecotec Mambo 10070 kitchen robot is silicone. In this case, it is incorporated as a reinforcement in the final area of ​​the butterfly. Because it is flexible and soft to the touch, silicone is a material that provides greater functionality to the butterfly mechanism.
Not only that, this material does not stain surfaces, much less wear out. In fact, silicone does not age, so there is never any sign of deterioration, corrosion or dirt. In addition, the silicone resists all kinds of uses, and the best thing is that it does not release toxic substances.
Another aspect that we want to highlight is that silicone withstands long periods of exposure to extreme temperatures without problems . Therefore, you can prepare your food at any temperature without worrying about the silicone melting or losing its properties.
OFFICIAL STORE CECOTEC
See here the updated price of the Mambo 10070
Maybe you are interested
Although the Cecotec Mambo 10070 kitchen robot seems to us a really balanced model, if it does not convince you, we advise you to take a look at the Cecotec Mambo 10090 model . It is the top of the range, it includes everything that Cecotec has developed to date, from the mobile app to the non-stick ceramic coated jug. There is nothing in that Kitchen Robot that you can miss, nothing!