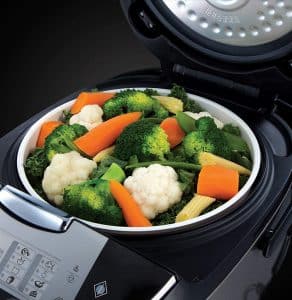 The Russell Hobbs Cook Home Kitchen Robot is a compact, high-capacity robot, optimal for cooking large quantities, in a very simple and efficient way, since its 11 programs are designed for each food or cooking method. It is very easy to use, and you can cook a wide variety of recipes.
Russell Hobbs is a veteran British brand specializing in small household appliances, and in particular robots and kitchen appliances. It is widely established in the market, and enjoys great prestige, so that the purchase of any of its electrical appliances is a guarantee of quality and good operation. And this Cook Home Kitchen Robot by Russell Hobbs is the maximum exponent of the brand.
Ranking Top3 Best Kitchen Robots
Capacity and Power
The Russell Hobbs Cook @ Home Kitchen Robot has a capacity of 5 liters, suitable for many diners, and a power of 900W that is more than enough for the 11 cooking programs available. You can easily prepare recipes for 6 people and for yourself and freeze the rest.
Materials
The Russell Hobbs Cook Home Food Processor has a bowl made of high quality stainless steel, and the body of the robot has a stainless steel trim. This material, as we all know, is the most suitable for the kitchen due to its resistance and its zero toxicity. Plus, it's super easy to clean!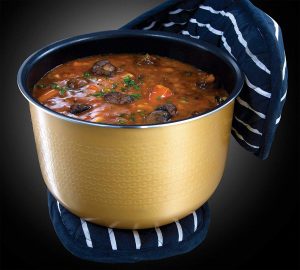 Features of the Russell Hobbs Cook Home Food Processor
The Russell Hobbs Cook @ Home Food Processor has 11 preset cooking programs, so it automatically and easily cooks countless recipes with all kinds of foods. Its main characteristics are the following:
It has 11 cooking programs : rice, simmering, a program for stews, meat, fish, soups, steamed, yogurt, porridge and bread / cakes.
It has a built-in keep warm function, once the recipe has finished cooking, and the food will stay in perfect condition, without drying out.
It has an anti-condensation cap, and a large, easy-to-read digital display
It has a 24-hour timer function, to be able to program the desired time in which the recipe will be prepared so that it is ready at the time of consumption.
Your main container has an anti-stick coating
It has a compact design, so it does not take up much space, and it is easy to store.
Its main container and its accessories are easy to clean.
Accessories included: measuring cup, steam basket and two spoons.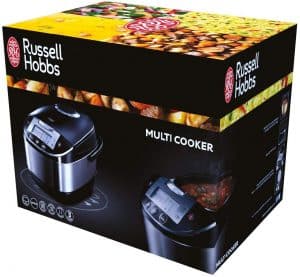 Advantages of the Russell Hobbs Cook Home Food Processor
The Russell Hobbs Cook Home Kitchen Robot is versatile, practical and simple. It provides speed and efficiency in the kitchen, thanks to its 11 cooking programs that can cook almost any type of food, including desserts and bread . It is intuitive and easy to use, and its parts do not take up much space, thanks to its compact design. Among its main advantages we can highlight the following:
Its 11 cooking programs are easy to use, and almost any recipe can be made.
It has a 24-hour timer with pre-established settings, to have food ready while we do other tasks or even we are not at home, because it does not need supervision, and it works independently and safely.
Its hot keeping function is able to keep food hot and just right, without losing its properties and with a juicy texture. Food does not dry out and reaches the table perfectly.
Healthy recipes can be prepared thanks to its steam basket and its steam cooking program.
It has a large capacity, perfect for cooking for many diners.
Its high quality stainless steel bowl is removable, and very easy to clean and maintain. In addition, it has an anti-adherence layer, so that the food does not stick during cooking.
Its compact design allows it to take up little space in the kitchen, and it can be easily stored.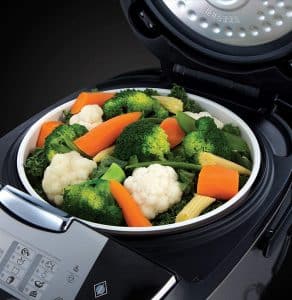 Disadvantages of the Russell Hobbs Cook Home Food Processor
The only but is that a more extensive recipe book is missing. The one that includes is very basic, and in general, little in line with the tastes for a more Mediterranean cuisine.
Between you and me
The Russell Hobbs Cook Home Kitchen Robot is a great purchase option for people with little time, who want to eat well and at home, or who have many members in the family and need quick and simple recipes, as well as very varied. It is a robot with very effective but basic features, so you do not need too much culinary knowledge, if what we want is speed and efficiency when preparing different cooking recipes.
It is the ideal robot for those who do not have time and also are not experts and do not want to complicate life in the kitchen too much. It is very versatile and easy to use, and recipes can be made with all kinds of foods, including bread, dairy products, and desserts. It is, in short, a very practical robot for the day-to-day use of users who do not have much time and who are not very skilled in kitchen work.
Maybe you are interested
If the Russell Hobbs Cook Home Kitchen Robot is not what you are looking for, you may be interested in taking a look at the Instant Pot IP DUO Cooker, with some similar features to the previous one. It has 14 complete cooking programs, including steam cooking, yogurt maker function, rice cooking, pressure cooker function, slow cook function, sauté and browning, soups, and keep warm function, among others.
Its pressure cooker program allows you to cook quickly and easily, just as a traditional pressure cooker would, while its Slow Cook function allows you to prepare stews emulating stews over low heat, such as stews or casseroles. spoon, with perfect results. Its steamed tray allows you to steam healthy recipes, and it also includes a ladle, a measuring glass and a somewhat more extensive but also unsophisticated book of lines. One of its main advantages is the manual adjustment function, to be able to configure the cooking time in a personalized way, up to 120 minutes.