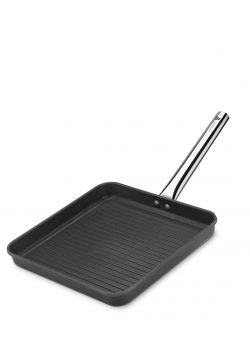 If we talk about the tradition of Spanish cuisine, we necessarily have to talk about Pujadas. This firm has been manufacturing the highest quality pans and casseroles within our borders since 1921. And if you have reached this article, it is because you are convinced that Pujadas Black pans are an excellent option. Is it really so?
In recent months these Pujadas Black pans have become famous for being the sponsoring firm of the prestigious MasterChef program. Not surprisingly, there is no better litmus test for a frying pan than to see what the best cooks are capable of doing with them. Have you ever seen the program? What does nothing stick to? Let's see how they do it.
MATERIALS
Pujadas Black pans are made of light cast steel. This material has two significant qualities, a good and a bad one. The good news is that it is a more resistant material than aluminum, so they will be more durable. The bad news is that they are somewhat heavier than aluminum pans. However, they are up to 40% lighter than iron pans.
In that sense, we could say that they have outstanding resistance with a medium weight. For reference, a 30 cm Pujadas frying pan can weigh around 1.5 kg.
Regarding its base, it has an excellently functioning diffuser base in charge of distributing the temperature of the pan over its entire surface. In this way we avoid that the center is at a higher temperature than the ends, spoiling the recipe.

This model has a height from the base of 5.5 cm, which makes them perfect for sautéing vegetables or preparing recipes with a certain volume. They are not as deep as a wok, but this 5.5 height makes them very versatile.
The handle of the Pujadas Black pans is made of stainless steel and does not have any rubber coating. Aesthetically it is impeccable, although on a practical level we like it more that it has silicone. Still, its ergonomic shape allows for easy handling.
Thanks to this cast steel, this Pujadas frying pan is compatible with all types of kitchens. In this way, they will work without problems on glass-ceramic, gas, electric and of course, induction fires .
In addition, they are fully compatible with being washed in the dishwasher. However, we do not consider it the best option. Thanks to the excellent non-stickiness they have, it is best to put them under the tap when you finish cooking and any rest will go away. After wiping a napkin, it will automatically be clean and ready for the next use.
ANTI-ADHERENCE
To ensure the non-stickiness of these Pujadas Black pans , the Spanish firm uses the best technology. And it is that 90 years manufacturing pans give them enough experience to create something of impeccable quality.
Externally, it has a three-layer non-stick surface. We could say that the technology is similar to the well-known Teflon, but with its own technology.
And if you are concerned about your health, the surface of the Pujadas pan is totally free of PFOAS. Nor will you have to worry about whether your food is contaminated with aluminum because Pujadas, let's remember, has made them in steel.
As for the resistance of the non-stick surface, we can refer to what we always say when we refer to Teflon. It is a surface with an excellent non-stick but does not allow continuous abuse. By this we mean that if you cut a steak on the pan or put a metal slotted spoon, you will very possibly end up damaging it before your time.
On the other hand, if you use silicone or wooden utensils, we can assure you that the non-stickness of these Pujadas Black pans  will be outstanding for many, many years.
SPECIAL FEATURES
Made of light cast steel, weighing 40% less than an iron skillet.

They are 100% free of PFOAS.

Compatible with all types of cookers, including induction and dishwasher.

Its dimensions and weight are approximately 1.5 kg and 5.5 cm in height.

Diffuser base with excellent caloric qualities. It allows a very fast acquisition of the temperature and is able to preserve it for a long time after the fire has been extinguished.

It is a Spanish firm that has been manufacturing kitchenware since 1921.
SPECIAL FINISHES
One good thing about the Pujadas collection is that it is not limited to pans only. We can also find an excellent WOK with a capacity of 4.40 liters and a base of 32 centimeters. In addition, it incorporates a lid to achieve higher temperatures and retain heat. Every good cook knows the virtues of preparing a stir fry in a good Wok!
On the other hand, for lovers of meat, fish and grilled vegetables, they present us with this Grill. It has dimensions of 28 × 28, stainless steel handle and horizontal grooving.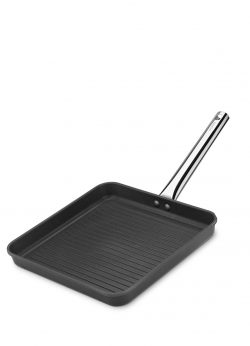 BETWEEN YOU AND ME
We are facing some pans from one of the most historic manufacturers in Spain. Pujadas Black pans have proven their capabilities in every MasterChef program. In the end, we believe that the best test is the one done on site and, like it or not, the treatment given to them in the program is very intensive and the result is outstanding.
The part that does not come out is the duration of the non-stick, and that they will probably change very frequently. However, using silicone or wooden utensils, it will be almost impossible to damage them.
We believe that we are facing very competitive pans. The price is not at all exorbitant and the qualities are very good. They have an outstanding non-stick, an acceptable weight and thanks to the steel, a high resistance ensured.
NORMAL PAN
HIGH PAN
ADVANTAGES OF PUJADAS BLACK SKINS
Manufactured by a Spanish firm since 1921, which is in itself a guarantee.

High resistance to the passage of time thanks to the steel construction.

Relatively light, up to 40% lighter than an iron skillet.

Healthy, totally free of PFOAS.

High energy efficiency thanks to the caloric properties of the base and the steel.
DISADVANTAGES OF THE PUJADAS BLACK PAN
They are slightly heavier than aluminum pans

Knives cannot be used on the non-stick surface.
YOU MAY BE INTERESTED
If you like these Pujadas pans, but they don't quite convince you, we propose two alternatives.
With a similar price and also built in steel, the Tefal Meteor pans are very interesting . The core material is the same and the non-stick very similar. The main difference is that the Tefal have a Titanium coating that gives them extraordinary resistance.
Lastly, if you don't mind increasing your budget slightly, be sure to check out the Kuhn Rikon Silver Star. It is a stainless steel pan and coated with titanium. Made in Switzerland and of unmatched quality. Its price is slightly higher but it is a frying pan for life.