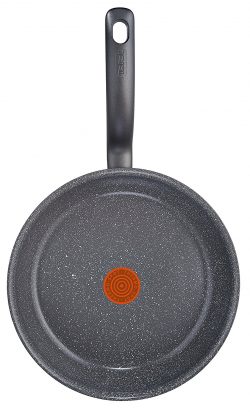 Tefal Meteor Ceramic are now available for sale and to make preparing our best recipe easier. The internal structure and manufacture of this pan will allow you to live the best culinary experience with excellent cooking. Of course, as long as you keep in mind its peculiarities.
We are facing a ceramic frying pan from the prestigious French firm Tefal, which we remember is the No. 1 manufacturer of kitchenware in the world. What does this mean? Well, he has plenty of experience to make excellent products . A different thing is if this pan is suitable for what you need. Let's see.
Its central point changes color to alert you when it reaches the perfect cooking temperature. Therefore, you won't have to worry about overheating, almost as if you were in total sync with your pan. That's the positive, but not everything in this pan is rosy.
As always, we leave you with a short video where you can see the main characteristics of this Tefal Meteor. It is not in Spanish, but it is still perfect to see its qualities up close.
VIDEO
TEFAL METEOR explanation video
MATERIALS
The Tefal Meteor Ceramic frying pan is made of high quality aluminum. Therefore, the distribution of heat on its surface is uniform and allows food to cook without leaving traces of lack of cooking. It is capable of withstanding even the highest temperatures (175 ºC).
Thanks to this aluminum structure, it is also quite light and easy to handle even by the most amateur in the kitchen.
It is compatible with any type of cooker you use, glass-ceramic, induction, gas or electric. Aluminum is stainless and easy to clean. Therefore, the Tefal Meteor does not represent a challenge if you are concerned about its maintenance.
The Tefal Meteor Skillet is dishwasher or hand wash compatible. In addition, its non-stick structure makes it easier to get rid of annoying pieces of food that are left after cooking.
This pan is also oven compatible . Therefore, it is perfectly possible to start a recipe on the cooktop and finish it with baking. Of course, the maximum temperature should not exceed 175ºC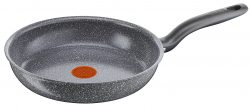 ANTI-ADHERENCE
Its non-stick system is made of ceramic with inserts of the mineral silicon. These materials make Tefal Meteor Ceramic one of the most environmentally friendly options. Its surface is also extra resistant against heat and annoying scratches, making it long-lasting.
Unless the recipe requires it, it is not necessary to add cooking oils, making our daily meals healthier.
As for health, we can be totally calm. This skillet uses environmentally friendly materials and is free of PFOAS, so no toxic substances will transfer to our food.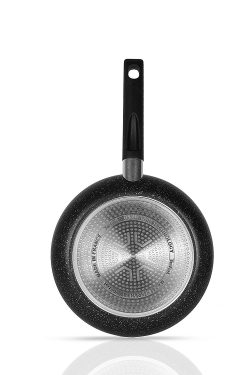 SPECIAL FEATURES
ThermoSpot : It is the first thing that will attract our attention in its design. At first it will appear to be a small point in the middle, but it has an important function in it. It is a temperature meter that will warn us when it is in the best phase to start cooking and thus avoid overheating. A great help to prevent our food from burning.

Anti-deformation

base

:

A unique technology of the Tefal Meteor is its anti-deformation base that prevents thermal excesses in the pans.

While others deform when they receive heat at a single point,Meteor panswill still be perfect. Thanks to this basethe heat is distributed evenly. That way you protect it from any future damage that a kitchen blunder might cause.

Ergonomic handle

: Another wonderful feature of the Tefal Meteor is its ergonomic handle. This type of handle makes it more dynamic and comfortable when cooking. It also gives an elegant touch to your design. P

odrás hold the Meteor Tefal stirfry without fear that the heat reaches your hand.

Lightweight construction

: If your biggest problem in the kitchen is that you find it difficult to move pans and pots from one place to another, with the Tefal Meteor Ceramic you will not have that problem. It is highly light and dynamic.

It is easy to manipulate and excellent for those with hand difficulties or low strength.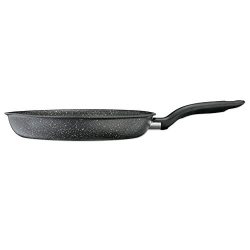 BETWEEN YOU AND ME
Tefal Meteor Ceramic is a fabulous alternative to add to our cookware list. Their ceramic and aluminum structure makes them durable, light and practical. Even the most novice in the kitchen can avoid scorching food thanks to its thermal point that informs us of the ideal temperature for cooking.
Although it does not need any type of special care, it does not mean that we should not treat it correctly. As much as we know all its advantages and how resistant it is, we will not put it to the test in extreme situations, much less mistreat it believing that nothing will happen. Obviously, everything that does not receive its deserved treatment will be short-lived ; Unless you are dealing with an iron or stainless steel skillet.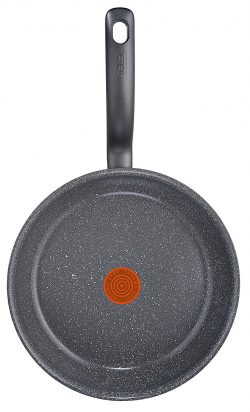 We always recommend a ceramic pan to cooks who are careful with their utensils. If what you are looking for is a "battle" frying pan that you can use intensively and with less care, we recommend a Titanium frying pan. There are several models like this Tefal Chef and they are priced similarly.
Although its non-stick surface offers us the option of not using cooking oils (as long as the recipe requires it), for certain foods it will be better to add a couple of drops of oil. It is advisable not to use metal utensils on top, much less chop the food inside the pan. Like all cookware, the Tefal Meteor Skillet can be torn and ruined by our careless hands.
ALSO AVAILABLE IN WOK
ADVANTAGES OF THE TEFAL METEOR
It has what every cook loves: it is very non-stick and light. With proper care it can last a long time and its maintenance is extremely easy. Thanks to the non-stick base, no type of dirt or traces of grease remain clinging to the Tefal Meteor.
We also reduce the content of non-stick products such as oils, making our diet healthier. Ceramic-based pans have become very popular for their ability to control heat; And the Tefal Meteor Ceramic are proof of that.
DISADVANTAGES OF TEFAL METEOR
The biggest disadvantage of Meteor pans is that they are attributable to all ceramic pans: you have to be careful. They are very non-stick pans from the beginning and totally ecological. However, they are not as sturdy as Titanium pans.
Therefore, we must exercise extreme caution when using kitchen utensils on them. It will be relatively easy to grate them and spoil the pan. If we use silicone or wooden utensils, we will have pans in perfect condition for many years.
YOU MAY BE INTERESTED
If you are not convinced, a great alternative is the Tefal Expertise frying pan . It is made with the same aluminum materials that perfectly distribute the heat on its surface. However, it has 7 magnificent layers of titanium that is compatible for all types of kitchens. In the same way, it has its characteristic Thermospot to indicate the ideal temperature. In addition, it has a stainless steel handle.
If what you want is a ceramic frying pan, you have other options, albeit from a higher range. It's about the WMF Devil. They are not much more expensive and their quality is much higher, mainly because it is made of stainless steel.