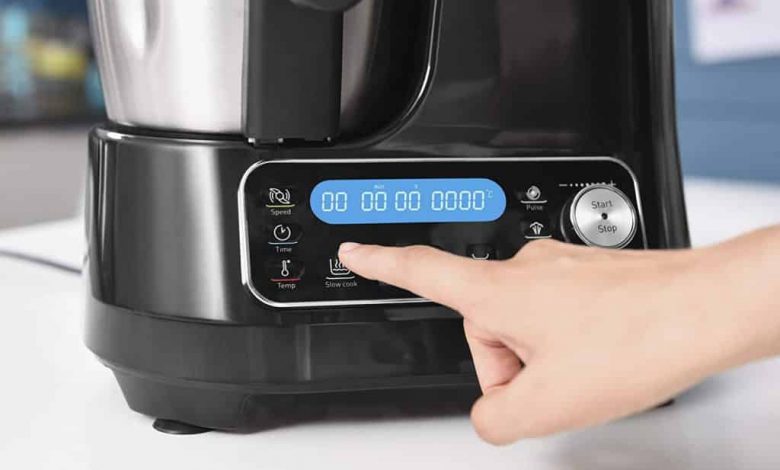 The Moulinex firm is one of the leading brands in the production of small kitchen appliances. For this reason, its range of mixers perfectly meets the most demanding tasks of any kitchen. If you need a blender in your day-to-day, either handheld or glass, buying a Moulinex blender is always a good investment. These are, in our opinion, the best Moulinex mixers, in their different models. We help you choose the one that best suits what you are looking for, do not miss this information!
Moulinex Hand Mixers
For those who prefer hand mixers, Moulinex has a complete range of mixers of this type, practical and very easy to use in our day to day. All of them are made of high quality stainless steel and BPA-free materials that ensure their resistance and useful life. We will also process food with maximum food safety, thanks to its manufacture with toxic-free materials. In addition, you must not lose sight of the fact that they are great value for money. The best Moulinex mixers of this type, according to our criteria, for performance and ease of use, are the following:
Moulinex Infinity Force Blender
The Infinity Force blender is a true all-terrain blender, functional, powerful and practical, which has no less than 25 speeds. It is capable of blending all kinds of food in various consistencies, from the softest and most delicate products to the toughest. With this mixer we will always get the texture we want. Among its most outstanding characteristics, we could point out one of the best because it always happens to us when we use a blender: food can get stuck between the blades, which is a hassle, especially if we want speed. Well, with its new Actiflow technologyThis does not happen! It consists of 4 anti-jam blades, two straight interiors for extreme shaking, and 2 curved interiors for optimal grip. With this technology, food does not get stuck on the blades!
In addition to its 25 speeds, it has a turbo speed, to get faster shakes. With an ergonomic handle with a secure and comfortable grip, your hand will not tire. It has anti-splash protection to guarantee maximum cleanliness in use.
It contains the following accessories : 800 ml measuring cup, 500 ml mini chopper with non-slip base, mixer rod to assemble, and a highly resistant saw blade capable of crushing ice.
Moulinex QuickChef
Among the best Moulinex mixers, the QuickChef is one of the hand mixers to consider if we are looking for a practical and comfortable appliance for our daily preparations. It is a traditional glass blender, with the option of choosing between four different models, depending on the accessories we need to have:
The basic model, with a measuring cup and two accessories (measuring cup and two accessories for chopping and mounting).
The one with 3 accessories, with measuring cup, emulsifying rod, accessory for chopping and mounting and anti-splash dome)
The one with 3 accessories plus the food processor
The one with 3 accessories plus a food processor
Thanks to its accessories and its 1000W of power, its performance is very high. You can perform a variety of food processing tasks quickly and efficiently. It has 10 speeds and turbo. It has manual speed regulation, through its backlit wheel, which can be adjusted without the need to stop the mixer.
It also has an innovative technology in the blades, Powelix technology, with 4 large blades that ensure the mixing of food quickly and completely homogeneously. It is 30% faster than mixers with similar characteristics! It has a stainless steel foot suitable for the dishwasher, like the rest of the accessories, we choose the model we choose.
Moulinex Glass Blenders
Moulinex has a wide range of glass blenders for those who do better with these types of blenders. Its various models of glass blenders are made, as always, with BPA-free materials, high-quality stainless steel, and they have some common characteristics, and others that vary from one model to another, and that is why they make them unique. Because the French brand always incorporates new features into its mixers, to make life easy for us. To our knowledge, the best glass blenders of the firm are the following:
Moulinex Perfect Mix
Let's take a look at this powerful Perfect Mix blender from Moulinex. Besides having a motor with a power of 1200 W, it has a large capacity, with a 2-liter glass tumbler. It also incorporates the magnificent Powelix technology, with 4 large blades for perfect mixing: 2 facing up, and two facing down, to drag and beat all the ingredients to perfection, and that there are no chunks. In addition, it has a great performance, according to the manufacturer, it is 30% faster in its elaborations than other mixers with similar characteristics!
For greater safety, it has an air cooling system for the motor, which prevents overheating and unexpected stops of the process. In addition, it has 3 different shake programs: ice crush, autoclean and smoothie, which can be controlled manually through its illuminated panel. Easy, versatile and simple to use, we can make all kinds of shakes and mixes, even crush something as hard as ice to make our best slushies! Includes a spatula to mix the contents.
Moulinex Blendforce
In our opinion, it is one of the best mixers of the brand, since it has a container that is heat resistant to high temperatures (up to 80ºC). This blender is very suitable for directly blending purees or creams fresh from the fire, without fear of damaging the glass. It has a power of 800W and a granita function for crushing ice.
It is a very safe mixer in daily use, with various built-in security systems. It has an intelligent locking system , as well as a safety lock on the base, which prevents the blades from moving during mixing. In addition, it incorporates its usual engine cooling system, which prevents it from overheating. The mixer can be used for 3 minutes without interruption.
More advantages: all its accessories are suitable for the dishwasher, except for the blades, and it has the innovative Powelix system, with 4 large blades that achieve a perfect and homogeneous blend, and avoid the always annoying jamming of the blades … has happened to us and we need to stop and unclog? Well, with this great system this does not happen! which guarantees the speed and efficiency of this glass blender.
Moulinex Blend & Go
Finally, among the best glass blenders, we do not want to stop making a small analysis of the Blend & Go, the perfect blender for direct-to-go preparations. It has a power of 300W, and among its accessories it includes a practical 750ml bottle, which can be screwed directly to the base, to make our shakes and take them to the gym, to work, for a walk … it is the perfect concept of shake to go.
It has four stainless steel blades that beat quickly, and one of its best qualities! can be removed also suitable for the dishwasher. Its compact design allows us to store it anywhere, and you can make the shakes both in the main glass, as well as directly in your bottle to go. Its finishes are made of high quality stainless steel, and it has a practical clip closure.
Glass blenders or hand mixers: how to choose
If we are looking for a blender and we are not very clear by which of the two modes to decide, here are a few tips that may be useful, to make the choice that best suits what we are going to need in the kitchen and have one of the best Moulinex mixers, whatever our choice.
Moulinex hand mixers
The hand mixer is a very common, easy and practical household appliance. It can make almost all kinds of preparations, and it is convenient to use and clean. It would only be necessary to remove the blade module from the arm and wash it, by hand, or in the dishwasher if they are suitable for it. They are usually made of stainless steel, and many of them include extra accessories for chopping, grating or blending, so this type of mixer is very versatile for all the elaborations that we need to carry out in our day to day.
In summary, these types of mixers are practical, easy to use, and in general terms they are the simplest on the market. In addition, they take up little space, and that is always a great advantage. And their prices are very tight.
Moulinex glass blenders
These types of mixers are usually more designed to mix large amounts of food, directly in the measuring glass. It is very practical for making creams, soups, and it also has the capacity to process hard foods such as nuts, or crush ice, in large quantities.
For many users it is the perfect mixer, because it meets the needs of families with many members, and it is usually faster than the hand mixer, and some have more power. In addition, they do not usually have extra accessories, since they do not need them. Everything can be processed efficiently and with the perfect textures, in your main glass.
In short: glass blenders tend to have more power, so the blending processes are faster. In addition, they have a large capacity in their main vessel, and one of their main advantages is that it works by activating the chosen program and by itself! It is not necessary to hold it, so it is very comfortable.
Questions to consider to buy the best mixer
There are many blenders, but choosing a Moulinex is always a wise move. This brand guarantees the quality of the appliance, its functionality, and also a long service life. But it would be necessary to look at some details and technical characteristics to select one of the best mixers among the Moulinex models.
The material from which they are made
In general lines, the mixers are made of metal and plastic elements, in the latter case, BPA-free. The most common is that any kitchen appliance is made of stainless steel, due to its high strength and durability. In the case of the best Moulinex brand mixers, the steel is of high quality, so the mixer is resistant to use, and does not scratch or deteriorate over time. Finally, it is convenient to note that a mixer is preferably made of stainless steel, because it is also easy to clean. And at Moulinex, all mixers are made from this metal.
For many users, it is important that certain accessories are dishwasher safe, a point also to take into account. In general, the blades of the blenders tend to be left with remnants of dough or shakes, and it is important that, especially the blades, even if they are not for the dishwasher, are easily removable and easy to clean.
The power
It is one of the key elements to take into account, depending on the blending tasks that we want to implement. There are less powerful mixers, from 300W, and the most powerful usually reach 1000W. The arm ones are the ones that tend to have less power. In general, the best mixers in terms of power are those with 600W, although those with less are fine if we are going to use them less frequently.
Functions that Moulinex mixers can perform
Although all mixers, whether by glass or by hand, have the basic function of beating, it is convenient that we take a look at their performance. This will help us to choose the best mixers according to their main functions. There are mixers with accessories for chopping, blending or grating, and others that only beat vegetables, fruits, etc. with the blades. There are also mixers that have among their functions crushing ice, a very useful function if we are really going to use it.
The most important thing, before opting for one or the other, is to check that your "perfect" mixer will meet your expectations. And we are sure that the Moulinex brand will not disappoint you, because there is so much to choose from! and always at the best and most competitive prices.