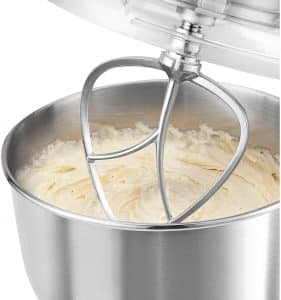 The Bomann KM 6009 Mixer is the perfect kitchen robot for processing all kinds of pastry and pastry dough, whipping egg whites or whipping cream quickly, making meringues, and in general, it is the perfect mixer for hobbyists. make quality homemade desserts and pastries. No great culinary knowledge is needed to take advantage of all its benefits and the doughs, thanks to its three specialized accessories, are perfect and just right.
Ranking Top3 Best Kitchen Robots
Materials
Both the bowl of this Bomann 6009 food processor and the rods it incorporates are made of the best material available for kitchen elements: stainless steel. This completely harmless material guarantees that it will not release any toxic substance or transfer strange odors or flavors to our recipes.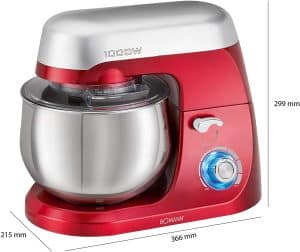 Capacity and power
This Bomann KM 6009 food processor has a bowl that has a capacity of up to 5 liters, enough to prepare great recipes. The motor has a power of 1000W and it works with great precision and with very, very little noise.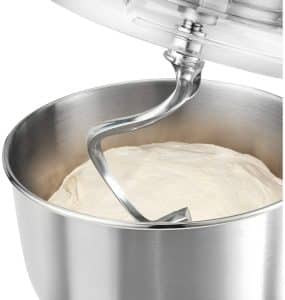 Main features of the Bomann KM 6009 Pastry Mixer
The Bomann KM 6009 Pastry Mixer Mixer is one of the easiest-to-use mixers-mixers on the market, and thanks to its features, we can achieve perfect, almost professional pastry results. Its main characteristics are the following:
Mixer / mixer with multiple functions, to knead doughs of bread, pizzas, pasta and all kinds of pastry dough. .

It has an electronic stepless speed control, which can provide a constant power for all the doughs to be prepared.

Its fine stainless steel bowl has a total capacity of 5 liters, so you can prepare mixes from 2.5 to 3 kg.

It has a splash guard cap, with a fill hole, for added safety.
Accessories included : special hook for kneading heavy dough, bread and pasta dough; special shaker hook for shortbread and cookie dough; stainless steel beater hook with splash guard, for beating and cover for splash guard, with filling hole
It has a planetary mixing system with a gear mechanism.

It has a 35 degree swing arm to attach accessories

Non-slip base with suction cups to avoid movements while working the dough.

Safety circuit

It includes a precision digital extra-flat kitchen scale, with a measuring range of up to 5 kg gram by gram, and a tare function to add weight.

It is very easy to clean.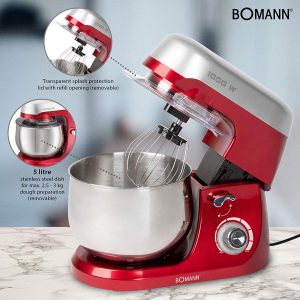 Advantages of the Bomann KM 6009 Pastry Mixer
The Bomann KM 6009 Pastry Mixer works practically professionally, and manages to make all kinds of doughs with little effort and great results. Its main advantages are the following:
It is very easy to use, and it is designed for those pastry enthusiasts who have little time and want to get the best doughs, or for beginners who do not have much cooking knowledge.

Thanks to its accessories we can achieve the perfect doughs and mixes. The special whisk for whipping egg whites, whipping cream or meringues, whip and whip in a few minutes; Its dough hook is especially suitable for pasta, bread, and heavier dough, and its shaker hook is designed to handle shortbread and cookie dough.

Thanks to its precision scale gram by gram that weighs up to 5 kg, we will not make mistakes in the exact measurements when preparing various types of dough.

It is very fast: its whisk takes less than 2 minutes to whip egg whites or whip cream.

Thanks to its orbital movement, the doughs are perfectly homogeneous and no ingredient remains stuck in the bowl

It is easy to clean and low noise

Its anti-splash cover with a hole prevents splashing from occurring, and to be able to monitor how the kneading process is going.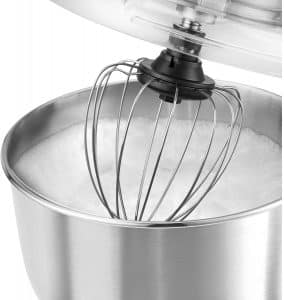 Disadvantages of the Bomann KM 6009 Pastry Mixer
The main drawback is that it does not contain a cookbook. Another small drawback is that its kneading must be interrupted every 10 minutes, so the doughs are slower to prepare.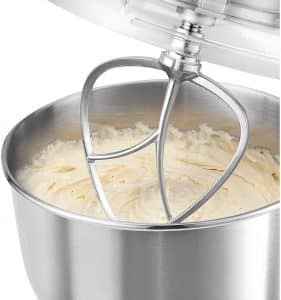 Between you and me
The Bomann KM 6009 Mixer is easy to use, versatile and intuitive, and thanks to its accessories we can make countless pastry recipes, as well as all kinds of doughs for bread and meringues. It has a powerful motor with electronic stepless speed control so that the power is constant regardless of the preparation. All the doughs are at their perfect and effortless point. It has a robust gear mechanism Its mixing system is planetary, to ensure that the dough is perfect and no ingredient is left in the bowl without working. In addition, it includes a precision scale gram by gram, which can weigh up to 5 kg, as well as a tare function to add weight.
It is a very easy to use mixer mixer, ideal for people who do not have much knowledge of pastry, but who want to learn how to prepare perfect desserts and doughs without complicating life in the kitchen. It kneads quickly and constantly thanks to its continuous electronic speed control and it has four essential accessories for kneading various types of dough (bread, broken, harder) and effective beating rods. It is one of the mixers that meet all the requirements for beginners in making pastry products, and it has a great value for money.
Maybe you are interested
If you are looking for a special pastry mixer and the Bomann KM 6009 Pastry Mixer is not exactly what you need, you may want to take a look at the Cookmii SM-1501 Mixer with similar characteristics. It processes large quantities of dough, thanks to its great power and capacity of the bowl. It has a silent operation system and a resistant silicone grip, to avoid displacement while working the dough.
It is very easy to assemble and disassemble, and its accessories are easily cleaned. It can run uninterrupted for up to 30 minutes, and requires little supervision. It has an effective protection system against overheating and overloading. The mixer will automatically turn off until it cools down. It is a very professional mixer, and one of the most recommended for acquisition in pastry shops and cafes.