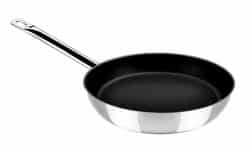 The Spanish pan manufacturer BRA does not stitch without thread, and when it takes out a new pan it does so with all the guarantees of success. Aware that the public is increasingly demanding, we have prepared a frying pan that more than meets the most demanding standards. These Professional BRAs are the best of the firm and in this article we will see why and if it is worth it.
We remind you that an expensive product is not always the most advisable or the best. We must take into account many factors before buying a frying pan, such as how we are going to use it or how careful we are.
This BRA Professional frying pan is aimed at a demanding public that is going to give it intensive use. It is manufactured in Spain, which in itself is a guarantee of quality. We are not saying that the pans that come from China are bad, but the quality standards of the European Union are strict, and we like it. Its price? Let's see it.
BRA Gama acero Inoxidable 18/10
MATERIALS
BRA is a firm that has chosen aluminum for the construction of the vast majority of its pans. Aluminum is a lightweight and cheaper material than stainless steel, which justifies that decision. However, for this BRA Professional frying pan they have opted for the best material, sparing nothing: stainless steel. And not just any stainless steel, but they have taken good care of it. It is 18/10 stainless steel with a flawless gloss polished finish.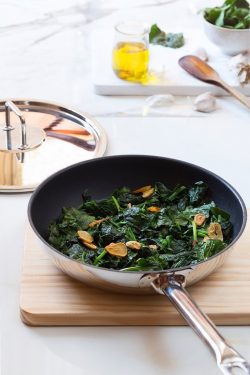 This gives this new frying pan qualities that stand out above the average. For one thing, it's a super sturdy skillet. Stainless steel withstands scratches, bumps and ages really well. And on the other hand, it is an absolutely harmless material for health ; Unlike aluminum, whose contact with food can be harmful, stainless steel is stable and does not transfer to food.
However, and to avoid creating an alarm, in aluminum pans, aluminum is not in contact with food unless the non-stick coating is damaged.
In return, stainless steel is slightly heavier than aluminum. Although in particular, this BRA Professional frying pan in its 26-centimeter version weighs about 2 kg, which is not that much either.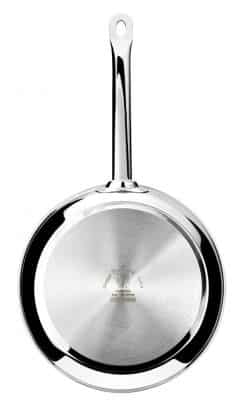 COMPATIBILITY
As for its compatibility, it is one of its strengths. This pan made in Spain is compatible with everything we can imagine. The BRA Professional frying pan can be washed by hand or in the dishwasher. It is also fully compatible with all types of cookers: induction, gas, glass-ceramic or electric.
And the best, it can be put in the oven. It is a great advantage to be able to start or finish a recipe by putting the pan directly in the oven to gratin or give a final touch to our dish. One point for BRA.
ANTI-ADHERENCE
In this sense, BRA always entrusts its anti-adherence to the manufacturer of this type of surface par excellence: Teflon. As we know, there are different qualities: Classic, Select, Platinum Plus and Professional. In this case, the firm has chosen the Platinum Plus finish for its BRA Professional pans . This is the same as for its high-end aluminum ( BRA Efficient ).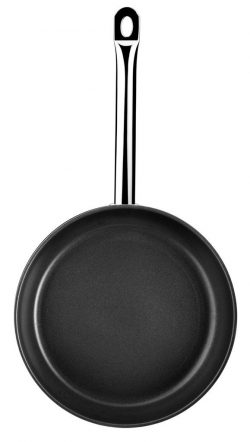 The Platinum Plus has, in our experience, an outstanding non-stick and a very remarkable resistance to bumps and scratches. Damaging a skillet with a non-stick surface of this quality is possible, but very difficult. Impossible, we would say, if you are careful to use wooden or silicone utensils instead of metal ones. And of course, avoid sticking the knife directly into the pan!
By following these little guidelines, this BRA Professional frying pan can last you half a life.
And in terms of health, the fact that it is manufactured within the European Union (Spain), gives us total peace of mind. It is free of toxic substances like PFOAS and PTFE.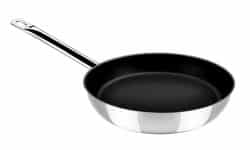 SPECIAL FEATURES
18/10 stainless steel body

: a stainless steel. of the highest quality assures us an extraordinary resistance. And its gloss polished finish will allow it not to be affected by the passage of time.

Absolute compatibility

: with induction hobs, vitroceramics, gas, dishwasher, ovens …You can use thisBRA Professional frying panfor anything you want.

Triple diffuser bottom:

its function is to quickly capture the heat and distribute it evenly and evenly over the entire surface of the pan. This prevents one point of the pan from being hotter than another and spoiling the recipe.

Made in Spain:

This, as we said, is a guarantee of quality and health. It is totally free of toxins (PFOAS and PTFE).
BETWEEN YOU AND ME
With this Professional frying pan from BRA, the firm has struck the table and presented what the demanding public demanded. Aluminum pans are the best sellers, yes, and BRA knows it, but stainless steel pans have a very select audience. These pans, for example, have a much higher temperature range. They get hotter and that allows you to prepare more complex recipes.
Tough, durable and resistant.
They are more resistant, withstand scratches, extreme temperatures from fires, ovens … what you can imagine. And for that reason, we believe that the Spanish firm has made a qualitative leap by presenting us with these pans. Without a doubt, if you are passionate about cooking and you value stainless steel pans, we recommend them.
ADVANTAGES OF PROFESSIONAL BRA SKINS
Its extreme resistance and useful life.
The outstanding non-stickness provided by Teflon Platinum Plus.
Manufactured in Spain with all the quality and health guarantees.
Full compatibility with ceramic hob, dishwasher and ovens.
DISADVANTAGES OF PROFESSIONAL BRA PAN
The weight is somewhat higher than an aluminum frying pan.
YOU MAY BE INTERESTED
If you are evaluating these pans, it is because you are looking for stainless steel ones. Well, we have two alternatives to these BRAs, one cheaper and one more Premium.
On the one hand, the economic one is about the Tefal Jamie Oliver. They are French-made pans and an extraordinary quality. Its finish is very similar to these BRAs, with the difference that its non-stick surface is coated with Titanium. That is a plus point.
And to finish, the most Premium of the stainless steel pans. The Kuhn Rikon Silver Star. These are very high-end pans made in Switzerland. The finish of its stainless steel is not as polished as in the previous ones, it is more matte and elegant. And of course, it has a Titanium finish to make them completely indestructible.