Pans
Fissler Alux Premium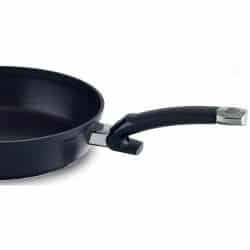 We analyze one of the best-selling models from the prestigious and award-winning German firm Fissler. This brand, widely known by the best chefs and in most homes in northern Europe, has managed to gain a foothold in our country. Fissler is one of those firms that aims to achieve excellence and its products are not especially cheap. However, they do stand out for their quality. In the case of the Fissler Alux Premium that we analyze today, we will see if they succeed.
Let's look back a bit and see Fissler's trajectory. This German brand, founded in Germany in 1845, has almost 175 years of experience manufacturing household items. Its ability to manufacture the highest quality products is beyond question.
To this day, at the time when everything is manufactured in far eastern countries, they continue to manufacture the Alux Premium frying pan in Germany, as they always have. Their headquarters are in Rhineland-Palatinate and from there they sneak into the kitchens of the best chefs on the planet.
As always, we leave you with a short video of this frying pan in action.