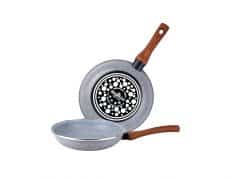 Magefesa is one of those brands known to us, our mothers and our grandmothers. They have been in our kitchens for many decades and have earned the trust of all of us. It is not a brand that presents great innovations, although with these Magefesa Marmol they have broken the mold. These pans are manufactured in Spain, so the quality standards are already very high.
The firm is not known for manufacturing super-premium range pans. Its pans that, like this Marmol model, are aimed more at those who need a frying pan for day to day and who fulfill their mission correctly. The market for high-end pans with high prices is left to other manufacturers. Magefesa competes in price and practicality, and here few win.
On many occasions, seeing a frying pan at a low price makes us suspect its quality. We are going to analyze in this article if these Magefesa Marmol fulfill their mission and to whom they are directed. You stay?
MATERIALS
To build these Marmol pans, Magefesa has opted for steel. It is not a stainless steel of the quality used by WMF (which costs more than double). It is a standard steel that, as it is covered with an enamel layer and this in turn is vitrified, prevents it from rusting. (Vitrify consists of turning enamel into glass by subjecting it to extremely high temperatures of 820ºC).
Steel is a stronger (and heavier) material than aluminum. A great advantage is that it is compatible with all types of cookers, from gas, electric, glass-ceramic and induction. On the negative side, we shouldn't put this pan in the oven. For that we must go to higher ranges.
As for the washing of the Magefesa Marmol, we can without any problem use the dishwasher. If we decide to wash it by hand, we must take care not to do it when the pan is still hot, because in this way we could spoil it.
Although the weight of the Marmol frying pan is higher than that of an aluminum frying pan, its handle makes things easier. It is an ergonomic handle that is antipyretic to prevent heat transfer. Its touch is rubbery and allows handling of the pan even with wet hands without any problem.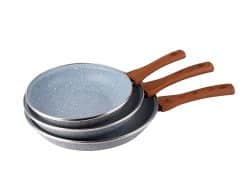 ANTI-ADHERENCE
This point can be misleading because of the name of the pan: it is not made of marble. What gives the Magefesa Marmol frying pan non-stick is a two-layer trimotted coating. This is no different than any other non-stick surface like Teflon, but with a more bombastic name.
This non-stick surface works really well and is totally PFOAS free. We can use the pan with the certainty that no toxic compound will be transferred to our food.
The non-stick, although it is very good at the beginning, it is easy to deteriorate it. To avoid this, and ensure that the non-stick remains in good condition for a long time, we must use the appropriate kitchen utensils. By avoiding cutting on the pan and using silicone or wooden utensils instead of metal utensils, we will ensure a long life to our Magefesa Marble frying pan.
On the outside, it also has a vitrified enamel layer. Is this non-stick? Ppsssee … In theory yes, and if we drop something out of the pan it will not stick to the outside making it difficult to wash later. That in theory. In practice, if the pan is red hot and the egg jumps, it will most likely stick. Now, the world does not end with this, it is easy to wash because the enamel prevents it from sticking a lot. In this regard, the Tefal Chef frying pans, for example, perform better.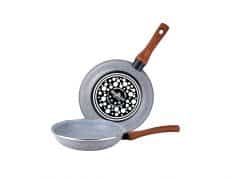 MAIN FEATURES
High energy efficiency

: being built in steel, it reaches temperatures much faster. This allows us to have the pan ready in less time, with the consequent energy savings (up to 20% according to Magefesa).
Resistance : steel is a very robust material, much more than aluminum. It resists bumps and dents excellently.
Toxic free : cooking with these Magefesa Marmol pans is completely safe. They are totally free of PFOAS.
Made in Spain : we think that in itself is a guarantee of quality. The quality standards of the European Union are very strict.
Compatibility : with all types of cookers, including induction ones.
BETWEEN YOU AND ME
Make no mistake, we are looking at inexpensive pans and it would be false to say that they are super-premium pans and the best of the best. They are very robust pans , at an absolutely competitive price and within their range, they are one of the best options.
These Magefesa Marmol pans are not intended to compete with firms such as Kuhn Rikon or WMF. The target audience for this frying pan is not Chefs who are going to cook in the most intensive way.
These pans are perfect for a normal family that is going to make normal use and is minimally careful are the pans. If you take care of its non-stick coating avoiding metal utensils and you don't mind that it weighs a few grams more, you have an excellent frying pan for an unbeatable price.
ADVANTAGES OF THE MAGEFESA MARMOL
Manufacture in Spain: we value very positively that they are manufactured in the European Union (we do not care so much about the country, but the quality standards imposed by the EU)
Extreme Durability – Steel is tough and durable.
Good non-stick : from the beginning the non-stick is guaranteed.
Very elaborate aesthetics : this is something very subjective, but in this case it is seen that they have worked a lot on this aspect.
DISADVANTAGES OF THE MARBLE MAGEFESA
They are not suitable for cooking in the oven
Its weight is higher than an aluminum pan
You have to be quite careful with the non-stick surface so as not to damage it.
YOU MAY BE INTERESTED
If you want to evaluate other options, you can find pans made in Spain by Valira and of a similar quality. It is about the Valira Tecnoform. Their biggest drawback is that they are not compatible with induction, but if you are not going to use this type of cooker, it seems to us an option that may be more advisable.
On the other hand, if you do not mind increasing (very slightly) the budget, you can find the entry range of the Swiss firm Kuhn Rikon. We are talking about the Kuhn Rikon Easy Induction, which are medium-high range pans with outstanding qualities for the price they have.