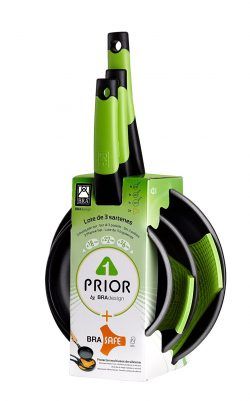 The Spanish firm BRA presents us with this simple set of Prior pans, without great pretensions, except that of being a « workhorse » in our kitchen. The BRA Prior do not stand out for anything extremely positive, but not for anything negative either. They are, let's say, a mid-range of the brand.
As always, to begin with, we leave you with a short video of an exquisite recipe cooked in these BRA Prior pans . In it you can see the finishes, the rubber of the handle and the height of the edges.
VIDEO
FETTUCINI CON GAMBAS | Menaje Prior de BRA
MATERIAL
The material that Bra uses to make these Prior pans is cast aluminum. Aluminum is an inexpensive, resistant and lightweight material. It does not possess the strength and toughness of stainless steel of other higher-end pans, not to mention iron pans like the French Le Creuset.
However, aluminum is a material that also ensures rapid heat distribution over the entire surface of the pan. It has the added advantage, and the most notable, of being one of the lightest materials (much more than steel and iron).
This makes it especially easy to operate the BRA Prior pans with one hand, even when loaded.
Its base is prepared to work with all types of kitchens. In this way, the Prior from BRA are perfectly compatible with induction, glass-ceramic, gas and electric cookers.
On the other hand, its green handle is made of silicone and is removable. It is really practical in case it deteriorates over time, or if we want to wash the pan more thoroughly (it is 100% dishwasher-safe). The silicone in the handle, on the other hand, allows you to handle the pan with great confidence, even with wet hands or with traces of oil.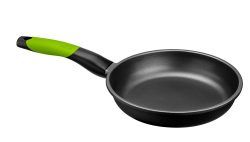 ANTI-ADHERENCE
This section, the Spanish brand Bra entrusts it again to DuPont with its famous Teflon. The finish used for this particular Prior model is Teflon Classic, which is the entry-level Teflon range. What does this mean? That it will be non-stick, without a doubt, but it will not be possible to demand the same as a Teflon Professional, especially in terms of resistance.
In this Prior model the non-stick is ensured, and the resistance "too". Of course they will not be as resistant as a Titanium Woll pans or a Le Creuset iron pan. They will not reach the strength of Teflon pans with superior finishes either, but it may be enough if we treat them with care.
The difference between these Teflon ranges (Classic in this case) is that if we use metal utensils in the pan, or give it an involuntary blow, or subject it to abnormally high temperatures, they will deteriorate much earlier than other models.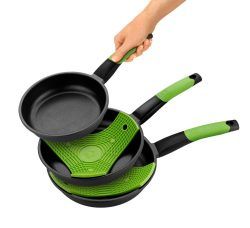 HEALTH
Regarding the healthiness of these pans, the Teflon used is adhered without using any type of PFOAS. In that sense, we can cook in peace as long as the Teflon layer is in good condition. If we see that it is broken, cracked, or that the aluminum is visible, it will be time to change the pan.
As we repeat many times, Teflon is safe, what is dangerous can be what is underneath. The non-stick coating in addition to preventing food from sticking, protects it from toxic substances. Under the Teflon layer we find different substances to adhere that layer, as well as the aluminum of the pan. Therefore, if the Teflon layer is damaged, it will be time to change our pans.
SPECIAL FEATURES
As we said at the beginning, BRA Prior pans do not have aspirations to be the best pans on the market, but to be a perfect frying pan for day to day. Therefore its technologies are merely practical and simple.
Aluminum : By choosing this material, BRA has managed to save on costs by making the product cheaper and achieving atruly outstanding weight reduction. These pans weigh very little and are perfectly operated with one hand, ideal for the elderly or the very infirm.
Thick diffuser base : Energy efficiency is essential for BRA. For this reason, these Prior pans take up the temperature very quickly and their diffuser bottom is responsible for distributing it evenly over the entire surface of the pan.
Ergonomic rubber handle : This aspect is not always given the importance it deserves, and a good ergonomic handle is essential to handle the pan with ease. This handle, in addition to being ergonomic, is finished in silicone, which allows it not to slip in any case.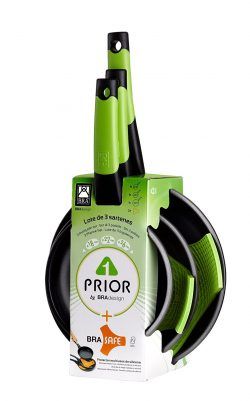 BETWEEN YOU AND ME
The BRA Prior pans are great pans for the day-to-day use of our kitchen. They were not born with the aspiration to be the most beautiful pans, nor the most resistant. They were developed with the idea of ​​being the most practical and versatile.
Its non-stickiness is outstanding at first, and it will remain so as long as we are careful. And we must be especially careful because its non-stick coating does not stand out for its resistance.
ALSO AVAILABLE WOK AND IRON
ADVANTAGES OF THE BRA PRIOR PAN
There are usually really interesting offers, in the set of 3 pans we can find discounts of up to 50%
They are very light, ergonomic and handy pans.
Some sets of BRA Prior pans include a pail protector so that when stored one on top of the other they do not scratch.
Its non-stickiness is outstanding.
DISADVANTAGES OF THE BRA PRIOR PAN
We must be careful not to use metal utensils in the pans.
Its design is youthful and carefree, which may not please everyone.
YOU MAY BE INTERESTED
If you are looking for a superior range within the BRA firm, be sure to see the analysis we made of the BRA Silver pans . They are also aluminum pans but with Teflon Select, more resistant and durable.
If these pans do not convince you, you have a cheaper alternative in the San Ignacio Galaxy. They are pans with a usually lower price and from a well-known firm.
On the other hand, for very little more you can find some options with a Titanium finish, such as the Tefal So Intensive pans . It is not necessary to remember that the non-stick and resistance properties of titanium are far superior. And the price is very similar.