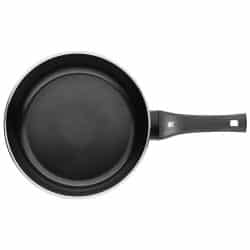 These WMF Ceradur Plus pans are the latest from the distinguished WMF brand , founded in 1853 in Germany. It has always stood out for creating high-quality kitchen utensils and products for more than 160 years. Its technological advances in the manufacture of utensils have made it possible to unite families in the kitchen and develop the kitchenware of the best Chefs in the world.
For WMF their designs signify all the philosophy that they follow; their products, like these Ceradur pans, tend to have a very exclusive style. Even today the creative staff at WMF seek with their designers to work together to enhance their international renown.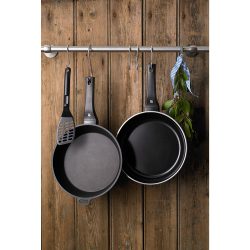 All WMF articles are designed to offer maximum convenience to the customer. It's your primary goal, and these WMF Ceradur pans pretend just that; They are not intended to supply you with an item, but also to provide you with an outstanding experience.
The company has already received many special mentions, including from the Consumer and User Organization.
The WMF CeraDur Profi and CeraDur Plus Pans are some of those great products. In addition to its TransTherm bases balancing heat across the entire surface, its OCU score is one of the highest. This makes this model one of the best valued in terms of design and functionality.
On the other hand, the WMF CeraDur Plus pans are made of aluminum with a non-stick coating, which makes them withstand around 350ºC and they are specially made for cooking meat or fish at moderate or high temperatures. Its handle is ergonomic and resistant to flames. The OCU has also valued them with a very notable score.
The WMF CeraDur Plus are available in several different sizes and with a really attractive design.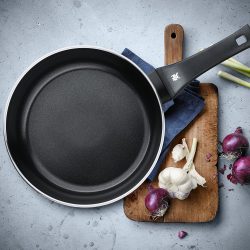 MATERIALS
The WMF CeraDur Plus have been designed and manufactured with the best German engineering that has selected the best materials for the elaboration of each one according to its purpose.
It is built with an aluminum body and is coated with CeraDur non-stick ceramic. Neither polytetrafluoroethylene nor perfluorooctanoic acid is included in its preparation. These chemicals can be found in some old non-stick pans, but they can be very harmful to the human system. These WMF Ceradur Plus are free of all harmful substances.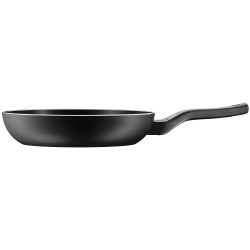 ANTI-ADHERENCE
The WMF CeraDur Plus have a ceramic coating to give it non-stick. Both dispense with chemicals that harm health such as PFOA. CeraDur ceramic is of high quality and is manufactured to withstand high temperatures, in addition to distributing the heat throughout the base evenly.
This material is completely unalterable over time and supports all kinds of recipes. Its composition makes the WMF CeraDur Plus pans a very resistant model. In addition, by not including chemicals or extra products, it is very healthy and safe, since the food does not end up with traces of chemicals stuck to it.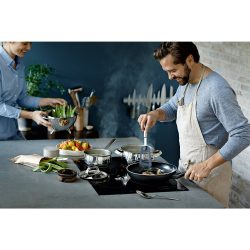 SPECIAL FEATURES
Wide anti-spill edge: The WMF CeraDur Plus have a special edge that makes emptying something much more comfortable, avoiding drips when pouring their content into other containers.
Flame retardant synthetic handle:

They provide a secure and stable grip, as well as being flame resistant.

Suitable for all types of cooking: Its TransTherm base allows them to be used in all types of cooking, even induction.
Heat resistant: The CeraDur Plus WMF r

esisten any type of fires and oven and are capable of supporting up to 350 °

Sizes:

They have several different sizes and designs; with one and two handles to make them more manageable.

Ceramic non-stick : It allows them to cook all kinds of food, from fish, meat or poultry without sticking to the base, which at the same time makes it easy to clean.
Option frying pan with two handles: It is perfect that they give us this option because, depending on what recipes we usually prepare, a frying pan with two handles can be the perfect solution.
BETWEEN YOU AND ME
These pans are a high-priced product, but not an expensive one. These are pans aimed at the professional chef, who likes to try all kinds of recipes. Its very wide temperature range allows it to reach very high temperatures and that makes it possible to expand the repertoire of recipes enormously.
It is a professional skillet that you can enjoy every day. If the price fits your budget it is one of the best options you can take.
ADVANTAGES OF THE WMF CERADUR PLUS
Their materials allow them to be used in all types of cuisine. Therefore it is ideal for new or old kitchens. They are spacious and allow good heat distribution and retention.

Thanks to its special edge, any food can be served directly on the plate, without worrying about dripping.

Although there are hundreds of other products in its WMF brand, the WMF CeraDur Plus pans are the newest range that the company has presented.

It has a very elegant and well-crafted German style.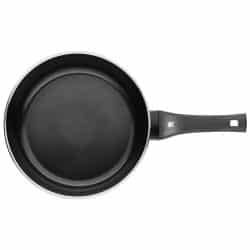 DISADVANTAGES OF THE CERADUR PLUS WMF
Despite its enormous number of advantages, it is important to detail its disadvantages as well. One of the biggest is its high price, especially for non-stick ceramic.

It does not include tapas, so if it is required in the kitchen, it must be purchased separately.

The resistance of the non-stick is outstanding as long as it is not damaged. Unfortunately, it is not difficult to damage it if we use metal utensils. For this reason, the most advisable thing would be to use wooden or silicone utensils.

Without a doubt, the non-stick of the WMF CeraDur Plus is one of the best. However, for this to be efficient, maintenance must be carried out after each use. It is important to keep them dry and from time to time give them a greasing.
YOU MAY BE INTERESTED
If you are looking for pans of a similar price and also ceramic, you can assess their "sister cousins", which are the WMF Ceradur Profi. It is a similar but somewhat superior frying pan, being made of stainless steel.
If you want to spend a little less money, we recommend that you take a look at the Tefal Meteor. They have very interesting Tefal technologies, they are also made of ceramic and their price is usually somewhat lower.