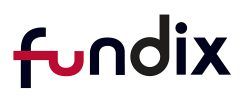 The Spanish manufacturer Castey presents the Fundix collection of pans. This Castey collection has been so successful that the firm has created the Fundix brand as a mark of quality.
But what is the reason for its success? Is it deserved? Let's see it.
Castey Fundix pans are made of aluminum, are lightweight and non-stick. Its material is good, its finishes are excellent and its non-stick is relatively good, but with nuances. Later we will analyze each aspect.
Now we go, as always, with a short video about the main characteristics of the Fundix family of pans, where you can see them in action and appreciate their finishes.
VIDEO
Colección Fundix by Castey: Sartenes Antiadherentes con Mangos Desmontables de Colores
MATERIALS
For their construction, the Castey Fundix use an aluminum structure . This material reduces the cost of the pan and is remarkably resistant. It supports temperatures very well and its best quality is that it is very light. These fundix pans are perfect for one-handed operation.
Regarding their finishes, they are quite good. There are no sharp edges, no visible screws or rivets. This prevents dirt from accumulating at these points and gives more packing to the whole pan.
Its peculiarity is that its Bakelite handle is completely removable, and in a very fast and simple way. And why is this interesting to you? Well, we give you three examples :
You are cooking four things at once on the ceramic hob and the handles of the pans are getting in the way of each other.
You don't have a lot of storage space, out with handles!
You want to finish the recipe in the oven and with the mango it doesn't fit.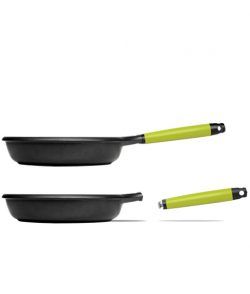 Regarding the compatibility of the Castey Fundix, an increasingly important issue, it should be noted that it is compatible with everything we may need.
Regarding the types of cooker, it is compatible with induction, glass-ceramic, gas and electric cookers .
Regarding the dishwasher, it is perfectly possible to wash these pans in the dishwasher, although if their non-stick is kept in good condition, it will be preferable to wash them in the tap with a napkin. Its non-stickness makes nothing stick and cleaning them is very easy.
Finally, it is possible to put the Castey Fundix pans in the oven, that is, by removing the handle. In this way, it supports temperatures of up to 250º C and allows us to finish our recipes with a gratin, poached or whatever comes to mind.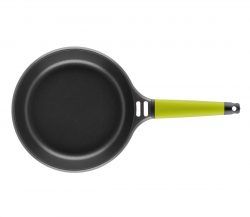 ANTI-ADHERENCE
This aspect is almost the most important aspect of some pans and the one we value the most when assigning a rating to pans. In this regard, we remember that a manufacturer of pans has two options: make their own non-stick surface or buy it from another manufacturer. Thus, Tefal manufactures its own surface, while BRA buys the non-stick surface from Teflon.
In the case of Castey's Fundix pans , it is neither one nor the other. Its non-stick surface is supplied by the American company WhitFord and is called Skandia.
Its non-stickness is very high at the time of purchase, but we cannot expect from it a resistance as high as the Tefal Titanium Pro non-stick surfaces or the Teflon Platinum Plus non-stick surface .
Therefore, we must be careful not to damage the Skandia non-stick surface. This means not cutting with the knife on the pan, not using metal utensils and not pouring cold water when it is very hot.
On the health side, we can rest easy. WhitFord with its Skandia non-stick surface guarantees that it is free from PFOAS. Therefore, it will not transfer any toxic substance to our food as long as it is not damaged. Remember that if the non-stick surface is damaged and the aluminum is visible, we will have to change the pans because aluminum is harmful to health in the long run.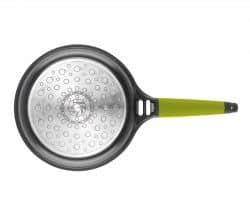 SPECIAL FEATURES
Castey Fundix pans are relatively straightforward and their technologies are practical for everyday use. Let's see:
Integral System diffuser bottom : It is so named because this ferritic disc located at the base of the pan has several functions. On the one hand, it ensures full compatibility with induction cookers. And on the other hand, it is responsible for distributing the temperature evenly over the entire surface of the pan to avoid thermal differences.
Detachable handle : As we saw, it is one of its best features. This allows all the cooking hobs to be used simultaneously without the handles getting in the way. It also allows you to optimize storage in a cupboard, stacking the Castey pans on top of each other and keeping the handles apart. Finally, a great utility is to be able to insert the pan into the oven as if it were a casserole to finish the recipe.
Aluminum structure : Achieves excellent lightness. It gives the pan of excellent resistance so that they do not deform when subjected to high temperatures. Finally, aluminum retains and diffuses heat very well so its energy efficiency is remarkable. (Not as much as a stainless steel skillet though.)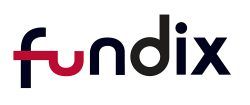 BETWEEN YOU AND ME
These Castey Fundix pans are an excellent option for daily use, as long as you are careful not to damage them. Its non-stick surface is very good, but perhaps a bit more delicate than other competitors. However, for a normal user who is careful, it can be a very balanced option.
This Fundix model has very bright and different colors. The color change of the handle does not represent a change in model or qualities, it is simply aesthetic. It is available in several colors, but the most classic of the firm is yellow.
ALSO AVAILABLE IN WOK AND GRILL
ADVANTAGES OF CASTEY FUNDIX PAN
They are very light, they can be handled perfectly with one hand.
Its detachable handle is a plus, it facilitates storage and saves space.
It is compatible with dishwasher, induction and oven up to 250 ºC.
Fundix offers a full manufacturer's warranty.
DISADVANTAGES OF CASTEY FUNDIX PANS
Its non-stick surface is just as good as the competition but not as strong.
It will require a minimum of care (do not cut with a knife, do not use metal utensils and do not pour cold water while it is very hot).
YOU MAY BE INTERESTED
If you value these pans for their detachable handle, you can value the Tefal Ingenio pans. They are the most successful pans from Tefal and their idea is the same. The price is somewhat higher, but it is because they have a Titanium coating that is indisputably better.
On the contrary, if you don't want a Titanium pan, the other option is to buy a non-stick pan from the most famous manufacturer, Teflon. For this and from this price range, we recommend the BRA Efficient pans. They are similarly priced and feature the Platinum Plus Teflon which is really tough and durable.