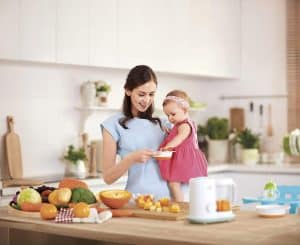 The Philips Avent Kitchen Robot , twice awarded, is a robot specially designed to perform the most basic functions in feeding a baby in the age range of 6 months to two years: steamed and shredded. It is an ideal robot for the period in which new foods are being introduced into the baby's diet, since this robot is capable of doing special cooking tasks for babies, saving us a lot of time in the kitchen, as well as the use of various utensils for cooking and grinding.
Materials
The Philips Avent kitchen robot is made of high-quality plastic materials, BPA-free. The most recommended option to cook in a totally safe way for babies.
Capacity and power
The jug has a capacity of one liter and a power of 400W, enough for the two operations it can carry out. Intuitive, practical and functional: the Philips Avent Kitchen Robot, 2 in 11, cooks with steam and grinds.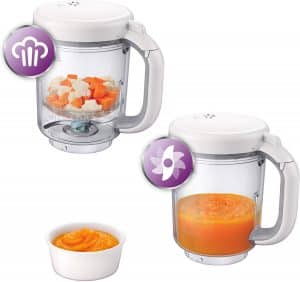 Main features of the Philips Avent Food processor
The Philips Avent Food Processor has functions for steaming, blending and heating baby food in a healthy way. It is a robot with basic cooking functions for babies in their first years of life, when they begin to eat all kinds of food. Its main functions include the following:
Functions cooking steam and shake food.
You can puree or leave larger chunks of food, which is ideal for feeding your baby at every stage of development.

Large, large-opening water tank for easy cleaning and refilling, and cooking with fresh steam every time you use.

When the food has finished its cooking time an alarm sounds and we do not have to worry about constantly monitoring to check the degree of doneness of the food.

Top-down steam circulation technology , so all food cooks evenly without boiling. Food retains its liquids to puree.

You can blend fruits, legumes, meats, vegetables and fish, creating textures, with or without pieces of food.

Easy to clean, and dishwasher safe.

You can defrost and reheat baby purees in your steamer.

Safety system: anti-blocking system through the lid and the container. The robot will not work if the glass is not in place, and the lid is not closed.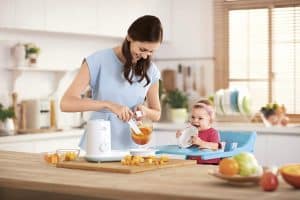 Advantages of the Philips Avent Food processor
Ease of use, thanks to its manual programming of the cooking time, and the alarm to end the steam cooking and to be able to mix the food. We do not have to worry about the completion of cooking, and check the hardness of the food, since it is done automatically

Save a lot of time in the kitchen, performing two automatic tasks, fundamental to feeding a baby: cooking and blending

Possibility of grinding food with or without pieces, to be able to feed the baby in its various stages of growth, from 6 months to two years

Healthy steam cooking, with a system that allows food to retain its liquids and be healthier and healthier.

Possibility of defrosting and reheating baby purees

Its security system will not allow the robot to start if it is incorrectly positioned or covered.

It is very easy to wash by hand, and its jug is dishwasher safe.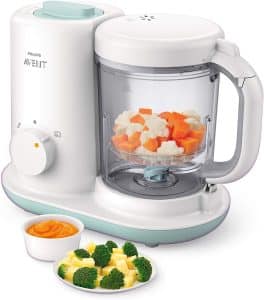 Disadvantages of the Philips Avent Food processor
No drawbacks have been detected, with the exception that it has the two basic functions of a baby feeding robot. There are children's kitchen robots that can perform more varied cooking functions.
Between you and me
The Avent kitchen robot offers all the guarantees of safety and good results from a veteran brand like Philips, which has developed a special range of robots to meet the feeding needs of babies, with the most innovative technologies. The high quality of the materials in its manufacture, and its benefits so that the baby's meals come out perfect, have made this kitchen robot the recipient of two awards, for its design and the results obtained.
It is an ideal robot for those parents who have little time and want to optimize it, dedicating it to the care of the baby, because of the confidence that they will obtain healthy and healthy steamed purees, with shake levels (with or without chunks) suitable for different stages of baby development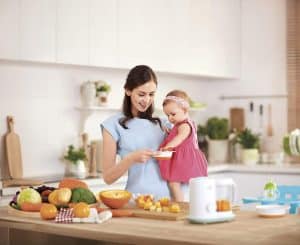 In addition, the materials of the Philips Avent baby food processor are easy to care for and clean, and are dishwasher safe. It is a robot that performs the function of steaming and grinding food in the same jar, thus saving the use of other kitchen utensils.
Its function is exclusively to steam cooking, without boiling the food, which provides a healthier puree for babies, since the food conserves its liquids and essential nutrients.
It is very easy to use, with only one function wheel, and has an alarm system, so that parents do not worry about supervising the exact cooking of food.
Your purchase is worth it, for its excellent value for money, one of the best in the market in cooking food exclusively for babies.
Maybe you are interested
If the Philips Avent kitchen robot is not what you were looking for, you may be interested in looking at the features of the Zanmini Kitchen Robot, also specialized in baby food, with more built-in functions: steaming, blending, sterilizing, blending, defrosting and warm up. It also has a vaporizer function. Its sterilizer function is very useful for the baby's first stages of growth, which require a lot of hygiene in the food process, with a manual time selection, by pressing the "disinfect" button.
It contains two steam baskets with two capacities (600 ml and 400 ml) and an easy-to-use touch screen. It also does the work of beating bottles.