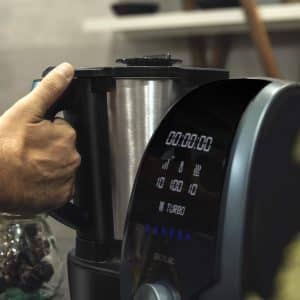 KITCHENS ATTENTION!
This model has been discontinued by Cecotec and replaced by the new Cecotec Mambo 10070. It costs the same and is much more cool 🙂
The Cecotec Mambo 8090 Kitchen Robot is located in the Mambo family in its high range. It is an innovation compared to the Mambo 6090, Mambo 7090 and is one step away from the Mambo 9090. In our opinion, this Mambo 8090 is emerging as one of the best quality / price Kitchen Robot on the market, only surpassed by its "big brother" the Mambo 9090, thanks to its non-stick ceramic jar that allows us to make very, very special recipes. Very demanding. However, for 90% of the kitchens this Mambo 8090 has a high quality stainless steel jug, sufficiently non-stick for almost all recipes that we can think of and for this reason it is configured as the most interesting high-end option if not we want to assume the premium of the top model 9090.
This Cecotec 8090 Kitchen Robot includes the provisions of the previous models. However, it should be noted that it has full compatibility with a dishwasher, a steam basket and, best of all, a built-in scale. This greatly facilitates cooking and food processing tasks, always obtaining impeccable results. With an intuitive digital control panel and 30 cooking and food processing functions, the Cecotec Mambo 8090 Kitchen Robot allows you to innovate and provides you with real help in the kitchen.
To see it better, and before we start, we leave you with a simple table where you can see the similarities and differences with the rest of the kitchen robots of the Mambo family. To the mess!
As always, we leave you with a short video where you can see the main characteristics of this little gem. Inside video!