Tips
Stainless steel pans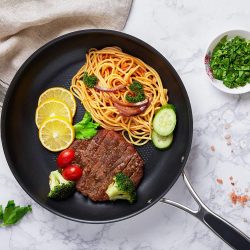 When we are buying new kitchen tools for our house, we run into several circumstances that, if we have not investigated well, can make us make a bad decision. As you probably already know, there are many kitchen products, made of different materials and with different characteristics. Therefore, today we want to help you know all the advantages and disadvantages of stainless steel pans. With this information, you can define if these are the right pans for you and your kitchen.
We must pay close attention to the materials that make up our cooking utensils. By knowing them, we will not only know their durability, but will also give us the opportunity to take care of our health.
The best stainless steel pans
As in each section, there are some brands that stand out in the production of stainless steel pans. This time we want to tell you about three models that are outstanding in each of their sections. They are also made with a high quality steel alloy.
TEFAL EMOTION
The Tefal Emotion frying pan is an incredibly resistant frying pan and one of the best at distributing heat. For us, it deserves to be at Number 1 as the best stainless steel skillet.
This skillet is made with an aluminum interior, but the entire exterior is 18/10 stainless steel of the best quality. They are really clean in terms of design, they are very minimalist. They are 7 centimeters high, which will allow us to move food more easily. Its non-stick surface is also reinforced with Titanium particles. Seriously, this skillet has it all.
These pans do not have rivets or screws in the union, which results in the greatest resistance as they do not have moving parts. In addition, this greatly facilitates cleaning. It prevents food scraps from being stored, so cleaning it with a simple napkin is much easier.
The handle that it incorporates is very elegant, which has a much softer and more ergonomic touch. It also has a hole so you can hang your pan on a hook. Finally, we are in front of a high-end frying pan, so they are perfectly compatible with any type of kitchen. With regard to washing, you can wash it in the dishwasher.
KUHN RIKON SILVER STAR
We have little to say about this frying pan that we did not say in the extensive analysis we did in its day. It is a frying pan, as you know, made in Switzerland and of a quality beyond any doubt. Its price is high (not expensive), but the frying pan deserves it.
It is made of 18/10 stainless steel, under the demanding quality protocols of Kuhn Rikon. The Premium Swiss brand leaves nothing to chance and cares for each pan like a real gem. Thus, the finish of this stainless steel pan does not go unnoticed. Holding it in your hand you can see the packaging, the robustness and the solidity of the set.
Its finish is not a mirror effect (there are those who do not like it), but a really elegant matt gray. And for more quality, its non-stick surface is coated with the best Titanium.
We are, in short, before a frying pan made in Switzerland, with European quality standards, of a sublime stainless steel and reinforced with titanium. What else can you ask for?
TEFAL DAILY COOK
Tefal is a brand that has been in charge of bringing top quality utensils to the homes of all its customers. In this case, the Tefal Daily Cook stainless steel frying pan, one of the main points that we must highlight is its very delicate and well thought out design. They have an aluminum frame and feature a beautiful, shiny surface made of the best quality stainless steel.
The Envy Stainless Steel Skillet uses stainless steel for the exterior. As an advantage, it is also reinforced with Titanium, so non-stick and resistance is guaranteed for many, many years.
As against, we must say that this is a slightly heavier pan and a little more expensive than others. However, it is sturdy and is a frying pan that will last you a long time.
On the other hand, we must mention that this is a material that is perfectly compatible with induction cookers, and Envy is a frying pan that works with all types of hobs. It is also compatible with the dishwasher.
PROFESSIONAL BRA
Another of the best stainless steel pans on the market is the BRA Professional. This frying pan is designed for all those people who are very demanding with their kitchen utensils. It has an excellent quality guarantee.
BRA is a firm that chose aluminum for the construction of the vast majority of its pans. Aluminum is a much lighter and cheaper material than stainless steel can be, as we have mentioned before. But for BRA, it's best to give users all the benefits of stainless steel. For this reason, this frying pan is made of the best quality stainless steel.
The BRA Professional made of stainless steel is highly resistant. It will withstand shocks and, in addition, over time, it will continue to provide us with usability like the first day. The 18/10 stainless steel used is an excellent material for health, being also stable and does not transfer any type of particles to the food you will consume.
However, we must emphasize that this is a frying pan that can be heavy for many and not for others. Its weight can reach approximately 2 kilos.
DEIK STAINLESS STEEL PAN
The DEIK brand never ceases to amaze us. It was released relatively recently and, in a few months, it has been among the best sellers on the internet. And not only that, but also in satisfaction rates. The customers who have bought a DEIK frying pan and are satisfied are Legion, you just have to see the opinions.
Now, the firm has launched the DEIK stainless steel frying pan with finishes that are not at all in line with its price. This skillet is really competitively priced for the quality it offers.
Stainless steel is 18/10, how could it be otherwise. Its non-stick surface is entrusted to a layer of Teflon Select (we remember that it is the high range of Teflon) and it is 100% free of PFOAS and toxic substances.
The DEIK frying pan is, in short, a durable, robust frying pan, VERY non-stick and with a price that is usually knockdown.
Do you want to see all the Stainless Steel pans that we have analyzed? Here it is!
VIEW ALL STAINLESS STEEL PANS
Today's Biggest Discounts, ORDERED!
Are you a demanding buyer who also wants to buy cheap? As you know, there are times when a product drops a lot in price for a few hours or a couple of days. At SartenesyCazuelas.com we are very aware of this. We know that our readers (and we) love to hunt down those bargains on the fly.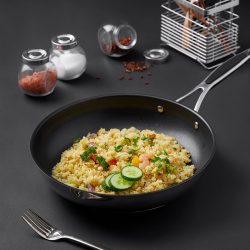 We offer you a list of what we consider to be the best stainless steel pans and ordered by their discount. These discounts are short-lived and, of course, the list will vary. But nothing happens! We update it daily.
What are stainless steel pans?
To understand what stainless steel pans are, we must first talk about their material. Stainless steel is one of the best materials to use in the kitchen, for the reasons are many. But, mainly, it is a durable, healthy, hygienic material and it is excellent to be subjected to high temperatures and it is not at all demanding in terms of its maintenance. Rest assured that it will always look good and like new. Of course, as long as you keep it with minimal care.
There is a wide variety of kitchen utensils made of stainless steel, as well as accessories and essential elements. The most recognized brands of cookware offer pots, pans, accessories and much more, made of this high-quality material. It is often referred to as surgical steel, which shows the high quality of these.
One of the great benefits of stainless steel pans is that they can last a long time in the kitchen. Although like everything in life, it has some drawbacks that, for many, are not of great impact. It is important to know them and know what they are.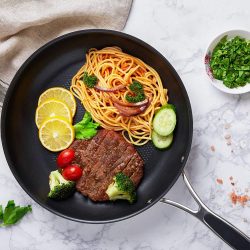 One of the main drawbacks that you will have with stainless steel pans is that you will have to get used to preparing your meals in them. At first it is not difficult for food to stick easily if you do not use a little oil and heat the pan excessively. The high temperatures that they can reach mean that, if you do not control the heat well, the food will stick. This can be solved by lowering the firepower a bit.
One of the advantages of these stainless steel pans is that, as their name suggests, they do not rust. They are very easy to maintain, but if they are used incorrectly they will present some cleaning problems. These can be difficult to solve, and stains may appear that can hinder its proper functioning and aesthetics.
THE BEST-SELLING STAINLESS STEEL PAN
We love keeping track of the best-selling pans. After all, having the reference of hundreds of buyers seems to us a most reliable source. As they say, thousands of buyers can't be wrong.
Do you want to know which are the best-selling stainless steel pans? Look, we leave you a list that we update daily.
How to wash stainless steel pans?
One of the most important points for kitchen implements to last us a long time and without problems, is maintenance and cleaning. This is nothing too complicated, but it is very important that we clean our pans, whatever the material. We must clean them after use, without leaving food or dirt for too long.
One of the keys to cleaning stainless steel pans is not to add cold water while the steel is still hot. You should clean them with soft scouring pads or sponges and with a common, non-abrasive soap. Although these pans are not grated, it is important that we try to keep them in perfect condition. As we discussed, you can wash them in the dishwasher. However, we recommend that we clean them by hand on the spot.
For obvious reasons, stainless steel pans are not going to rust. It is very important that once you have washed the material you avoid lime stains. Others may appear from food, these do not affect the use of the pan, but they can affect its aesthetics. In order to eliminate them, it is best to try a paste of baking soda and water or a little vinegar. The encrusted food should be removed with a firm brush, but one that does not scratch the material.
Another important point to keep in mind is that it is not necessary to cure stainless steel, although some people prefer to give it a very light coating after washing. This will allow you to protect the surface much better and will give it much more shine. Stains that may appear from grease or finger marks can be easily cleaned with a cloth.
What to look for when buying stainless steel pans?
The truth and what you should keep in mind is that not all brands of stainless steel pans are the same. One of the important points to choose the pans is that they are multilayer. Steel heats up very quickly, but it distributes heat poorly. That is why, if you have a good multilayer, excellent cooking can be achieved.
Many models of the most popular brands have an aluminum or titanium multilayer. Above all, to improve heat conductivity and give it a much brighter, more resistant and robust appearance. In addition, you can ensure that these are suitable for all types of kitchens, thus ensuring that you have a tool for life.
In the kitchen the best stainless steel alloy is considered to be 18/10, but really, we need to understand what this means. When stainless steel is said to be 18/10, it means that it has a complement of 18% chromium and 10% nickel. This is a very strong stainless steel, it is not too porous and it is stable at high temperatures.
Advantages of using stainless steel pans
The pans are one of the essential tools in our kitchen, they are very durable and allow us to cook with greater ease. In addition, cleaning is very simple.
When shopping for cookware there are many different facts to know in choosing a suitable pan. We want to tell you the main benefits below:
One of the main benefits of these types of pans is that they are incredibly durable. You will forget about all the problems of materials and buying new pans every so often.
These pans can be less expensive than others. They provide much more performance for almost the same price, in the end it is an investment rather than an expense.
You will not need to give it too much maintenance. These pans do not require us to do complicated maintenance. You should not deep clean them or apply protectors every so often.
One of the added points that many people like is that these are very pretty and aesthetic pans. They are always shiny and have a very modern and attractive finish.
They are incredibly easy to clean. This makes them one of the first options when it comes to hygiene.
It will allow you to cook any type of food regardless of its composition, they will maintain the same flavor and the pan will not take on any odor or color from the food.
Care required for stainless steel pans
If we speak clearly, stainless steel pans do not require much care. Unlike other materials, the steel pan is much more resistant to corrosion and is a material that gives us too much durability. To maintain the shine of the pan, do not use metal scourers, as over time it may scratch the surface.
When we finish cooking we should not immediately apply cold water. Yes we can take a napkin and remove the remains of the food. Then, once it cools down, you can wash it normally. Don't wait too long to prevent food from sticking.
If you have inevitably left the food and the surface has been stained, you should take a little baking soda and rub it little by little.
Brands of the best stainless steel pans
As we have commented throughout this article , stainless steel pans are the best that we can buy for our kitchens. They will give us the best performance and also the durability that we seek so much and that will allow us to save a lot of money.
However, we must recommend some brands that are of excellent quality and that will provide you with complete security when making the investment. These brands are BRA, Tefal and WMF. These are brands specialized in making good kitchen tools that will also provide us with quality for a long time.
Where to buy stainless steel pans?
If you have fallen in love with stainless steel pans, you should know that you can get different models in specialized kitchen stores. But, in addition, a very simple way to buy all the products you need and know the characteristics of all your pans from the comfort of home, is at Amazon.com.
You must take into account reading the characteristics of the pan you want to buy and make sure that it will fully adapt to your needs.