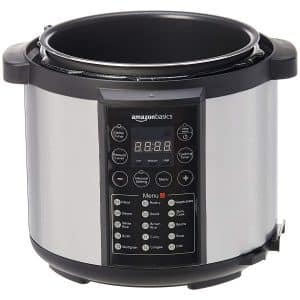 The Amazonbasics programmable cooker is a multifunction pressure cooker, which has the capacity to cook all foods in record time, thanks to its 15 pre-configured menu options. Versatile and easy to use with a very intuitive control panel, it quickly and efficiently cooks dishes of all styles, reproducing the ways of cooking of traditional pressure cookers. In addition, it has a large capacity and will be able to cook for many diners, and a great durability over time, thanks to the fact that it is made of brushed stainless steel.
Ranking Top3 Best Kitchen Robots
Materials
The Amazonbasics electric pressure cooker is made of brushed stainless steel, which provides great durability and resistance over time.
Capacity and Power
The Amazonbasics Programmable Pot has a capacity of 5.5 l, which will allow you to cook for 6 people, and a power of 1000W, perfect for the cooking functions that this pot can develop.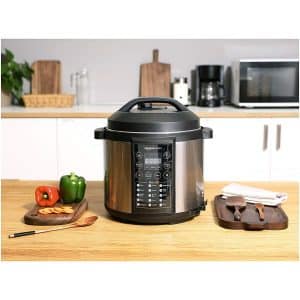 Special Functions of the Amazonbasics Programmable Cooker
The main functions of the Amazonbasics Electric Pressure Cooker are as follows:
15 preset menu options to be able to perform practically all possible cooking functions, which are: meat, poultry, vegetables, steamed food, stir-fries, slow cooker recipes, white rice, brown rice, beans, broth, curry, soup, multigrain congee and chili.

It has a very intuitive and easy-to-use control panel, with LED display, which includes manual mode, programmed start up to 24 hours in advance, pressure level indicator and automatic mode to keep food warm automatically.

Guaranteed safety, thanks to its CE, UL and ULC certifications, and its ten proven safety mechanisms. Guarantee of safe use and peace of mind in daily use.

Effective combination of heat, value and pressure parameters, to obtain the best results in quick cooking of all foods, in the style of a traditional pressure cooker and in much less time.

Possibility of manual adjustments, to prepare the recipes to our liking and with our personal touch.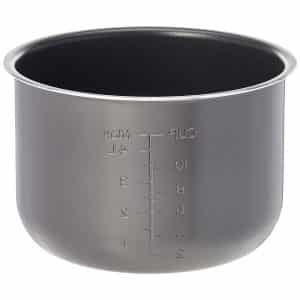 Advantages of the Amazonbasics Programmable Cooker
The Amazonbasics Electric Pressure Cooker offers a number of benefits for people who like traditional pressure cooker recipes and want state-of-the-art features to cook quickly and easily. These are some of its main advantages:
It is a pot that prepares recipes quickly and easily, reproducing traditional cuisine dishes that would require more time to prepare. The results are perfect.

It is easy to use thanks to its led screen
The delay start timer can be used to delay the start of cooking for up to 24 hours. This option is perfect for those who need to prepare their food in advance.

It has a large capacity, so recipes for 6 people can be prepared

Its manual settings option allows you to customize the recipes to your liking

Its automatic keep warm mode will keep food at just the right temperature until it's time to serve it.

With this pot you can prepare all kinds of food: meat, vegetables, legumes, steam cooking, rice dishes and many more, thanks to its 15 pre-configured menu options.

Very safe pot thanks to its ten safety mechanisms. You can use it even if you are more reluctant to use pressure cookers, even if they are automatic.

Possibility of preparing low-fat and healthy dishes, thanks to one of its preconfigured steam cooking programs.

Those who have already tried it highlight the ease of use and the high quality of any recipe that is prepared.

The 15 programs already set are very practical, since starters, main dishes and side dishes can be prepared quickly and efficiently.

It is very easy to clean, and it takes up little space in the kitchen.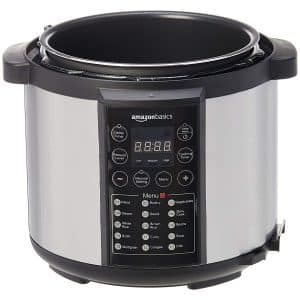 Disadvantages Amazonbasics programmable pot
The main drawback detected comes not so much from the performance of the pot, but from the instructions for use. According to the opinion of the users, and given that this is a completely new appliance in the Spanish market, the instructions for use are not sufficiently explained, as are the recipes that can be prepared by the pot. This may be due, according to some, to the poor translation of the original, which would need to be improved for the Spanish market.
Between you and me
The Amazonbasics Electric Pressure Cooker is perfect for those who do not have much cooking knowledge and are not very willing to cook, since it is very easy to use. Thanks to its 15 pre-configured programs, all kinds of dishes can be prepared. You will achieve great results without investing a lot of time. In addition, and for those who are not very fond of using pressure cookers, its 10 safety mechanisms incorporated into this appliance provide the greatest guarantees of safety when cooking. It is a perfect appliance to be able to design our menu in advance thanks to its programmed start function up to 24 hours before, and the possibility of keeping it warm until the time of consumption.
Maybe you are interested
If the AmazonBasics Electric Pressure Cooker is not what you were looking for, but you do need a pressure cooker that offers more features, you may be interested in taking a look at the more sophisticated Bosch Autocook, which has fifty easy-to-use preset programs , at the touch of a button, allowing the simplest and most elaborate recipes to be automatically prepared.
In addition, it has sixteen predefined programs, and has the possibility of using the delayed start. On the other hand, its induction cooking system makes cooking faster and more efficient, with the same results as a traditional steam cooker. It has accessories (two-height tray for steaming, container, frying basket, spatula spoon) that are suitable for the dishwasher.