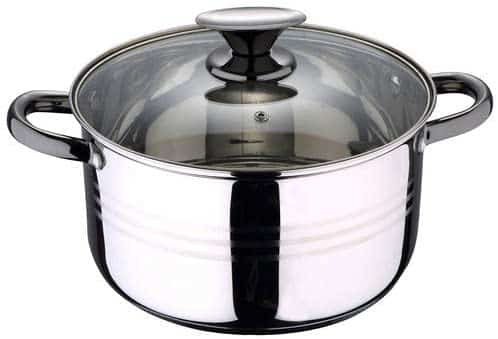 If you are one of those who are looking for a complete cookware with an excellent quality-price, perhaps you are in the right place, because today we have the San Ignacio Premium Dina battery. This game is very practical and quite complete, as it offers 4 pans of different sizes, from a fairly large one to the smallest version.
When you are going to buy kitchen utensils of this magnitude, it is normal to question many things and have doubts, because it is not the same to buy a set of glasses, which are cheaper and have less durability, than one of pots, which usually have a higher cost and which are expected to remain in operation for decades. On this occasion, the San Ignacio Premium Dina cookware offers all the guarantee and security for the user to acquire and trust it.
As mentioned in previous articles, the San Ignacio brand is of Spanish origin, born in Guipúzcoa, and has been investing in innovation and quality in all its products for more than 70 years, from pots to pans. Its popularity is such that it can be easily found in many European countries and also in other countries outside the continent. It is a very versatile brand, which offers its customers a wide range of possibilities.
For this reason, this article will analyze the San Ignacio Premium Dina battery model, which, unlike many, is composed only of pots of different sizes, which all come with their corresponding glass lid.
Materials of the San Ignacio Premium Dina
One of the most important aspects before buying a cookware is to check what materials the different parts that compose it are made of. In this case, the pot set is made of 201 stainless steel, with a thickness of 35 millimeters, which favors heat distribution. Its color is light chrome, which contrasts with spectacular darker handles.
The lids are made of transparent glass, which allows you to see what is being cooked without having to lift them at all times; In addition, they come with an escape valve for steam. This makes them much more comfortable and safe for those who are cooking.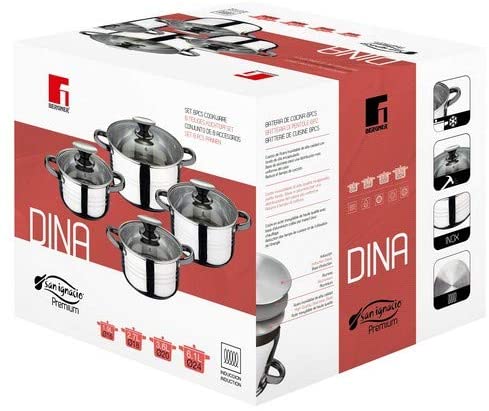 Fire compatibility
After the material, compatibility is perhaps the most studied by users. In this case, the San Ignacio Premium Dina is compatible with all types of fires, from gas, glass-ceramic, through electric ones and reaching the most desired, which is induction.
Induction, although not recent, has not become popular until a few years ago; therefore, it is sometimes difficult to find cookware that is suitable for it. In this case, the four models are suitable for induction, and this is due to the fact that their material and the base they have favor the distribution of heat in a homogeneous way.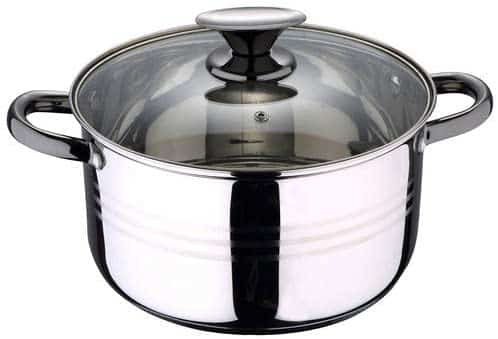 Cleaning
Steel is a very hygienic material, which prevents the proliferation of bacteria. In addition, it makes cleaning easier: the pots that make up the set, with lids included, are dishwasher safe. This appliance has been a revolution in the world of the kitchen; For this reason, the brands have been updated and have created complete games that are suitable for use; This saves time and money.
Element dimensions
Next, the measures from largest to smallest of the four pots that make up this San Ignacio Premium Dina cookware will be offered:
The largest has a capacity of 5.1 liters and dimensions of 24 × 13.5 centimeters.
The next on the scale has a capacity of 3.5 liters and measures 20 × 11.5 centimeters.
The penultimate in size has a capacity of 2.7 liters and dimensions of 18 × 10.5 centimeters.
The smallest of all has a capacity of 1.9 liters and dimensions of 16 × 9.5 centimeters.
As can be seen, it is a reduced game when compared to other much larger batteries; However, it brings everything that is originally needed in a kitchen to be able to prepare what is consumed regularly, be it pasta, rice or cooked.
Main characteristics of San Ignacio Premium Dina
Next, the characteristics that more accurately define the qualities of this model of cookware will be listed:
It is made up of four pots of different sizes.
They are made of stainless steel.
All four saucepans have their own glass lid with a valve.
They are dishwasher safe.
Steel prevents the growth of bacteria.
They are suitable for all types of fires: glass-ceramic, gas or induction. This allows you to cook with them without any problem, because it does not matter what kitchen you have.
They are with a Spanish denomination of origin.
Advantages of buying San Ignacio Premium Dina
There is a wide variety of cookware on the market, so it is normal to find yourself faced with a dilemma when deciding to purchase a set.
Being of Spanish origin, they can be easily purchased, either in physical stores or through the internet, which is the most comfortable way.
They wash themselves, because you just have to put them in the dishwasher.
They have a simple design, which makes them a model suitable for everyone.
No matter what kitchen you have, they are suitable for all.
The four models have different sizes and capacities.
The glass lids facilitate the cooking action, as they avoid lifting the lid to see how the cooking is going.
Great value for the price.
Drawbacks
The only drawback that some might find is that the battery is made up of pots only and does not come with any saucepans or pans to provide you with more variety.
Maybe you are interested
In the event that this product does not meet all the characteristics that you are looking for in a cookware, you should know that there are many other models, such as the Zwilling Focus. It is an excellent model, very similar to the one that we have been dealing with, but with some elements and some peculiarities that could be to the liking of all those who are looking for a good kitchenware.