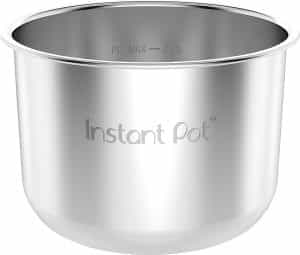 The Instant Pot IP DUO is a programmable pressure cooker that is very easy to use, clean and with a series of cooking programs that make all recipes come out at their perfect point in textures and flavors. Number one in sales in the US, it arrives in Spain surrounded by unprecedented success in a country that is very demanding in terms of new technologies and features, which gives priority to easy-to-use, practical appliances that always offer quality and results they promise.
So that you can see how this Instant Pot IP DUO cooker works, we leave you with a short video of a recipe. It is in English, but its operation is perfectly understood!
Instant Pot Russian Garlicky Beef and Rice
Ranking Top3 Best Kitchen Robots
Materials
It is made of stainless steel, a resistant material that ensures its durability over time. It is the most used material in the manufacture of kitchen robots, since it resists heat very well and is easy to clean, as well as it does not deteriorate with use, and it does not scratch easily.
Capacity and power
The Instant Pot has a capacity of 5.7 liters, for about 6 people, and a power of 1,000 W, enough to carry out the cooking functions of the appliance.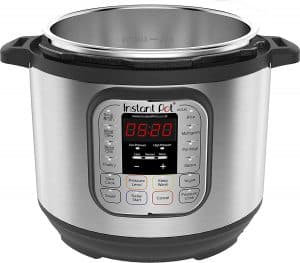 Main functions of the Instant Pot
It has 14 complete cooking programs : steam cooking, rice, yogurt maker function, pressure cooker, slow cooker function ( slow cooker ), sauté and brown function, soups, and function to keep recipes warm, among others.
Its pressure cooker program, the most important of the Instant Pot, allows you to cook traditional dishes in record time, in less time, reproducing the techniques of a traditional pressure cooker.
Its Slow Cook function is perfect for preparing honeyed stews and stews with perfect results, such as those of a lifetime slow cooker.

Includes steam tray, ladle, measuring cup and a 29 recipe book

Easy and intuitive control panel for the selection of cooking programs

In addition to the already designed cooking programs, the Instant Pot has the manual setting function to set the cooking time up to 120 minutes

It has two pressure levels and its cooking programs are controlled by a timer

Cooking can be programmed up to 24 hours in advance so that the recipe is ready when we want

Function to change the cooking program so that when it is finished, the food automatically remains hot (up to 10 hours) keeping the food in perfect condition.

It has 10 safety mechanisms, among which the cover that deflects splashes if they occur, and pressure control thanks to its microprocessor stand out.
Advantages of the Instant Pot
It is a pot that is very easy to use from the beginning, you just need to refer to the instructions for use

Its quick cook feature speeds up cooking time and uses up to 70% less energy

Possibility of steaming, to prepare healthy and low-fat recipes

Its frying and browning functions are perfect for doing kitchen tasks in the same appliance, saving the use of other kitchen pots.

Its easy and pre-programmed cooking functions ensure perfect recipes, at their doneness, and with delicious results.

Its 24-hour timer function is very practical to delay the time of preparation of recipes

It practically does not generate steam during cooking, it is very safe because despite the high temperatures it reaches and on the outside it does not stay hot, which makes it very safe

It is very safe, thanks to its microprocessor that controls pressure and temperature

Thanks to its airtight lid, it will not leave the smell of food in the kitchen

Its container and other accessories are dishwasher safe. In addition, the main container cleans very well, and does not scratch.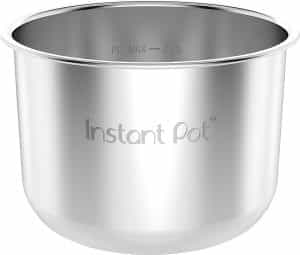 Disadvantages of the Instant Pot
The only drawback detected is that the control panel is not in Spanish and that a specific program for al dente cooking of vegetables or pasta is missing.
Between you and me
The Instant Pot is a very practical kitchen appliance, versatile for preparing all kinds of food, and very easy to use. Your meal scheduling option is perfect for people who have little time to cook but don't want to give up a good table. In addition, thanks to its 10 safety systems, the most skeptical when it comes to using pressure cookers can rest assured, because it hardly expels steam, and although it reaches very high temperatures, the appliance does not overheat, and it is completely silent. . We can carry out other tasks while the Instant Pot cooks for us, since it has complete autonomy.
It is a versatile and very sophisticated pot thanks to its advanced cooking and safety technologies, which makes its price somewhat higher than that of other pots, although according to users who have already tried it, it is worth it if what We are looking for a pot that does all the kitchen functions with total autonomy and safety. It is a perfect pot for people who do not have time to cook, although it should be noted that if we like cooking and live the experience of cooking for our own, it leaves very little room for imagination and our personal touch, although it is true that the recipes are delicious.
Maybe you are interested
If the Instant Pot is not the pot that best suits what you are looking for, you may want to take a look at Moulinex Cookeo, which is somewhat more limited in features than the Instant Pot, but offers all the guarantees of quality and durability. from the veteran French brand. It has 6 cooking modes, an easy and intuitive control panel, a traditional pressure cooker function, to prepare recipes quickly in record time, and the possibility of steaming. In addition, it has a scheduled start function and a keep warm function. Its utensils are easy to clean, and dishwasher safe.