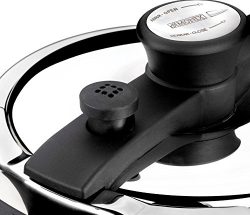 When we become independent and start living alone, gastronomy in our homes, for many, becomes an obligatory task. Cooking is one of the great pleasures we have in our life. This is well known to Monix, who has been accompanying us in the kitchens for more than 60 years, offering us his products. Currently, this is a brand that has established itself as a leader in manufacturing and marketing ; all its products feature innovative designs and styles. A clear example of this is the Monix Easy.
This is a pot that becomes a safe bet to satisfy the needs of all customers; It comes in a 4 and 6 liter duo set, also per unit in 6 and 7.5 liter sizes. Capacities large enough to cook for an entire family of four to six on the weekend.
We leave you with a short video about this Easy Monix fast cooker :
Recetas con olla a presión EASY de MONIX
Materials
The Monix Easy pot guarantees its customers a very long shelf life. Its manufacture is made of very high quality stainless steel. It also contains a heat-resistant Bakelite. This means that it has a very good wear resistance.
On the other hand, we have a bayonet handle. This will allow us a practical and simple opening that will guarantee that we will not burn. In addition, without giving up the elegant design of the Easy de Monix.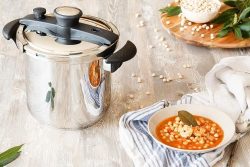 Compatibility
The first thing we look for, when buying a pot, is the compatibility it has. In this case, the Monix Easy fast cooker is completely compatible with all types of kitchens. But it also guarantees optimal performance in each of them.
On the other hand, if what you are concerned about is the cleaning of these pots and all the work it requires, you can rest easy. This is a pressure cooker that its body is dishwasher safe. In the case of the lid, it must be washed by hand.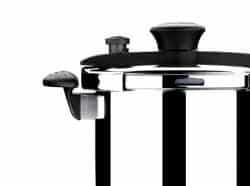 Main features
1-. One of the main characteristics of the Monix Easy pot is its easy opening system. This pot favors the opening and closing of the pot with a simple twist of the wrist. This makes it perfect for the elderly, low force or inexperienced with pressure cookers.
two-. On the other hand, the Easy de Monix pressure cooker is suitable for all types of hobs, including induction cookers. It has a very thick 5.5 mm bottom that perfectly distributes the heat throughout the pot and not just in the center.
3-. As we mentioned before, it is made of stainless steel, good quality. This is the best material for the manufacture of kitchen products, as it is ultra resistant and does not scratch.
4-. Its design is very practical and it is very easy to store. It has a CE quality certification, which guarantees that we will have a suitable product for our kitchen.
5-. Finally, the Monix Easy fast cooker has an operating valve that is made of cast steel; This means that it is much more resistant than the other pots on the market that use a spring.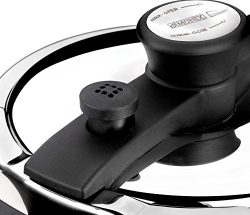 Between you and me
The Monix Easy can be a great option for all large families. Plus, it's a perfect pot for the inexperienced. It has the necessary security systems that guarantee that this pot is suitable for handling by all people.
On the other hand, the Monix Easy pressure cooker is a good option for all those who want a product that is compatible with all types of kitchens. When it comes to pressure cookers we have to look closely at their compatibility, in addition to what they are made of. Thanks to its stainless steel, it will not scratch or spoil. It does not mean that we should not take care of it, but it does mean that it will have a long useful life.
Finally, we have the design of this pot, it is very simple, but at the same time practical for the use of all people. They are neither small nor that wide, rather elongated. Everything will depend on which size you choose, according to your needs, that will be the best choice for you.
Advantages of the Monix Easy pot
1-. One of the great advantages of this pot is its simple opening and closing system. This will ensure that even people with little strength can use it safely.
two-. The Monix Easy is a pot that is made with good materials, achieving a high quality pot at a reasonable price. Remember that stainless steel is one of the best materials for the kitchen, as it is one of the most hygienic metals on the market thanks to its resistance to corrosion.
3-. On the other hand, we have that this is a pot that has a valve made of cast steel. This means that we will not have to change it and that it will last much longer than similar pots on the market.
4-. Finally, one of the great advantages is that this is a pot that is compatible with all types of cookers, including induction ones. In addition, its body can be washed in the dishwasher without problem.
Disadvantages of the Monix Easy pot
One of the drawbacks is that it can be a very simple pot for experts in the kitchen. However, for the inexperienced this pot is presented as the number one option to start practicing.
Maybe you are interested
If you have not been convinced by the Monix Easy pot or you want to see which others you have as an option, we recommend the Bergner Capri. This, like the Monix Easy, is a very good pressure cooker on the market that meets all expectations.
It has 3 security systems that guarantee us that we will be completely safe while we prepare our food. In addition, it has a very easy opening system and is made of stainless steel, which will guarantee that we have a very good product for a long time.
Finally, the Bergner Capri is a pot that is compatible with all types of cookers just like the Easy de Monix, including induction; as well as you can wash the body in the dishwasher without problems. This will guarantee that we will be making an investment in a product that will serve us even if we change our kitchen or home.