Pans
Bergner Just For Chefs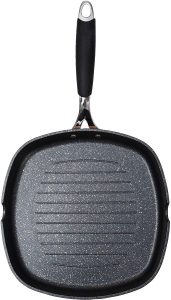 When we look for a quality frying pan that is safe and that will last us for many years, we have to be clear that we cannot go down to the bazaar that we have under our house and buy a frying pan for € 9. Nor is it a matter of freaking out and buying a set of five silver-encrusted pans for € 300. The trick is to find the balance: maximum quality and a contained price, and that is where the Austrian firm Bergner always hits the spot, and these Bergner Just For Chefs are the maximum exponent of it.
To begin with, we base our purchase decision on trust. Bergner is a kitchenware giant based in Austria (Vienna). And as a European company, the entire manufacturing process adheres to the strict quality controls of the European Union. That, in itself, is a guarantee. And the guarantee of quality increases if it has the Bergner Group behind it, which, as we have already commented on this Blog once, is now the one who leads the Spanish firm San Ignacio by the hand. Now does everything add up a little better?
Bergner has been demonstrating extraordinary quality for 20 years, using the latest technologies with each product development and all with maximum food safety. And the market has recognized it by placing these Bergner Just For Chefs pans as one of the biggest bestsellers month after month. Let's see what they are like!
Materials
When a manufacturer decides to launch pans, they know that the material they choose for their construction will be decisive in the final result. And aware of this, these Bergner Just For Chefs pans are made of forged aluminum. What is so special about this material? Well, first of all, its lightness. They stand out especially for how manageable they are both for their light weight, and for the ergonomics of their handle, but we will go to that later. And on the other hand resistance. Aluminum is a very resistant material to shocks so, even if you are not especially careful in the kitchen, these Bergner pans will age wonderfully.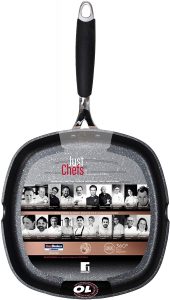 Regarding the mango, something to which you have to pay a lot of attention and it is not always taken into account, it is very, very careful. It is a stainless steel handle, so its resistance to torsion is more than guaranteed. Its chrome finish presents a very elegant contrast to the black inside the pans. And to finish off this handle, we find a silicone coating. No hard plastics! Silicone is one of the best materials to finish a handle, as it guarantees a lot of slip resistance. We can handle this Bergner Just For Chefs frying pan with wet hands or even with oil. A great success!
Non-stick
This is perhaps the most important aspect of pans and the one that should be taken into account the most when selecting pans. And in these Bergner pans, as you can guess, this aspect is not neglected at all. To guarantee their non-stickness, they have resorted to the Whitford company's non-stick surface, whose flagship product is the Quantanium non-stick surface.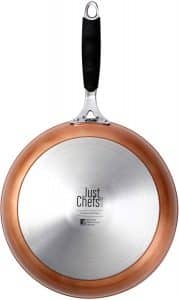 This Quantanium surface is a coating without any type of toxic material, 100% free of PFOAS and what we like the most, with a Titanium coating. This does not mean that the pans are made of Titanium, no. What it means is that on the non-stick layer, there is a Titanium surface so that even if you have hit or scratched the surface, the Titanium being on top protects it and is not damaged.
Many manufacturers are equipping their latest models of frying pans with the Quantanium non-stick surface and with extraordinary results. In the end, what people are looking for is non-stick with all the guarantees of quality and health. And this one does!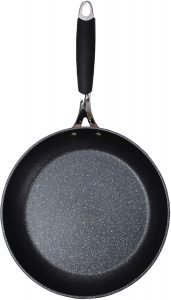 Main Features
Manufactured in aluminum:

which guarantees an extraordinary lightness together with a very remarkable resistance.

Stainless steel and silicone coated

handle

:

allows the pan to be handled without the risk of slipping and causing an accident.

Non-stick surface with Titanium coating

: the most important thing is, in short, that it does not stick to us and that the non-stick surface lasts a long time. Quantanium + Titanium is the winning pair.
Total compatibility: these Bergner pans are compatible with all types of cookers, whether they are glass-ceramic, induction, gas or electric.
It has a SET of 3 pans: we especially like this, because buying the pans in a set saves a lot of money. The unit price of each pan is reduced dramatically.
360 induction bottom: this Bergner technology assumes that the entire bottom of the pan is a diffuser bottom. This allows, on the one hand, to distribute the temperature of the pan more evenly, and on the other hand, it makes it easier for the pan to heat up faster with the consequent energy savings.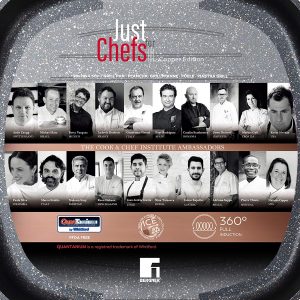 Advantages of Bergner Just For Chefs pans
They are manufactured complying with the demanding health guarantees of the European Union, so they are 100% toxic free.
Being compatible with all types of kitchens, even if you change your house or fire tomorrow, you will have the certainty that they will continue to work.
Its lightness allows you to handle these pans with just one hand, ideal for people with little strength or those who are older. And of course, it is more comfortable!
The Titanium coating that protects the non-stick surface guarantees extreme durability of the non-stick layer.
By heating up faster and retaining more heat once the fire is turned off, it allows us to achieve energy savings day after day.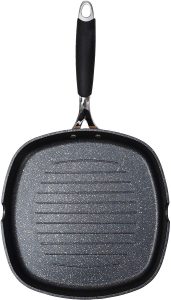 Disadvantages of Bergner Just For Chefs pans
Its characteristics, materials and quality of its finishes are higher than the average, and consequently its price as well. It is not that they are expensive, far from it, especially when we get an idea of ​​the number of years they will last us. But yes, the initial outlay may be higher.
Between you and me
When we go to choose the pan that we are going to use day after day we should be very, very demanding. We are not talking only about the food not sticking to us, but about the frying pan lasting a long time and we have guarantees that it was manufactured under strict sanitary controls. And all this is, in short, what Bergner offers us with those Just For Chefs pans. A robust model , with the best materials (aluminum and stainless steel), with the best non-stick (Quantanium with Titanium reinforcement) and with all the guarantees of an Austrian company that, for 20 years, has shown that it knows how to do things right. .
Maybe you are interested
If these pans are not what you were looking for, we advise you to take a look at the Tefal Expertise pans . They are another of the best sellers of the French firm Tefal and they have reasons for it.