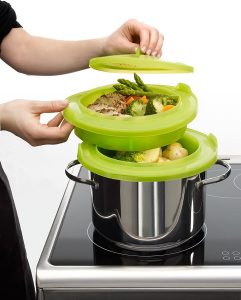 Steam cooking is one of the healthiest and healthiest ways to cook. In addition, it is a practical and fast way of cooking, and the food retains all its nutrients and flavors. With the Steamer Lekue Verde two levels can cook steam in the blink of an eye, and with excellent results, we free to lick your fingers! In addition, it can cook on two levels, so that we can prepare two dishes at the same time without the least effort.
The Catalan Lekue, a prodigy of innovation in the kitchen, always works under the highest quality standards in its products, innovating with practical and simple kitchen tools, such as the special steam cases for microwaves, and this magnificent steamer. So that cooking is easy, healthy and pleasant.
We leave you a short video where you can see how this Lekue steamer works .
Lékué TV | Vaporera
Manufacturing materials and sizes
The Double Green Lekue V aporera 2 Levels is made of platinum silicone, a heat-resistant material suitable for the kitchen, oven and microwave, with resistance to high temperatures. In addition, its materials are BPA-free, ensuring a safe and toxic-free cooking, and it has a non-stick coating.
The steamers are available in two sizes: the normal one, with a capacity of 1,200 ml, for 1-2 people, and adjustable for pans from 19 to 22 cm in diameter; and the XL, 2,400 ml, for 2-4 servings, and adaptable to caerolas from 24 to 26 cm in diameter.
Main characteristics of the Lekue Double Green Steamer 2 Levels
Lekue Double Green Steamer 2 Levels is a practical steamer that will make us forget about the traditional pots for steaming, and that we will not stop using it. Among its main characteristics, the following stand out:
We can cook two foods at the same time, thanks to its two cooking levels.
It is easily adaptable to different diameters of the pots that we use (between 19 to 26 centimeters, depending on the size of the steamer), and as simple as following these steps: we introduce water to boil in the container we want, pot or casserole, we introduce the food in the steamer, we put the pot to boil and that's it! that easy
It is made with non-stick material, so that food does not stick, and is made of BPA-free silicone, and with great heat resistance. It neither burns nor deforms.
Steaming is uniform, so food loses fewer vitamins, essential nutrients, and minerals than with other ways of cooking.
It resists high temperatures, up to 220ºC, so it can be used for baking, and also to reheat food.
It is a steamer suitable for oven, kitchen and microwave, and also for food preservation in the refrigerator, and can be washed in the dishwasher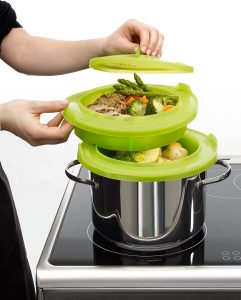 Advantages of the Lekue Double Green Steamer 2 Levels
Steaming with the Lekue Double Green 2 Level Steamer provides many benefits. It is a healthy and healthy kitchen, and we do not have to use more cumbersome kitchen pots that complicate our lives. It is enough with a casserole, and the steamer. Among the main advantages of the Lekue Steamer, the following stand out:
Cooking on two levels is an advantage, because we can have a first and a second, or a main with accompaniment, quickly, easily and healthily.
The steamer is made of high-quality, BPA-free materials such as platinum silicone, a material that resists high temperatures very well, and its non-stick coating facilitate safe use of the steamer. In addition, its materials are BPA free.
It is very versatile, since it is suitable for traditional kitchen, oven, microwave and dishwasher, so we can have our dinner ready with any cooking method, and then go to the dishwasher!
It is adaptable to pots and pans that we already have at home, nothing else is needed to cook! Except to check the sizes of the steamers, which adapt to pans from 19 to 22 cm. the normal one, and from 24 to 26 cm. in diameter the XL.
It is also suitable for storing food in the fridge.
It is light and takes up little space, so its storage is easy.
It cooks quickly and safely with steam, without any fat, and in less than 15 minutes we can have our healthy recipe prepared.
It is very easy to clean, even by hand.
Disadvantages of the Lekue Double Green Steamer 2 Levels
No drawbacks have been detected, except that it is necessary to put enough water in the container where we are going to steam, since if it runs out of water, the silicone burns and we must wait for it to cool to manipulate the steamer.
Between you and me
Innovating to make life easier in the kitchen, with high-quality products and at more than competitive prices, is one of Lekue's hallmarks. And the Lekue Double Two Level Steamer couldn't be less. Practical, economical, and very easy to use, steam cooks in no time. We can have a complete and healthy recipe every day, without much effort.
This product is highly recommended for people who do not have much time to cook and who want to avoid fried and heavy stews, or who want to complement traditionally cooked dishes with lighter and healthier steamed ones.
The Lekue Double Two Level Steamer is a highly recommended kitchen tool, since it facilitates steaming, healthy and just right, and also, its material is suitable for placing in the oven, in the microwave and reheating. In addition to steamed recipes, we can prepare baked dishes without any effort.
It is easy to clean, its material is suitable for preserving food in the refrigerator, and it can be put in the dishwasher. In a few minutes, no more than 15, we will have a complete recipe, thanks to the action of steam. It couldn't be faster and easier. It is perfect for quick dinners or to prepare lunches that can be taken to the office, and that retain all their nutrients and vitamins.
Steaming has never been so easy and fast. In addition, it has an excellent value for money, and due to the great resistance of its silicone material, it can be used daily, and it will always be new. It is an essential purchase to cook fast and healthy, and also very economical.
We use cookies on our website to give you the most relevant experience by remembering your preferences and repeat visits. By clicking "Accept All", you consent to the use of ALL the cookies. However, you may visit "Cookie Settings" to provide a controlled consent.
Privacy Overview
This website uses cookies to improve your experience while you navigate through the website. Out of these, the cookies that are categorized as necessary are stored on your browser as they are essential for the working of basic functionalities of the website. We also use third-party cookies that help us analyze and understand how you use this website. These cookies will be stored in your browser only with your consent. You also have the option to opt-out of these cookies. But opting out of some of these cookies may affect your browsing experience.