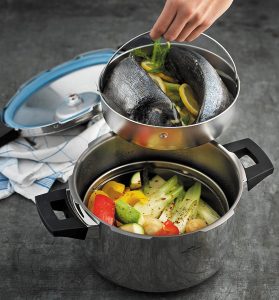 If you are interested in the world of cooking, or you work as a chef, surely you know the Swiss kitchenware brand Kuhn Rikon. Without a doubt and according to the criteria of the most experts, buying a Kuhn Rikon frying pan is a guarantee of success and durability . To learn a little more about its history and trajectory, and to analyze some of its products, stay reading this article!
HISTORY AND TRAJECTORY
Initially, Rikon appeared in the industry as a textile factory. Due to a crisis in the industry, he had to transform his factory, thus becoming a metal factory. In this way, they were making pots and pans of cast iron and copper. Thanks to its production success, the company began to expand and grow. At this time, the factory was known as "Pfanni".
But the company was seriously affected financially, due to a fire that destroyed the entire factory. It is here that Heinrich Kuhn buys the factory, and is renamed " Kuhn Rikon".
This brand was one of the pioneers in the manufacture of kitchen utensils compatible with electric hobs. They also incorporated the use of new materials, such as aluminum. In their trajectory as manufacturers, we can find the exclusive manufacture that they made for chef Paul Bocuse. They have also been awarded numerous awards.
All these experiences and trajectory give the Kuhn Rikon brand great experience. And these years of experience are reflected in the high quality of its products. In their products, we can find traditional designs, more modern designs … But always including technologies that make cooking easier and more accessible.
THE BEST KUHN RIKON SKINS
We cannot talk about the Kuhn Rikon brand without mentioning its most prominent and famous products. The brand has a wide range of kitchenware: pans, pots, saucepans … Each of the options is adapted to one or more consumer needs. If the pans are cared for, they will last a long time with you, so they are worth investing in. They are the pans most chosen by professional chefs, thanks to the quality they have. But the brand makes these utensils accessible to all audiences. Here, we will recommend some of the most successful options when buying a Kuhn Rikon.
KUHN RIKON SILVER STAR
This frying pan is made of stainless steel. This material gives it qualities such as resistance (to heat, corrosion, etc.) and durability. But it does not end here. The makers of this pan have combined the stainless steel base with a titanium top layer . This makes for a much more durable pan, one that is worth investing in.
In the following video you can see the extraordinary quality of this frying pan.