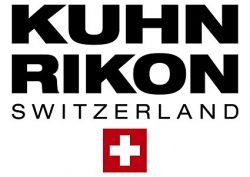 KUHN RIKON GOURMET SKILLET
Talking about the Kuhn Rikon pans brand takes us to Switzerland, where the brand develops, produces and distributes its products, such as these Kuhn Rikon Gourmet Induction.
In this case, it presents us with an aluminum frying pan, as simple in its composition as it is robust and durable due to its materials. It's a tall skillet, perfect for large families, for Wok-style cooking, or just to make the food less splatter when preparing it.
In this short video you can see the main characteristics and the careful design of the Gourmet Induction pans.
VIDEO
Kuhn Rikon Gourmet Induction Sartén (español)
MATERIALS
The Kuhn Rikon Gourmet Induction Skillet is made of the best quality 6mm thick aluminum. What does this mean? Well, the Swiss firm is an expert in the manufacture of high quality pans and perfectly controls the materials to be used. You know that the use of aluminum allows excellent efficiency for your frying pan, allowing you to produce it at a really competitive final price.
The aluminum structure gives it three notable characteristics :
Aluminum is a great conductor of heat, which is why it will achieve temperature really quickly.
Therefore, time and energy savings are achieved.
In addition, the heat distribution will be carried out evenly over the entire surface of the pan, avoiding areas at different temperatures from others.
Finally, the materials used by the transalpine firm make these Gourmet pans compatible with any type of kitchen. Thus, they can be used in induction, glass-ceramic, gas or electric cookers. It is an advantage to know that even if you change floors, your pans will go with you and continue to work.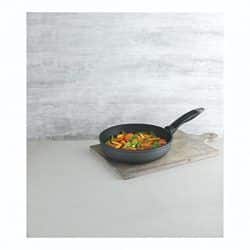 ANTI-ADHERENCE
Kuhn applies three non-stick coats to these Gourmet Induction pans . Based on the extremely high user satisfaction of these pans and the long tradition of Kuhn Rikon, they are of high quality and durability.
In the aspect of food safety and health, remember that they are aluminum pans, a material that should not come into contact with food. Be careful, aluminum is only found in the structure. Covering this material we will find the three non-stick layers. These layers, if they are not scratched or deteriorated, ensure maximum non-stickness and protection to our health.
Regarding these non-stick layers, as they are manufactured in Switzerland under the strict quality controls of the country's public bodies and the European Union, we can be sure that they are free of PFOAS.
As we said, we must take care of the non-stick surface by not cutting the food on the pan or not using metal utensils, since we could deteriorate it quickly if we do not take precautions. To do this, we have prepared a blog post talking about the best kitchen utensils.
If what you are looking for is a frying pan like this one, but with its non-stick coating of Titanium, you should value the Kuhn Rikon Silver Star. These pans have a higher price, but you can make them whatever you want and they do not need any care, in addition to having an outstanding design.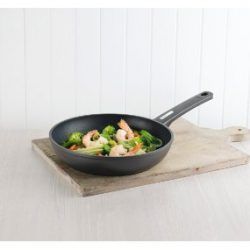 TECHNOLOGY
The excellence of this Kuhn Rikon frying pan lies in its simplicity. It is a pan made of aluminum and an excellent non-stick. You don't need more to show that to be a pan ten you have to have colored lights.
In addition, its high profile will allow us to cook for several people, make excellent potato omelets, sauté, cook in the Wok or keep our kitchen a little safer from the oil that splashes.
The combination of their materials makes these Gourmet Induction pans really light. In addition, this feeling of lightness is reinforced by its ergonomic handle. Its shape and length achieve a perfect grip and manipulation with one hand. Even a weak or very old person can use this pan without using both hands.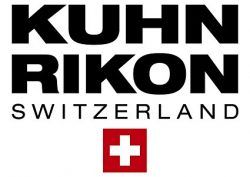 ARE THEY WORTH IT?
Well, we must assess how we usually use the pans in the kitchen. This is a simple and durable entry model from Kuhn Rikon, one of the most interesting price / quality ratio pans on the market. The Swiss brand offers us very high quality standards in these Gourmet Induction pans.
For normal use by one or two people, or a whole family if you are careful, it is a perfect purchase. On the contrary, if it is to give it a more intensive use or they are not going to take enough care, it is better to opt for the Kuhn Rikon Silver Star version of stainless steel and Titanium.
Besides everything, the firm takes care of details and materials to the extreme. This made Kuhn Rikon the recipient of numerous awards. As if that were not enough, and a sign of Kuhn Rikon's commitment to its products, it offers a 3-year warranty.
For all these reasons, we have a very complete frying pan made in Europe. The best thing is that it has a really affordable price for the Swiss brand. It is the entry model of the firm. We would place it below the Kuhn Rikon Silver Star frying pan, but still quite a bit better than any generalist brand.
ADVANTAGES OF THE KUHN RIKON GOURMET INDUCTION SKILLET:
It is an economical frying pan for the high quality to which the Kuhn Rikon firm accustoms us.
Being made of aluminum, they are really light
They are tall pans, so they are perfect for making stews or large amounts of food.
3 year warranty
DISADVANTAGES OF THE KUHN RIKON GOURMET INDUCTION SKILLET
Aluminum is strong, although not as strong as iron or stainless steel pans.
We must be careful not to damage the non-stick coating. It is not easy to damage it, but we must use the appropriate utensils.
YOU MAY BE INTERESTED
If you want to evaluate a frying pan with similar characteristics, you can find the Tefal Chef. They are similarly priced and feature a Titanium coating.
And if you have no problem increasing your budget slightly, we suggest you value the Kuhn Rikon Silver Star frying pan . We are talking about the maximum exponent of the firm, a stainless steel and Titanium frying pan. The price may not be as high as you can expect for such a pan.