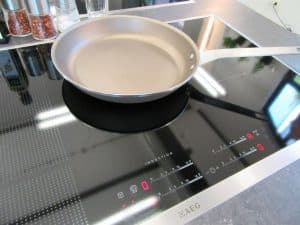 Induction Pans: Complete Guide
For some time now, new induction pans have been flooding the shelves of department stores. By now almost everyone will know the ins and outs of this technology, but just in case, we have prepared a good article for you!
The new induction hobs do not work by generating heat through resistors, like traditional glass-ceramics. On the contrary, they generate an electromagnetic field that heats the pan, and this, in turn, the food.
In order for this frying pan to react to the electromagnetic field of the hob, it must meet only one essential requirement: to have the right material. And this compatible material, in the case of induction pans, is none other than steel. Iron pans also react with induction hobs.
Now, aluminum pans (which are the majority), solve this by incorporating a ferritic disc in their base that makes them compatible with this technology. Make sure it is compatible!
Best induction pans
In this article we will talk about the best induction pans you can find to make it easier for you to choose one.
Tefal Unlimited On
If there is something to ask of induction pans, it is that they work well with this technology and facilitate the rapid diffusion of heat. This set of 3 induction pans offers outstanding performance for this utility. You will find them in the sizes of 20, 24 and 28 centimeters. For us, it is the best induction pan you can buy.
Its outer edge is somewhat higher than normal, which makes it easier for you to make different stews and preparations in the pan. They are made of stainless steel and have a non-stick exterior Titanium X6, 6 times more durable than standard Titanium.
These induction pans can be used with all types of cookers including gas, electric, glass ceramic and, of course, induction. An outstanding feature is that it has a central point called Thermospot that allows to control the temperature since it changes color if the pan reaches 180 degrees.
Their materials make them very easy to clean and that you can always keep them in perfect condition.
Tefal Daily Cook
Tefal Daily Cook induction pans are a set of 3 pans of 20, 24 and 26 centimeters made of stainless steel. Its non-stick coating makes cleaning much easier. One highlight of these induction pans is that they have a reinforced base that is shockproof.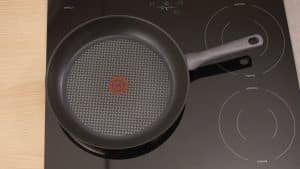 Its coating of titanium particles makes them very resistant pans. They are compatible with all types of kitchens and you can wash it in the dishwasher. This together with the fact that they are pans that you can also use in the oven up to 180 degrees make these induction pans a very versatile product for any kitchen.
Without a doubt, if you want a quality product that allows you to optimize time in the kitchen, as well as save energy, this model of pans meets those requirements.
Bra Advance
This batch of pans completes our proposal and offers you a high quality product. This is a set of 3 induction pans that feature an ergonomic handle to make it easier for you to work in the kitchen and grab your pan.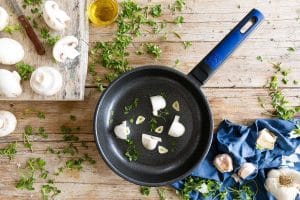 It is made of non-deformable cast aluminum which ensures that despite the passage of time your pan will remain undeformed for many years. In addition to a careful design, they are highly resistant induction pans. It has a non-stick bottom that is free of reinforced PFOA and that has been designed to be very resistant to scratches and fire.
In addition, these pans have been developed so that you can easily store them in your kitchen with an ergonomic format and easy to stack.
Advantages of induction pans
Induction pans offer significant advantages if you use them in your induction cooker. The main advantage is that you can use it for induction cookers with what this can mean savings and efficiency.
Induction pans are faster than normal pans. The system they include makes the heat reach the base and the food more quickly. In this way you can be more efficient when cooking because you can prepare your dishes in less time than a traditional frying pan.
Energy saving is another of the great advantages of this type of frying pans since by carrying out the process of heating food more quickly, it will require less heating time and less cooking time, significantly reducing energy needs.
How does an induction pan work?
Induction pans are intended to be used in an induction cooker. These pans have an operating system that makes the heat distribute evenly through the bottom of the pan, making the temperature more stable and its contents heating up more quickly.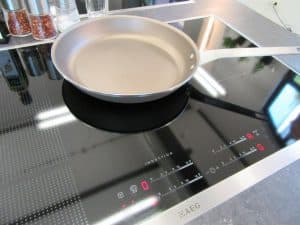 Induction pans are usually made of materials that distribute heat well, such as stainless steel, wrought iron, cast iron, or glass. These pans usually have a fairly thick bottom that helps this heat distribution to be done evenly. An induction cooker works by electromagnetic waves that are distributed through the bottom of the pan the moment it comes into contact with the cooker.
By having a large flat surface that is in direct contact with the induction hob, it receives the heat directly and distributes it through concentric circles throughout the bottom of the pan.
One way to make sure your pans are induction is to hold a magnet close to the bottom. If it sticks you can use it without worrying, otherwise it is not suitable for your induction cooker.
Best sellers!
Better materials for induction
It is because of the aforementioned that all stainless steel pans are compatible with induction hobs, as well as those made of iron. But what about aluminum ones ? Well yes, as you know, most pans have an aluminum body. And as we already know, aluminum DOES NOT react to electromagnetic fields.
So why does my aluminum skillet DO work with my induction hob? Very easy! Manufacturers insert discs at the bottom of the plate made of stainless steel or iron, and voila, compatible!
Thus, it is indisputable that induction has come to make life easier for us. It consumes less energy, so it will lower the bill, it heats up faster, it does not get dirty because as it does not heat up, what can fall on the plate is easy to clean … And for some time now, the prices are really competitive.
Finally, as we have seen, most of the new pans are already compatible with induction hobs. Maybe we will find a slightly older one that is made of aluminum and does not have that disc at its base … But, do you know what is the best way to see which ones are compatible? Well, it is to look at this table and decide! We have selected, among all, the best-selling induction pans. If you want, on this website you can see the complete analysis we did of each one, or see the price directly.
If they are valid for induction they are valid for all other types of fires!
These pans are also valid for other types of kitchens, which makes you have a much more versatile product. In general, induction pans are also suitable for traditional glass-ceramic cookers.
Among their advantages we can also highlight that they are products of great quality and resistance. Its base and sides are reinforced and its non-stick system greatly facilitates cooking.
As you can see, induction pans are a great solution for your kitchen and to offer better dishes and preparations. With the information that we have provided you, you will be able to decide which is the pan that best suits your needs and those of your kitchen. Without a doubt, if you want to save time and money, induction pans are your best option.
Happy recipe!