Pans
Le Creuset iron skillet
If the Le Creuset brand is recognized for something, it is for the high quality of its products. And if we think of its most famous product, two will come to mind, its well-known cocottes and its Le Creuset iron skillet. As you know, this French manufacturer has been making the best frying pans and cocottes since 1925, and in almost 100 years it has earned a well-deserved fame.
Thus, these pans are especially famous in their native country, France. In that country it is not uncommon to see Le Creuset pans and cocottes in the kitchen with more than 15 years, and in perfect condition.
But let's save the cocottes for another article. In this case we are going to analyze these famous Le Creuset iron pans Le Creuset. As we all know they have a high price, but are they expensive? Are they worth what they cost? Keep reading and we will reel off each of its characteristics.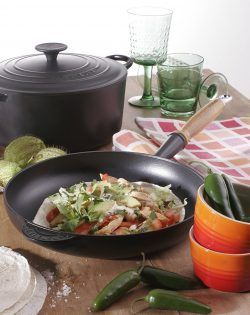 OLD MANUFACTURING PROCESS
The manufacturing process of each Le Creuset iron skillet is almost documentary-worthy. Cast iron is poured directly onto a mold, resulting in a unique piece of extraordinary hardness and resistance. This mold removes excess iron and shapes it. When it cools, each pan is finished by hand by an expert craftsman who polishes the edges, files the edges and cleans any impurities.
After this, the enameling is added, it is vitrified and it is thoroughly reviewed again, complying with a strict quality control. In this way, each Le Creuset frying pan is individually manufactured , finished by hand by expert artisans from the century-old French brand and is therefore of the highest quality.
It's no wonder these pans are still in great shape after more than a decade of intensive use. And if you want more guarantees, Le Creuset offers a LIFETIME guarantee for each pan that comes out of their hands. And you have to be very sure of the quality of your product to offer such a guarantee.
Here you can see a one-minute video about the manufacturing process and the interior of its factory. It is truly fascinating to see things like this still being made, and this is what justifies its price.
VIDEO