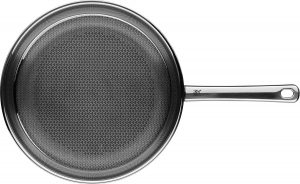 WMF is a German premium brand that is characterized by its innovative products, with durable and resistant materials such as these WMF Profi Resist . It is very similar to the WMF Profi frying pan, but with a very big and very positive difference, its superior honeycomb.
The quality with respect to the WMF Profi Resist pans is noticeable from the first moment. We can choose several measures and two different types: with a handle and with two handles.
The Profi Resist two-handle serving pan has different sizes, 24 cm and 28 cm, adapting to the needs of each Chef and the amount of food in the recipe.
For its part, the Profi Resist pan is also found in finishes between 24 cm and 28 cm.
This WMF brand is 100% German quality founded in 1853 with a wide range of premium kitchen products. The firm is recognized for its elaborate design, its wide range of products and, above all, for the resistance of materials and finishes.
We all spend hours looking for good quality household items that are durable. Especially if it is about articles and kitchen utensils, since they are not usually exactly cheap. Therefore, if we are demanding and if we are going to pay a lot of money, we want to know if it is worth it. Let's see .
We leave you with a short video. It is in English but it works perfectly to see the qualities and finishes of this Profi Resist frying pan.
VIDEO