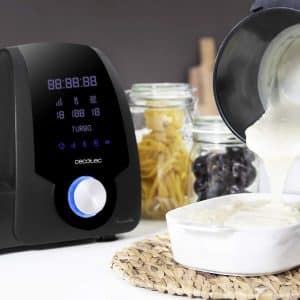 KITCHENS ATTENTION!
This model has been discontinued by Cecotec and replaced by the new Cecotec Mambo 8590. It costs the same and is much more cool 🙂
The Cecotec Mambo 6090 kitchen robot is an essential in our kitchen at a more than affordable price. It is the entry robot, the most basic of the Cecotec Mambo family. Still, it has a lot to offer us. It is perfect for the preparation of all kinds of recipes with little effort and the best culinary results. Despite being the most basic of the Mambo family, the 6090 employs many of the latest Cecotec technologies. For this reason, the Cecotec Mambo 6090 kitchen robot entered the market as a product with a groundbreaking quality / price. Created in 1995, the hallmark of the young Valencian brand Cecotec is constant innovation in small household appliances. Thehigh quality of its products is synonymous with absolute guarantee and safety.
This Cecotec Mambo 6090 has 23 cooking functions, and an innovative intelligent heat output system that prevents food from burning. Its Mambomix kneading spoon, unique in the market, and highly anticipated by regular customers, will make you able to take maximum care of the preparation of your recipes, easily and with first-rate results.
As we said, this 6090 is the most basic model and constitutes the entry model. They are followed by the Mambo 7090, the Mambo 8090 and the Mambo 9090. The most balanced in quality / price, we believe that it may be the Mambo 8090, but that is better if you determine it by reading the analysis of each one! We leave you a simple table where we compare the four models so you can see what place each one occupies in the Mambo de Cecotec family.
We leave you with a great video where you can see its main features in practice.