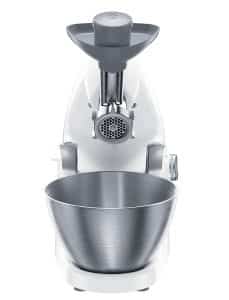 The British Kenwood, leader in the manufacture of kitchen robots, in particular food processors and mixers, presents the Kenwood MultiOne Kitchen Robot. This robot has a wide variety of accessories for the efficient processing of almost all foods. It is a highly versatile robot and is very easy to use thanks to its speed control. Among its main qualities is the considerable saving of time, work and energy, in the preparation of multiple foods. It is a complete kitchen helper, which allows it to be used by all types of users, regardless of their culinary level. It can also be used more professionally.
We leave you with a short video where you can see all its characteristics!
Robot de Cocina MultiOne de Kenwood
Ranking Top3 Best Kitchen Robots
Materials
The Kenwood MultiOne kitchen robot is made of metal and stainless steel, which guarantees its resistance and durability over time. It is a very robust robot. Its mixer is made of high quality glass.
Capacity and Power
It has a bowl with a capacity of 4.3 liters, and the blender has a glass with a capacity of 1.2 liters. It has a power of 100W, it is not exaggerated but it is sufficient for all the food processing functions that the robot includes.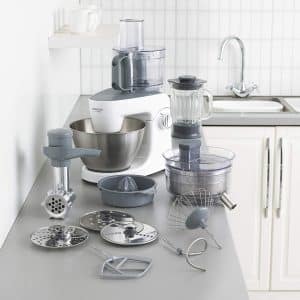 Kenwood MultiOne Food Processor Features
This Kenwood MultiOne kitchen robot has a series of features that make it very useful for home use, but it is a perfect robot for professional uses, as it has multiple food processor functions, and is fast, clean and easy to use. These are its main functions:
It has the following food processing functions: whisk, squeeze, blend, slice, grate, and chop.

It has two distinct areas, the preparation area and the mixing area.

In the preparation area you can prepare all kinds of food, thanks to its 1.2L capacity bowl

In the mixing area you can mix the foods to be prepared: cakes, cakes, puddings, etc.

It has five variable speeds,

with electronic speed control.

It has a "Pulse" function to expand capacities in the preparation area.

The 360º planetary movement

when mixing makes it easier for all the doughs to be worked with a homogeneous texture and stick to the container.

Its anti-splash cover with an inlet hole, facilitates the introduction of food

Includes the following accessories : juicer, blender, blender, food processor, chopping blades, grating, slicing and slicing discs, K-mixer, meat grinder, wire mixer, dough hook, juice accessory and accessory to cut potatoes.

Accessories suitable for the dishwasher, although it is not advisable to insert the blades, which can be easily washed by hand.
See how to make Pizza with the MultiOne !
Como hacer Pizza con MultiOne | Kenwood
Advantages of the Kenwood MultiOne Food Processor
The ease of use is one of the main advantages thanks to intelligent variable speed control, which gradually increases and stops if necessary add some ingredient.
Its mixing and kneading functions achieve the perfect texture in all types of dough, thanks to the K-Mixer, for cake mixes, and the whisk, specially designed for preparing souffles and meringues. The dough hook is perfect for preparing bread doughs.

It is capable of chopping vegetables very easily and quickly, thanks to its stainless steel blades.

Your blender can easily make smoothies and smoothies.

The glass blender is perfect for preparing smoothies, creams, soups and can crush ice

Its accessories are easy to clean and maintain. They are dishwasher safe, although it is advisable to wash the blades by hand.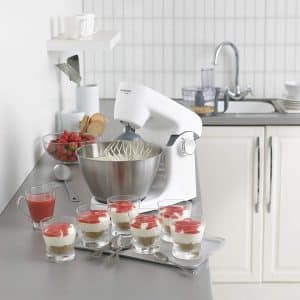 Disadvantages of the Kenwood MultiOne Food Processor
Keep in mind that it is a food processor, so it lacks cooking functions. You also need to keep in mind that you have no preset programs. The drawbacks detected are the following:
It does not include a scale to weigh the ingredients.

It does not have a timer to program when you want to have a preparation ready.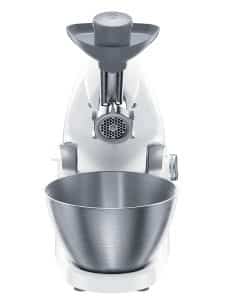 Between you and me
Being a sophisticated robot in its design, thanks to its two differentiated work areas, the Kenwood MultiOne kitchen robot is a very complete, intuitive and comfortable robot for daily use. Its main advantage is the ability to do all kinds of food processing functions thanks to the large number of accessories it includes, and all in a single robot. This saves a lot of time and work in the kitchen, and is also a good energy saving. It is perfect for domestic uses, but it can also be purchased for professional use, thanks to the speed of food processing.
Given the large amount of food that it is able to process quickly and easily, it is a kitchen robot with an excellent value for money.
Maybe you are interested
If the MultiOne Food Processor is not exactly what you were looking for, you may be interested in taking a look at the KitchenAid Artisan, the kitchen robot that also has multiple food processing features, and is more sophisticated than this one. It has a capacity of 4.8 liters and 300W of power, with an efficient transmission motor. It has 10 speeds, and multiple accessories suitable for the dishwasher that allow you to perform the following functions: mixing, slicing, whipping, chopping, cutting and binding ingredients.
It is a very versatile robot that lends itself to practically all kinds of preparations, and thanks to its great capacity it can produce large quantities of dough. Despite its ease of use, it is a more sophisticated robot, perhaps requiring more culinary skills than the Kenwood MultiOne. In addition, its price is higher, given its high quality and its magnificent features, but for more experienced cookers, it is a robot that is worth buying.