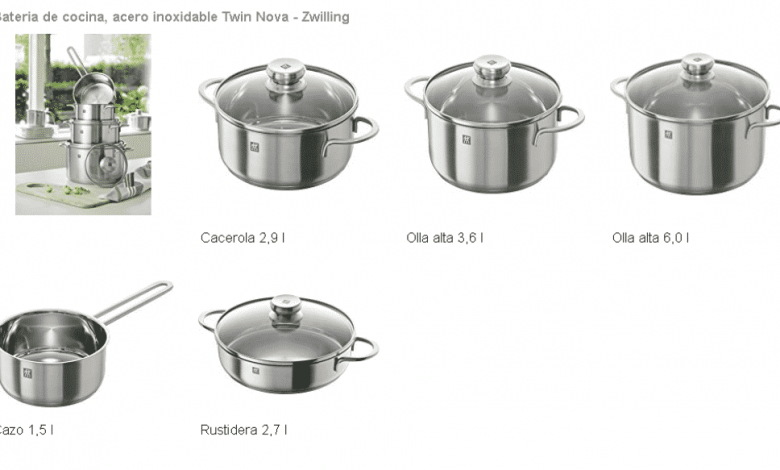 A quality cookware like the Zwilling TWIN Nova is essential to cook delicious meals and surprise your family and friends. We firmly believe that to prepare delicious dishes you don't need to be an experienced chef, all you need is the right kitchen utensils.
Also, don't forget that you always have to consider two very important aspects, which are:
The quality of the materials
The funcionality
This is a battery Zwilling cooking of 5 pieces, made of stainless steel highly resistant to corrosion, which has all the elements necessary to prepare a wide variety of dishes.
It includes:
Two tall pots, one with a 3.6-liter capacity and the other with a 6.0-liter capacity
It also comes with a saucepan that holds 2.9 liters
A 2.7 liter rotisserie
A 1.5 liter saucepan
All made of stainless steel to ensure maximum durability.
The Twin Nova by Zwilling is also a simple and versatile cookware, ideal for preparing daily food, which thanks to its classic design, adapts without problems to any type of modern kitchen. Its SIGMA Classic sandwich base has a powerful aluminum core that enables proper heat conduction and storage.
Materials
As we already indicated, the Zwilling Twin Nova cookware is made of stainless steel, however, neither on Amazon nor on the manufacturer's page is it specified what type of stainless steel it is. Consequently and considering the basic qualities of stainless steel, this is a cookware that heats up quickly and is also resistant to damage caused by other utensils.
Except for the saucepan, all the pieces have a glass lid, which, as we know, is also another of the common materials in kitchenware. This means that you can easily see inside and check food is done without removing the lid.
Compatibility
Let's talk now about compatibility, a very important feature to consider, because no matter how good a battery is, it is of little use if you cannot use it properly in your kitchen. Fortunately, you will not have to worry about this aspect, since the TWIN Nova cookware from Zwilling is compatible with all types of hobs, from vitroceramics, ovens and even induction.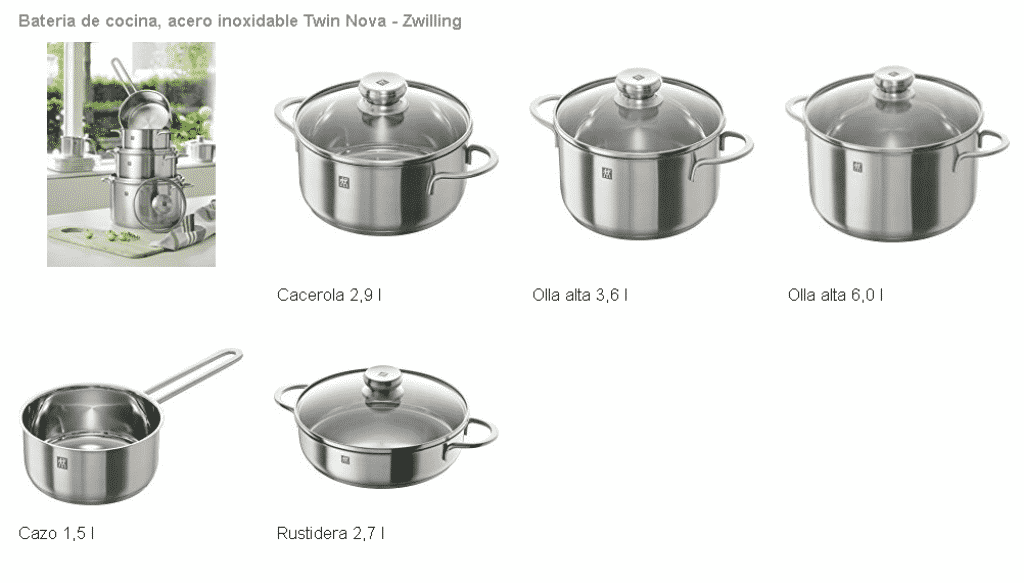 This means that you can take advantage of all the qualities of this battery, regardless of the type of cooktop you use. In other words, you will have no excuses to prepare those delicious stews because this battery will maintain its functionality and efficiency, wherever you use it.
Advantages of the Zwilling Twin Nova cookware
Well, there are several advantages of the Zwilling TWIN Nova cookware that I would like to highlight since they can be key when deciding to buy it.
To begin with, the SIGMA Classic base of all the pieces has a new solid aluminum, specially designed so that heat is conserved and distributed more efficiently.
On the other hand, each of the pots have a beautiful and elegant satin finish, which in addition to being visually attractive, is easy to clean.
All part handles are made of stainless steel and are ergonomically designed for easy grip. You will have no problem holding the pots and saucepan comfortably and securely, nor will you have to worry about them breaking.
To also highlight the special edge arranged in each of the pieces, so that you can easily pour the liquids. This prevents spillage and dripping, thus facilitating cleaning tasks.
That's not all, each of the pieces has an integrated measurement scale inside, which allows the quantities to be accurately measured. Remember that many housewives prepare their meals using the exact ingredients, so having a scale is very helpful.
Another aspect to highlight has to do with the design of the lids, which in this case have been manufactured to fit perfectly and also seal hermetically. This allows you to save a greater amount of energy each time you cook and also save on water. The lids have a silicone rubber whose function is to prevent moisture from escaping, making food cooking much faster.
The lids are also made of glass, which means that you can see how the food is cooked without having to remove the lid. This also helps the food to be ready more quickly, since it is not necessary to constantly uncover to check the cooking.
The design of the TWIN Nova battery from Zwilling is classic and at the same time functional, suitable for any type of kitchen. You can use this battery in vitroceramic, oven, induction, gas, etc., and in each case you will get the maximum performance.
The size and capacity are also another advantage of this battery, which means that you can cook a wide range of dishes, not to mention that the roaster guarantees that you can prepare stews, stews and rice with the proper cooking.
Disadvantages of the Zwilling Twin Nova cookware
Without a doubt, there are always drawbacks, which although in this case they are very few, it is convenient to mention them so that you take them into account:
If you give a lot of importance to visual aesthetics, perhaps the classic design does not seem so attractive, especially if you are looking for something that complements your kitchen utensils.
Maybe you are interested
Considering all the above, I think that the Zwilling TWIN Nova battery can be an excellent addition to your kitchen, but you may be interested in looking at other options, such as the Tefal Duetto battery . It is a four-piece stainless steel battery, oven and induction compatible, glass lids, scratch resistant, measuring scale and a warranty of up to 10 years.