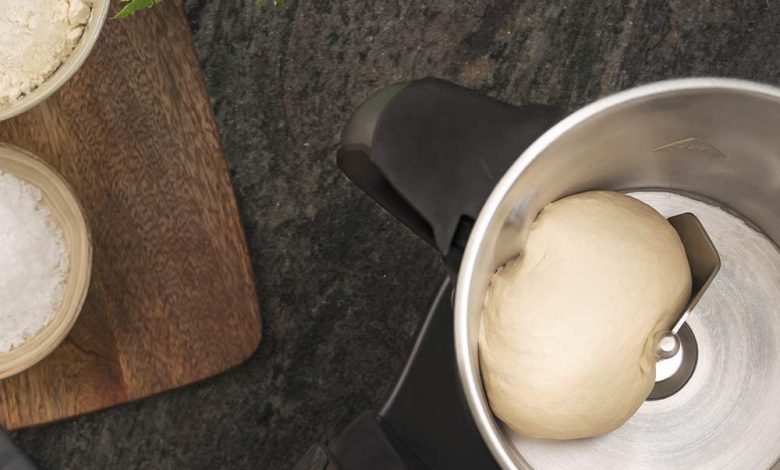 The new generation of Mambo has arrived! There are a large number of recipes that you can prepare in your kitchen, but nothing is as simple and fast as doing it with a Food processor. And what does this Mambo have new?
Today we are going to talk to you about the Cecotec Mambo 8590 kitchen robot, which tries to position itself among the high-end kitchen robots at an absolutely groundbreaking price. What does it have and what does it lack? We see it step by step:
Like the other Mambo kitchen robot models, the Cecotec Mambo 8590 also has 30 cooking modes and many other functions inherited from its older brothers. Therefore, you will be able to make practically any cooking recipe with maximum efficiency. Now, you should know that this is the entry model, the most basic of the new family of Mambo Robots. This means sacrificing a couple of features, but you may not care and it saves you good money.
So, what are the differences of this Cecotec Mambo 8590 with its older brothers? Is it a good buy? We started!
OFFICIAL STORE CECOTEC
See here the updated price of the Mambo 8590
Comparison with other Cecotec kitchen robots
It is important to note that the Cecotec Mambo 8590 kitchen robot is a mid / high-end model with a really low price for what it offers. In fact, it is the cheapest kitchen robot of the Cecotec brand.
Above this robot are the Mambo 9590, Mambo 10070 and Mambo 10090 models.
Its main disadvantage compared to all other Cecotec robots has to do with the mobile application and the Habana jug. That is, it is not compatible with the Cecotec App, which would allow you to access a complete recipe book for the kitchen robot and which they update quite regularly. And on the other hand, the other difference is that it does not have the Habana Jar, which, as you well know, is the jar with a non-stick ceramic coating developed by Cecotec.
This Habana ceramic jug is especially suitable for those recipes that need a special delicacy such as custard, chocolates or some sauce that can stick.
The Cecotec Mambo 8590 does not have an App or Jarra Habana. The Cecotec Mambo 9590 SI incorporates the Havana Jug. The Mambo 10070 has a mobile APP and the Mambo 10090 has a mobile App and Jarra Habana. Four models, each adjusted to what you need. Sounds like a great idea to us.
We leave you a simple table where you can visually compare the four available models:
Cecotec Mambo 8590 Materials
When choosing the best kitchen robot, you always have to take into account the quality of the materials with which the product is manufactured. This will give us an idea of ​​how strong and durable the robot will be, regardless of whether you will use it intensively, or use it occasionally.
Due to the characteristics and functions of kitchen machines, the materials with which they are made must always be of the highest quality. Mainly because the material will be in contact with all kinds of ingredients and foods.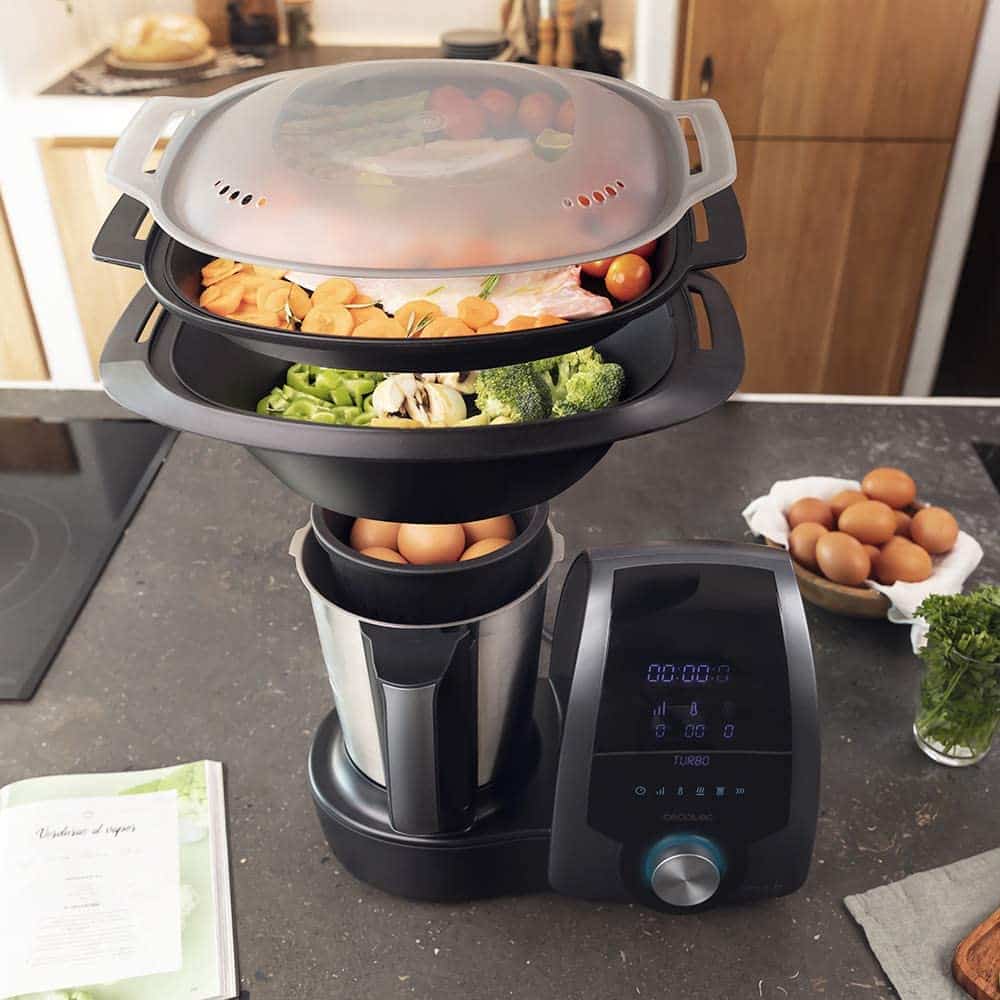 The good news is that the materials in the Cecotec Mambo 8590 are high-end. Stainless steel stands out first, although there are also other components made of silicone. Next we will talk about the benefits of these materials.
Stainless steel
The Cecotec Mambo 8590 food processor has a stainless steel jug that has a capacity of 3.3 liters. Beyond the fact that the capacity of the jug is excellent, what is relevant here is the stainless steel and its properties. This type of metal has always been characterized by its durability and resistance to the passage of time. In addition, in visual terms it is also very cool in the kitchen and, above all, clean and easy to clean 🙂
Another advantage of stainless steel kitchen machines is that they do not scratch easily. In fact, it is a highly resistant metal, capable of withstanding the action of corrosion, and preventing the surface from staining. Not only that, steel is often combined with other metals to form an alloy that provides an incredibly durable part.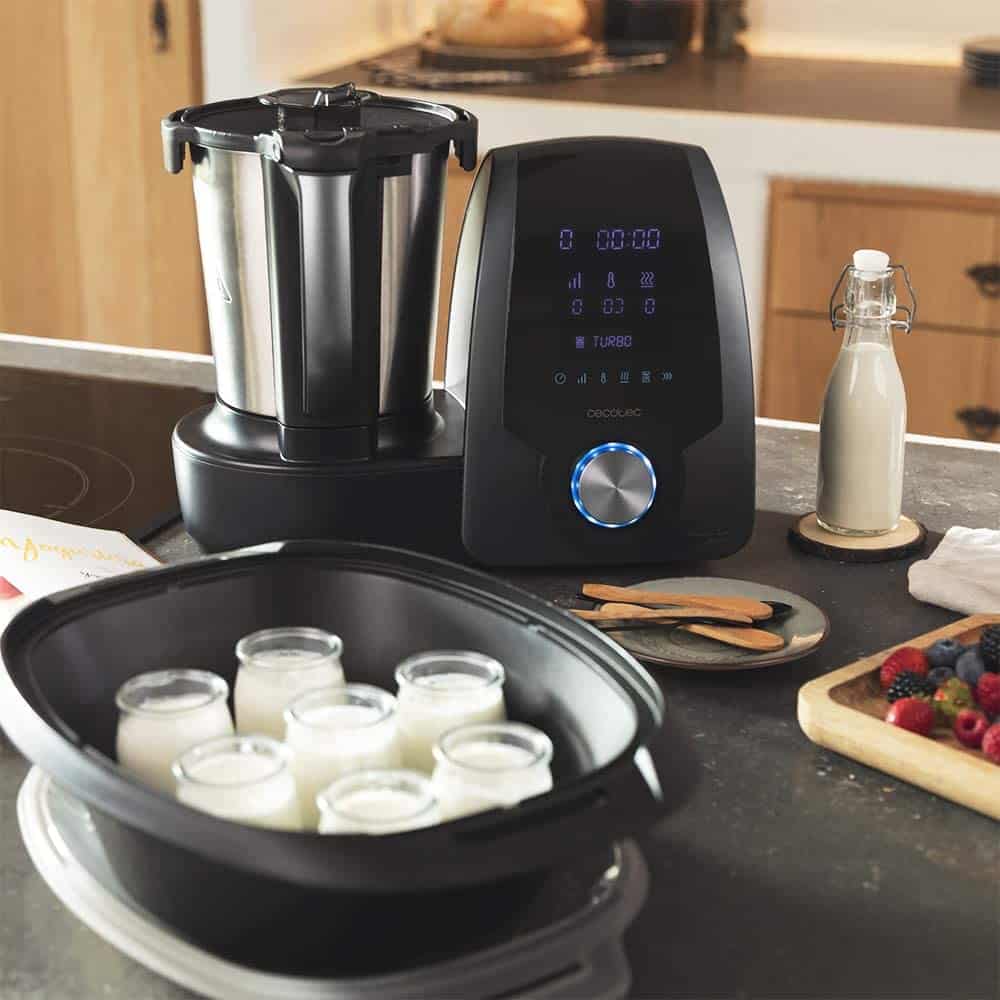 In addition, stainless steel shows no signs of wear, even when used for many years on a consistent basis. Therefore, this material facilitates the cleaning and care of the Cecotec Mambo 8590. And if you are concerned about the hygiene of the materials, you should know that stainless steel provides a hygienic surface because, as it is not porous, it is extremely easy to clean. Therefore, you don't have to worry about bacteria and germs sticking to the surface.
Silicone
You will find the silicone in a reinforcement that is in the final part of the butterfly. The reason why this material has been chosen is because silicone is a very flexible material that is soft to the touch. In fact, silicone does not cause staining, it never exudes, it does not even age.
Another important property to mention is the tensile strength of silicone. However, unlike other materials, silicone maintains this property even after prolonged exposure to extreme temperatures. In addition, this material is elastic and insulating, it does not even promote the growth of bacteria, and it is not a corrosive material.
Cecotec Mambo 8590 Stem
The Cecotec Mambo 8590 kitchen robot has an intelligent heat output system. This system uses power levels ranging from 0 to 10 maximum. Therefore, in this case the power is not expressed in Watts. Thanks to this, it is possible to simulate a conventional fire with a soft, medium or strong flame.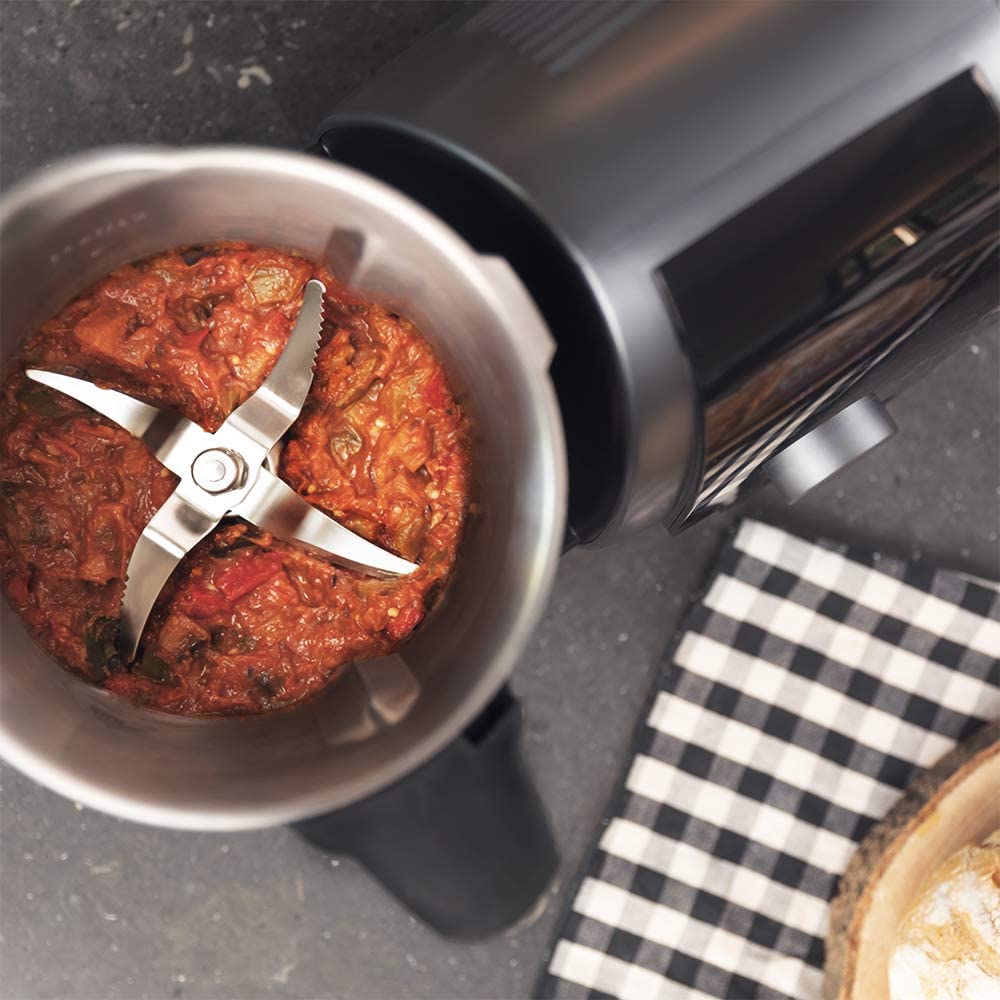 Another benefit of the intelligent heat output system is that it prevents surfaces from overheating. In this way the food you cook does not stick, much less burn.
Special functions
Below we describe the main functions and features of the Cecotec Mambo 8590. As mentioned at the beginning, this robot has 30 functions available, some of which (not all, there are more!) Are:
Sting
Cut up
Crush
Mix
Stir
Confit
Steaming
Knead
Emulsify
Other features to mention include:
Integrated scale with excellent precision to prepare your recipes with the exact ingredients.
The stainless steel jug is of high quality, and can even be used in the dishwasher.
Also includes a MamboMix spoon for kneading.
Includes a boiling basket.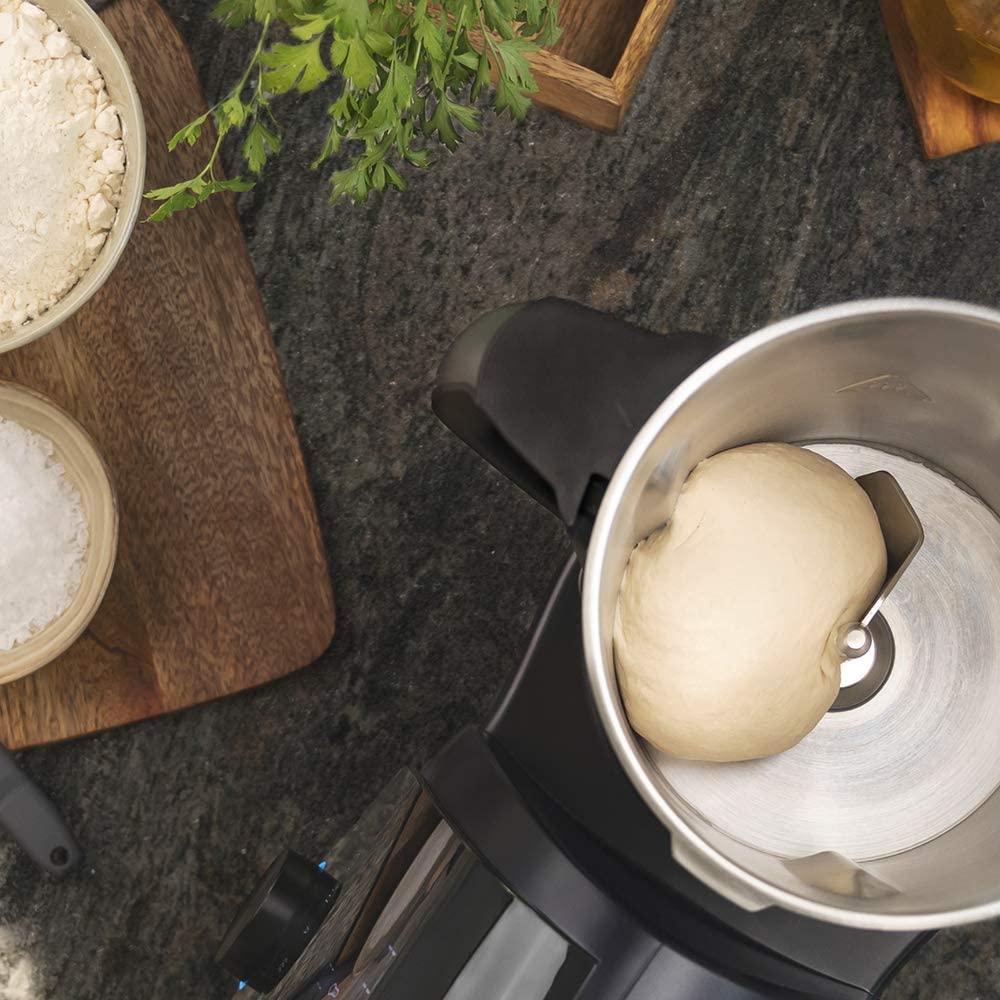 Features to be highlighted
The Cecotec Mambo 8590 comes with a silicone coated spatula for easy removal of all crafting.
It has 10 speeds and a timer that can be programmed even from 1 second to 12 hours.
It also has a huge touch screen.
It has a Security Check System, which allows the blades to be safely attached and removed.
The robot also comes with a two-level steamer that allows steam cooking without a time limit.
OFFICIAL STORE CECOTEC
See here the updated price of the Mambo 8590
Maybe you are interested
As you have seen, the Cecotec Mambo 8590 is a mid-range kitchen robot, with all the functions of its older brothers except for the App and the Habana Jar. It gives you a lot of functionality and makes it very easy to prepare all kinds of recipes.
But if it does not convince you, we advise you to look at the Cecotec Mambo 10070, which has a mobile App (although it does not have a Havana jug). For us it is the most balanced option if you do not want to spend the money that the 10090 costs. We believe that connectivity is very important to keep the Robot updated and always with new recipes (and ideas).