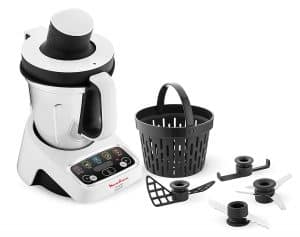 The veteran Moulinex company has developed the Moulinex Volupta kitchen robot , one of the simplest and most economical on the market today. This robot is more than interesting for those families who are looking for a simple to use appliance , very versatile for the preparation of all kinds of recipes, and at a more than adjusted price, in relation to other more sophisticated robots and with more benefits in the kitchen. We no longer have excuses for not cooking the most delicious recipes without spending a lot of time in the kitchen.
Those who choose to purchase this Moulinex Volupta kitchen robot will discover that they can cook very different dishes, from the simplest to the most sophisticated, without having to try too hard, and without resorting to other kitchen utensils. Its five automatic programs, plus the possibility of manual adjustments, as well as the accessories they include, make it possible to show off in the kitchen, with recipes of all kinds, which are always magnificent and ready to serve.
We leave you with a short video summary of the functions of this Moulinex Volupta kitchen robot.