Tips
Ceramic pans | Shopping guide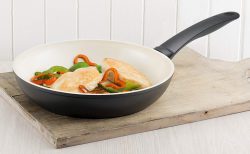 Ceramic is a very good material for transmitting temperature in a pot or pan. Likewise, this is a material that will help us to cook much faster and in a simpler way, as it transmits the temperature in a much more powerful way to the cooking surface. When we use ceramic pans, we must be very aware of the care of these if we do not want to shorten their useful life.
This article is extensive and we know that some, like us, are always in a hurry. No problem! We provide you with a simple comparative table where we summarize what we consider to be the three best ceramic pans you can buy today. As you will see, they are not the most expensive, but the best;)
Today there are great brands that manufacture high quality ceramic pans, we will tell you a little about the characteristics and then we will go on to deepen each of the brands. We leave you with a short video of one of the pans that we will talk about later. This video summarizes very well the qualities that a good ceramic frying pan should have.
Kuhn Rikon Colori Cucina Ceramic Induction Frying Pan (english)
The best ceramic pans
There are some brands that have developed ceramic pan lines that stand out from all the others on the market. Some of the best ceramic pans are those that we will present to you below, but before we let you take a look at the menu of this article:
Silit Professional
The pans Silit Professional are set as the best option to buy ceramic nonstick skillet. Why? Because behind the Silit brand we have nothing more and nothing less than the German WMF. Many kitchen lovers will know this WMF brand that has been manufacturing kitchen utensils and speed cookers for three hundred years.
The pans Silit Professional feature for non – stick with a layer without PFOAs, PTFE and cadmium. It is a technology patented by Silit, developed in Germany under the name Silargan. And based on the excellent feedback from users of this frying pan, it is a success.
Ozeri frying pan
The Ozeri brand of pans was a great unknown not long ago, but it specialized in kitchenware and, specifically, in ceramic pans. It is a brand concerned with health and natural materials, so its ceramic pans guarantee to be 100% free of PTFE and PFOA.
These Ozeri pans have an aluminum body, which makes them very light. Thanks to its light weight, this frying pan is easy to handle with just one hand. Its Bakelite handle also helps, which makes it ergonomic and 100% heat resistant. As we said, it is a new brand but using natural materials as a flag, it has positioned itself as one of the most sold ceramic pans and the best valued by users.
WMF Ceradur Plus
This German ceramic skillet is one of the best on the market. WMF is a brand that from the beginning has differentiated itself from all the others because its products are outstanding. In this case, the pan will have an extended shelf life as long as it is properly cared for. This is ultra non-stick and may last for many years.
This model has a body made of cast aluminum. This finish allows the development of a product with extraordinary resistance but which, above all, will stand out for its light weight.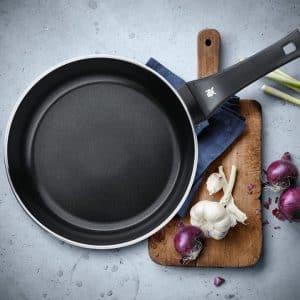 Although its outer part and its core are made of aluminum, the inner part is covered with a ceramic surface, which is responsible for providing the necessary non-stick that characterizes it.
Regarding compatibility, we must emphasize that these pans are completely compatible with all types of kitchens. Therefore, they work perfectly in induction cookers, in both gas and electric hob and you can use them in the oven.
WMF Ceradur Profi
Talking about ceramic pans invites us to talk about Ceradur Profi. This is a family of WMF that has been in charge of making products of the highest level and that also manufactures the best quality stainless steel products. WMF is a German brand that has worked since 1853 in the manufacture of these products.
This is not a brand that seeks to position itself as the cheapest. Competing on price is not one of the main objectives, s lways has focused on the development of products of high quality so that customers can have a product that lasts decades.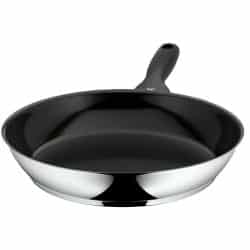 The stainless steel with which this frying pan is made is characterized mainly by its resistance and by its excellent final polished finish. The shine that you will see from the first day will be the same as it will have after years of use. After all, when you buy a product in this price range, you are becoming more efficient. Where finally, that this brand has more than 160 years working with these products, guarantees that we will have a first-class product.
People who say that food sticks is because, being made of stainless steel, it can reach very high temperatures. By lowering the temperature a little, you will achieve outstanding non-stickiness.
Kuhn Rikon Ceramic
As we already know, when we talk about home accessories, there are no more important than those that we will use in the kitchen. This is why Kuhn Rikon's ceramic pans are one of the best. From the beginning, the developers of these products have worked hard to bring good products to homes around the world. The objective is to position themselves as very useful tools, easy to manipulate, etc. Also, that they are incredibly resistant and versatile.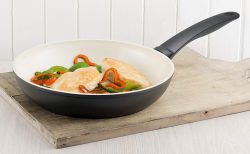 These ceramic pans are designed to please all audiences. From the experts in the kitchen, to those people who only want to prepare dishes that do not take too much time.
Kuhn Rikon Ceramic are designed and manufactured in Switzerland. This is one of the most valued brands in the kitchen utensils sector and these help us to prepare the best dishes without too much effort.
Tefal Talent
What to say about a firm like Tefal that you don't already know? The French firm, a pioneer in many frying pan technologies and the world's largest kitchenware manufacturer, has released a ceramic-coated frying pan to meet market demands. And yes, like everything they do, it is extraordinary.
The Tefal Talent frying pan is a frying pan with a stainless steel base, which ensures total compatibility with all types of kitchens. It will work perfectly on vitroceramics, induction, gas and electric cookers. The non-stick surface, meanwhile, is a highly effective PFOAS-free ceramic coating . It also has one of the most valued technologies of the French firm: the Thermospot. It is a red dot in the center that will change color when the oil temperature is optimal. What do we get out of it? Let us not burn anything or not add it ahead of time and spoil the recipe!
Cooker King
The pans CookerKing are some new players on the board of healthy pans without toxic as PFOAs and PTFE. This brand, and with this set of pans, has put long-time manufacturers like Silit in check, who, although they offer a well-proven product of high quality, their prices are higher.
This CookerKing ceramic pan set comes in three sizes, so it can meet all the demands of a normal home for years to come. And of course, free of PFOAS, PTFE and cadmium. The hundreds of comments from users of these CookerKing pans attest to their excellent quality / price ratio.
Bratmaxx pans
The Bratmaxx pans are new to the market but its sales volume and customer reviews, place them directly in the Top 5. What have these particular Bratmaxx ceramic pans? Let's see it!
First of all, they are aluminum pans, so they are very light and easy to handle. Its non-stick coating entrusts it to the ceramic surface, which allows us to cook with very little oil. But its great peculiarity comes in the system of its handle: it is removable! Being able to disassemble the handle with a click has several advantages: being able to cook various things on the fire without the handles colliding with each other, being able to store the pans in a more efficient way and, best of all, being able to insert the pan into the oven.
If we remove the handles, this Bratmaxx pan holds up to 200ºC ! We can start a recipe with a sauce, then add the meat and finish with a gratin in the oven. And by removing the handle, it even serves to present the recipe. And the best thing about these Bratmaxx pans is their price, because the Set of 3 pans has an extraordinary price. In addition, they include a gift pans so that when storing the pans one on top of the other they do not end up being damaged. A detail!
Ceramic frying pans features
There are some characteristics that differentiate ceramic pans from the others, making them one of the best options for your kitchen. These pans do not release toxic substances, unlike other PFOAS pans that tend to release some toxic substances when worn. Hence, ceramic pans are considered ecological, since they do not produce bad or harmful substances for consumption.
Another point that differentiates these pans is that the food does not stick. They are characterized by having some non-stick properties and for this reason is why they have become the favorites of home chefs.
Also, ceramic pans are very well priced, but even if they cost a bit more, these pans are an excellent investment. Due to the quality, you will not have to get rid of it after a few months as it usually happens with the cheapest non-stick pans or those that are made with poorer quality materials. By having numerous non-stick properties, you will not need to use oil to cook food, which will provide an improvement in the health of the family.
While these pans are not as sturdy as the stainless steel skillet, the ceramic one is much stronger than the basic nonstick skillet we mentioned earlier. Its coating is not as simple as that of the previous ones, so you will not have problems when using it or washing it.
TOP 5 best-selling ceramic pans
We leave you with a brief list of the 5 best-selling pans in this category. This list is updated daily, so it is possible to see the pans that are trending right now.
Brands of the best ceramic pans
Of course, we have already mentioned the best ceramic pans. There is no doubt that if you are going to choose some, you can choose one of the ones we mentioned above. However, it is important to keep in mind that brands, such as: WMF, Kuhn Rikon and Tefal, are the best options when it comes to choosing a sturdy ceramic pan.
What to look for when buying ceramic pans?
The options offered by ceramic pans are many, but we recommend that you pay close attention to some important criteria when buying these pans.
Warranty : It is important that you carefully read the manufacturer's warranty of your choice. If you choose a good brand, you will find that the warranty is 5 years or more.
Compatibility : On the other hand, with the advancement of technology in the kitchen, it is very important to be attentive to compatibility. You should look for a product that is compatible with all types of kitchens.
Durability : You should totally forget about buying cheap pans. Well, in the long run you will end up spending a lot of money unnecessarily.
Quality : The materials with which your pan is built are very important, you must bear in mind that it is not the same as having a stainless steel base as having an aluminum base.
How to wash ceramic pans?
These pans are highly resistant , you can wash them in a conventional way, but since they are much easier to clean, you will only need a little warm water, soap and a soft sponge.

Once the pan has cooled, you should clean it with lukewarm water and rub gently with a soft sponge or kitchen towel.

You should try to use the least amount of dishwasher possible. Well, it is not necessary unless you have stubborn stains.

Together, if we use too much quantity, we can damage the surface of the ceramic.
You should try not to use too much oil, these pans do not need so much exaggerated fat or oil. In addition, many times when we use a lot of oil it sticks to the surface of the pan or it can burn when you have used it for a long time or if you have prepared the food over a very high heat. You should avoid overheating the pan, as this will shorten its useful life.
In case it has been burned, do the following:
You will need to rinse the pan to remove food that has not adhered.

Pour a cup of white vinegar and about four cups of water into the skillet.

You should place the pan on low heat.

Heat the solution until it starts to boil .

You should turn off the fire and wait for it to cool down. Then take the pan to the sink and clean the bottom with a non-abrasive sponge or spatula.

The remains of oil should disappear, if you see that there are still you can repeat the process.
You should remember that ceramic pans are made of an inert material that protects the entire surface from all bacteria in a natural way. A great advantage to avoid diseases.
Advantages of using ceramic pans
You will use less oil, spend less and have better health
Many people use large amounts of oil to prevent food from sticking to their pans. When we opt for non-stick pans, this will reduce oil consumption to zero, which will also allow you to save the input. And, in addition, in this way you will help reduce bad cholesterol in your family. Which is the same as you will improve health.
In addition to stainless steel pans, ceramic pans are favorites of chefs, as they are not harmful to the health of diners. There are many non-stick pans that we can see wear due to time or misuse and that release substances that are very harmful to health. But, they do not do this and they are good for our health and also for the environment.
Cleanliness and hygiene are guaranteed
One of the main advantages of acquiring a ceramic frying pan is that they are incredibly easy to clean, much more than conventional frying pans. To leave it as new, you will not have to spend too much time washing them. You will only need to use water and a soft sponge to wash it and in no time your pan will look like new. On the other hand, ceramic is a material that is considered inert. For this reason, it has an anti-bacteria barrier that is perfect for us to feed ourselves properly.
There are many more benefits to choosing a ceramic skillet today. Besides being of an affordable cost for all, it contributes to the improvement of health.
Care required for ceramic pans
Before using it for the first time
You must remove the adhesives before putting it on the heat source. Avoid removing them with sharp tools that can scratch the surface of the pan. And, if there is something gummy on the surface, you should keep in mind that you can use a cloth with a little alcohol to remove what is stuck.

You should wash the piece with warm water, a little neutral soap for the dishwasher and a sponge or a soft cloth.

In ceramic pans you can use a little oil, heat it over low heat and when it boils you should leave it for 20 or 30 minutes, let it cool and you should discard the oil and wash again.
When are you going to use it?
It is very important that you avoid heating the ceramic pan without anything. You should always add a little water, oil or any other element that can prevent the pan from overheating.

Use the heat source that is closest to the diameter of the bottom of the pan. The non-stick of this type of pans will need less heat power to cook the food.
Due to the different properties of heat transmission, it is recommended to cook with low to medium powers. At the same time that our frying pan is being taken care of, the food is also being taken care of and fats and oils will be avoided.
Even when ceramic pans allow the use of metal instruments, prodding or cutting food on this pan may cause scratches that could shorten the non-stick properties of the same.
Where to buy ceramic pans?
If you are determined to buy a ceramic pan, surely you have already seen the models that you like. Remember to take into account the models that suit your needs and your budget. Now all that remains is for you to find where to buy it.
There are a wide variety of physical stores that offer these today. However, you can opt for the online option. Not only will this guarantee you an excellent service, but it will also give you an option to get to know the product in depth with complete confidence. Of all the websites, we recommend for quality, price and above all, After-sales service and warranty, Amazon.com