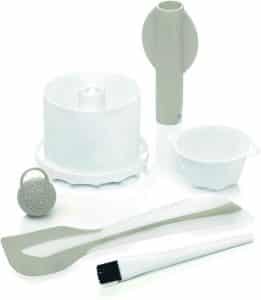 The Jane Mini Goumi Kitchen Robot is designed with the first stages of feeding the little ones in the house in mind. This robot is practical and versatile, and is capable of preparing menus from 4 months, but without forgetting the main stages of feeding, which are completed beyond 24 months.In addition, thanks to the recipe book, prepared by the chef blblblb, more sophisticated recipes can be elaborated, with the best results in flavor and maintaining all its nutrients.
The prestigious Spanish firm Jané, with more than 75 years in the baby market, has been a benchmark in the production of baby strollers since its inception. Both strollers and everything related to car seats or travel cots are some of the most outstanding products of this firm, which is clearly committed to the safety of the baby when traveling.
In recent years they have opted for products related to baby feeding, such as sterilizers, bottle warmers and have launched this kitchen robot that will accompany the baby in its first stages of feeding and growth. And they do so ensuring, as always, the safety and comfort of the little ones in all areas of their growth, since Jané is synonymous with trust for parents and safety for children. Because as its motto says "since 1932, committed to families".
Main characteristics of the Jane Mini Goumi Kitchen Robot
The Robot Kitchen Mini Goumi Jané is a handy kitchen appliance that has the main functions of cooking steam and shake food, to produce purees of all kinds, depending on the stages of infant feeding: from 4 months up to more than 24 months. Its main characteristics are the following:
Functions: heating at two powers, steaming, defrosting and grinding at two speeds

Jug capacity: 1.1 liter, you can steam up to two servings at the same time.

The steaming function preserves all the vitamins and minerals in the food.

It contains a practical recipe book with different ages, to prepare cooking recipes according to the feeding stages: from 4 to 12 months, from 6 to 8 months, from 8 to 12 months and more than 12 months (up to 24 months).

Accessories: rice cooker, flanera, ergonomic silicone spatula, key to easily unlock the blade and spice rack.

With the baby's growth and feeding ages, new ingredients can be incorporated

into recipes, to make puddings, risottos, sorbets and soufflés, using the robot accessories

Control panel with cooking time indicators

Two modes of steaming and grinding: slow and fast

You can defrost and heat the purees.

The cooking cycle will be automatically interrupted if there is no water left in the tank, to avoid overheating of the appliance and accidents in the kitchen.

Recipe book developed by the Italian chef Mirko Carturán, which includes more sophisticated recipes, to give a special touch to the feeding of babies.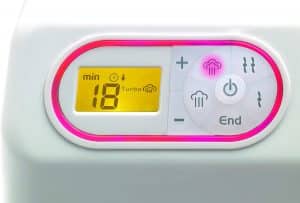 Advantages of the Jane Mini Goumi Kitchen Robot
The Jane Mini Goumi kitchen robot cooks healthily, with two cooking and grinding speeds, and differentiated recipes that incorporate ingredients as the baby grows and can take more food (from 4 months and up to more than 24 months). Its main advantages include the following:
Slow and fast steaming, which preserves all the nutrients in baby food.

Blender with two speeds, to be able to beat the purees, according to the baby's growth ages.

Safety: cooking is automatically interrupted if there is water in the tank, to prevent the appliance from overheating.

Your recipe book is perfect to be able to prepare recipes according to the baby's age ranges. You can create more sophisticated recipes to make the diet more varied.

Includes accessories that allow you to make rice and pudding.

Its accessories include the key to unlock the blade, and avoid accidents in the kitchen.

Ease of use thanks to a single and intuitive control panel.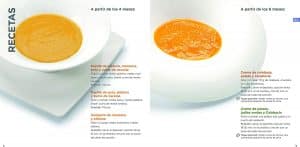 Disadvantages of the Jane Mini Goumi kitchen robot
The only drawback found is that it can only make a maximum of two servings per cooking.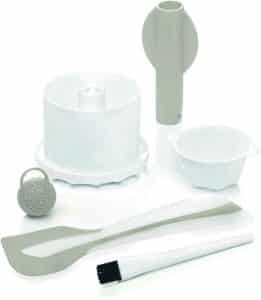 Between you and me
The Jané brand is a guarantee of trust for parents, in all products, specialized in babies, since it is well established in this market. Your new food processor is capable of performing the basic functions of blending, steaming, defrosting and heating. Its recipe book is very practical since it contains the recipes by age group, which is an advantage to know what foods to include at each stage of the baby's feeding.
Contains special accessories such as flanera and rice cooker, to make rice, risotto, soufflés, and puddings. More sophisticated recipes can be prepared, such as sole rolls, rice dishes or fish en papillote, to give a more special touch to the recipes of the little ones. Without a doubt, the Mini Goumi by Jané is a perfect purchase.
Maybe you are interested
If the Jane Mini Goumi Kitchen Robot is not what you are looking for, you may be interested in taking a look at the KYG kitchen robot for babies, which has the four basic functions, essential for the baby's diet in its first feeding phases: defrosting , mash, steam and heat. Its steaming is quick, and it ensures that all the vitamins and nutrients in the food are preserved. It has an automatic shut-off function if water is lacking in cooking, to prevent the appliance from overheating. It also has an ergonomic anti-burn handle. The water tank is removable and can be easily cleaned, and the jug has a quantity dispenser.