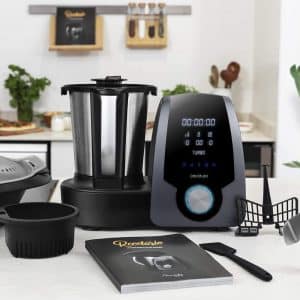 KITCHENS ATTENTION!
This model has been discontinued by Cecotec and replaced by the new Cecotec Mambo 9590. It costs the same and is much more cool 🙂
The Cecotec Mambo 7090 Kitchen Robot, from the young Valencian brand of household appliances, continues to incorporate new functions and new technologies into food processing and cooking, in line with the brand's philosophy: innovate and modernize the performance of its robots in the kitchen . Thanks to its good work, Cecotec has become, since its origins in 1995, one of the brands that has grown the most in the kitchen appliance sector.
With a wide variety of functions (it has a total of 30 cooking and food processor functions), the Cecotec Kitchen Robot 7090 is a true kitchen assistant that can carry out the most repetitive and heavy tasks such as grinding, grating, or chopping , and the most delicate such as poaching or emulsifying. It is thus one step ahead of the most basic model of the Mambo family, the Mambo 6090 and one step behind the Mambo 8090. This Cecotec 7090 kitchen robot will be able to prepare traditional recipes, as well as sophisticated and difficult dishes in its perfect point.
To begin with, we leave you a simple table where we compare the four models of the Mambo Family so you can see what this one has and what it lacks. Thus, in a very fast and visual way, you can see which kitchen robot has what you need.
We leave you with a short video where you can see all its features at a glance. Inside video!