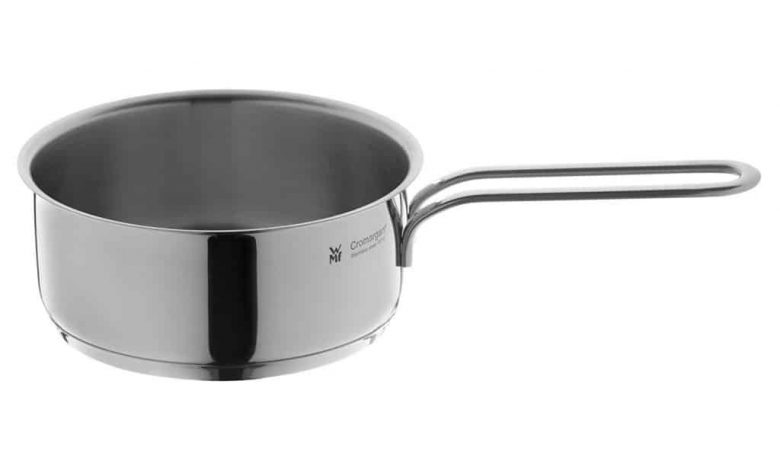 We have talked many times that WMF is a well-known manufacturer of cookware in the market. It is important to mention this because quality is one of the main aspects to consider when buying a cookware and this manufacturer has more than 160 years of experience. That is why the WMF Mini cookware is already born with a guarantee of success.
On this occasion we will share our impressions regarding this WMF Mini cookware , which consists of 5 pieces and many interesting features that are worth mentioning.
Materials

The material with which the cookware is made is essential since it depends on whether they can offer maximum functionality and resistance. In this case, the WMF Mini cookware is made of polished 18/10 Cromargan stainless steel.
This type of steel is one of the most widely used in the kitchen utensils and accessories industry. It is characterized by being a highly acid- resistant stainless steel and because it does not have a porous surface, the odors and flavors of food are not impregnated in the metal.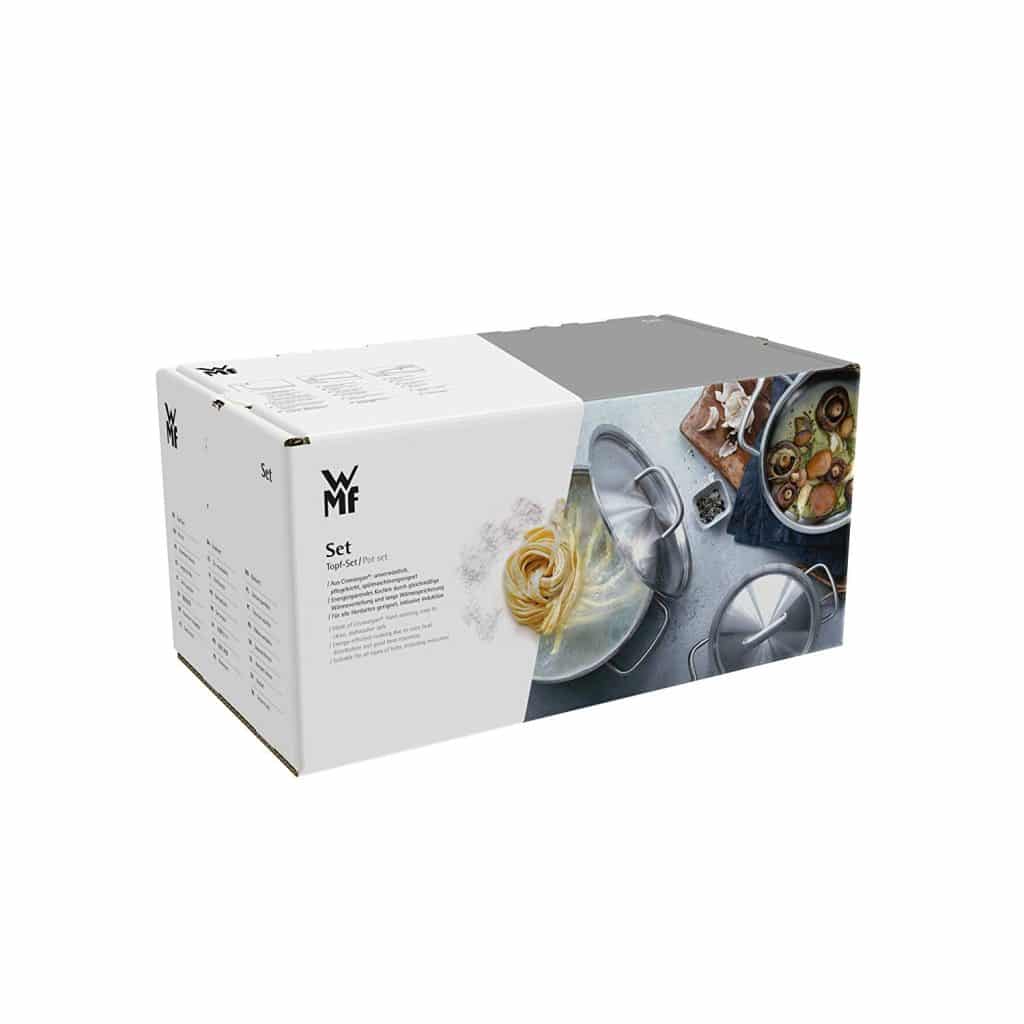 This makes cleaning the battery much easier, however one of the most important aspects is probably durability. An 18/10 Cromargan stainless steel cookware can last for many years. An 18/10 Cromargan stainless steel contains 18% chromium and 10% nickel.
Thanks to this, the WMF Mini cookware can withstand temperatures as high as 400 ° C without any problems. Steel makes this cookware tough and resistant to wear and tear. You also do not have to worry that this metal can release any material while you cook your food.
It is a safe and highly resistant stainless steel, which contributes to a faster and more uniform cooking. This steel is also scratch-proof, as the battery interior will never be scratched and any kind of material will never come off.
Compatibility WMF Mini and home appliances

Although it may seem repetitive, compatibility is a very important aspect of cookware. You have to make sure that the kitchenware you choose can really be used in your home without any inconvenience.
In this sense, the WMF Mini cookware is compatible with all types of heat sources. So it is suitable for all types of kitchen surfaces, including those that are induction type.
Therefore, if you go on vacation with the family and want to take the kitchenware with you, you will be sure that you can use it without problem in any type of kitchen. And that's not all, this cookware is also suitable for use in the dishwasher.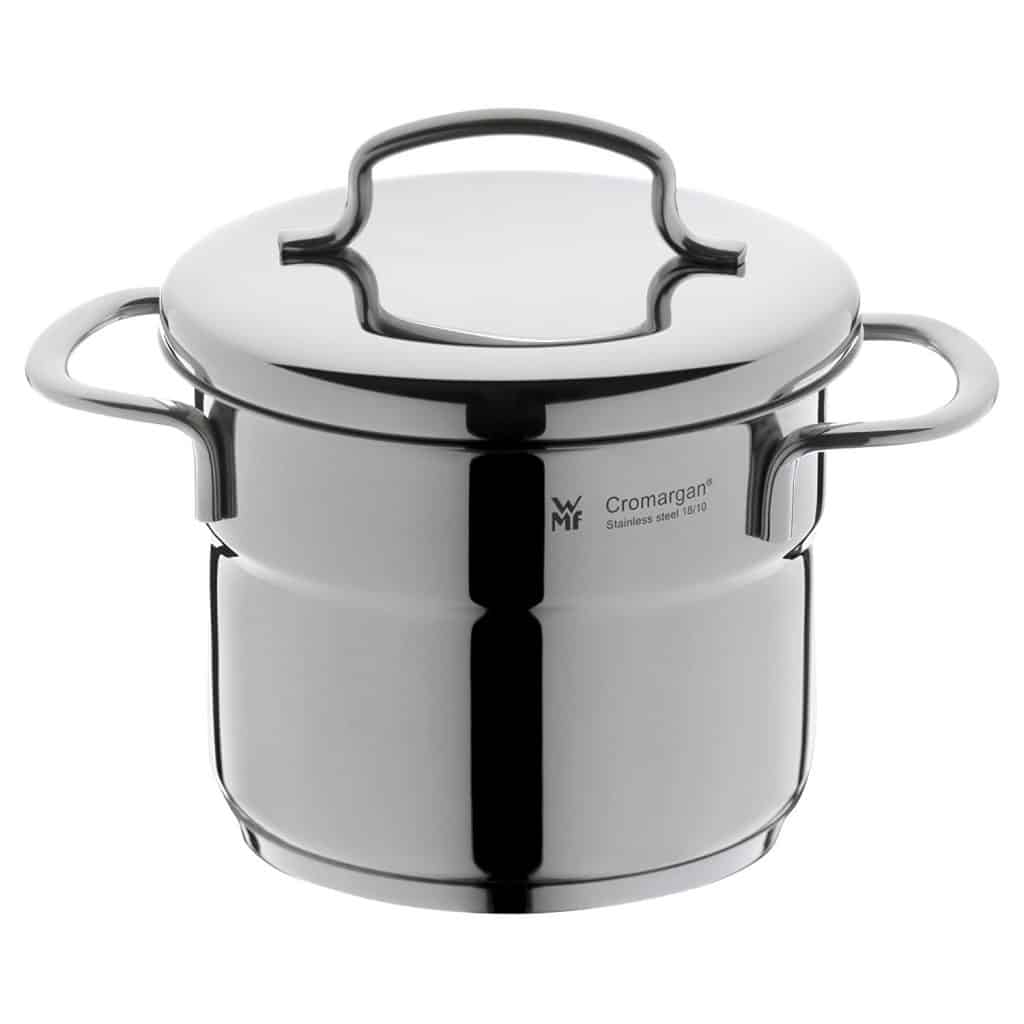 WMF Mini Key Features

It is a WMF Mini cookware composed of 5 pieces:
I nclud a pan with lid 14 cm diameter

A 16 cm diameter saucepan with a lid

12 cm diameter saucepan with lid

A saucepan with a lid 14 cm in diameter

And a 16 cm saucepan

All parts of this battery are made of 18/10 Cromargan stainless steel which is highly resistant, durable and scratch proof.

The WMF Mini cookware is designed in such a way that it can be adapted to any kitchen surface.

Not only that, the pots can also be stacked to save space, while both the steamer and the pasta pot have a perforated interior.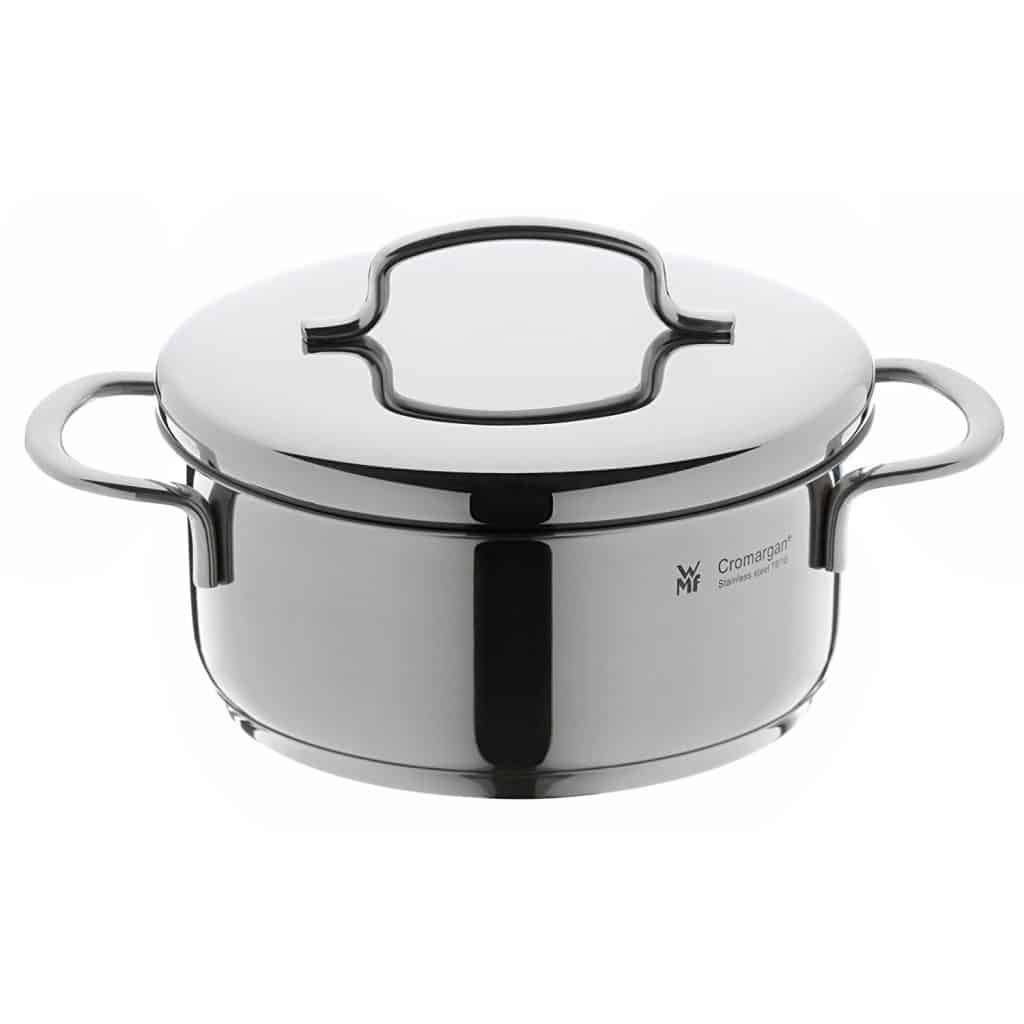 Advantages of the WMF Mini cookware
It is a kitchenware made of stainless steel, which means that it will withstand constant use for many years while maintaining its functionality.

The universal base Trans Therm allows it to be used in all types of kitchens. Plus, it has a wide pouring edge so you can pour without worrying about spills.

This cookware has a snap-on lid that allows you to cook your food using a minimum amount of water.

You can wash this cookware in the dishwasher, it is even suitable for cooking in the oven.

The heat distribution is even and is retained for much longer. While a steam vent on the lid makes it even easier to handle.

All the handles are also made of stainless steel and are electrowelded to the body of each piece. This means that no screws have been used and therefore cannot loosen over time.
Disadvantages of the WMF Mini cookware
The size of the battery parts can be a problem if you are not aware of what you are buying. They are suitable for one or two people cooking small portions. It is not suitable for a family of 3 or 4 who wants to prepare food for the whole week.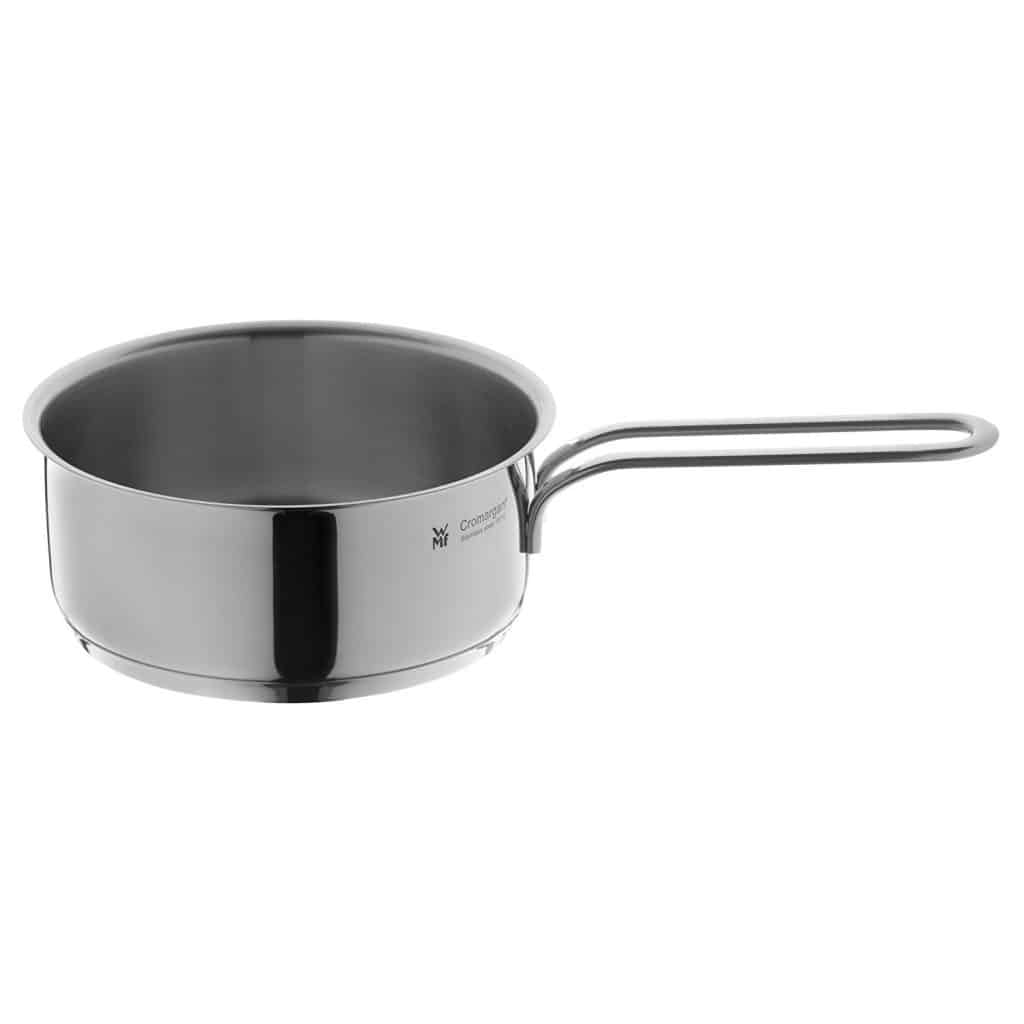 Maybe you are interested
As you may have noticed, the WMF Mini cookware is just that, a small cookware that due to its characteristics is not suitable for a large family. Of course, for those who want to save space in their kitchen and usually prepare small portions, this battery is an outstanding option.
However, there are other alternatives that may interest you, such as the WMF Diadem Plus cookware . In this case it is a cookware made up of 5 pieces (four pots and a saucepan), all of them made of 18/10 Cromargan stainless steel.
The size here is not a problem:
The saucepan is 20 cm high, while the saucepan with a handle measures 16 cm and the pans 16, 20 and 24 cm.
Its design is visually appealing, not to mention that the lids are made of high-temperature resistant glass.
You can check the doneness of your food without having to remove the lid every moment, which helps to intensify the heat for longer. In addition, it also has the Trans Therm base that allows it to be used in any type of kitchen.