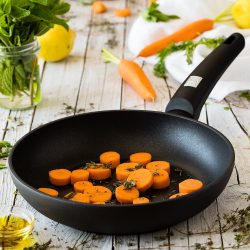 In this article we are going to see how a product, without being the flagship of a brand, can be the best option. We are facing really balanced, light pans with a very remarkable resistance. The BRA Silver pans are positioned as a mid-range within the BRA family.
The range of BRA pans is very extensive and the differences between one model and another can be minimal. However, although they are practically identical, the prices can vary a lot. So are these Silver pans from BRA worth what they cost? Is there a better option? Let's see it.
MATERIALS
As is customary in the Spanish firm BRA, the pans are made with an aluminum core. This material, as we know, is very light. Thanks to this, handling the BRA Silver pans with one hand is very easy.
Something that helps, and a lot, to manipulate the pans is the handle. We are not very fond of modern stainless steel handles out of the box, and we say so publicly. We like solutions like these BRA Silver pans better , which use a Bakelite handle.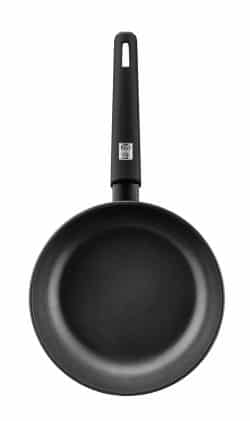 These types of handles make it easy to handle the pan with wet or even oil-stained hands. Of course, it is heat resistant avoiding any heat transfer to your hands and has an ergonomic shape.
As for the base of these pans, they have a thickness of 5 mm. This is average for the BRA firm. Although the Prior have 5.5 mm and the top of the range ( BRA Efficient ) with 6 mm. What is this for? Well, to better capture the heat, distribute it efficiently and retain it for longer once we turn off the fire.
Actually, a 5mm depth is more than enough and perfect for day-to-day life, we shouldn't give this data too much thought. However, we will see important differences with the superior model later.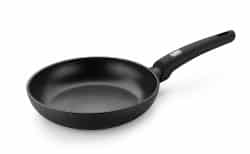 COMPATIBILITY
In terms of compatibilities, these BRA Silver pans come out pretty well standing. It is possible to put them in the dishwasher when we finish using them, as long as they have cooled down a bit. They are also compatible with all types of cookers, whether electric, gas, glass-ceramic or induction.
Regarding its compatibility with the oven, the manufacturer does not specify anything … So we would not risk doing it. If you want a pan to put in the oven, at the end we give you a couple of suggestions.
ANTI-ADHERENCE
In this section is where we are going to see the main differences with the superior models.
To begin with, we must say that these pans do not have a bad non-stick at all. They have a Teflon Select surface, superior to the Classic Teflon of other models of the BRA brand. The non-stickness of the Silver pans is outstanding in all cases, and the main difference is the resistance to abuse.
This Select finish can last for many years at 100% if we are careful to use wooden or silicone kitchen utensils. However, if we put the knife in the pan or use steel utensils on the non-stick surface, sooner rather than later we will have to look for new pans.
And as for health, to say that of course these Silver pans from BRA are totally free of PFOAS.
SPECIAL FEATURES
Lightweight aluminum construction, resulting in a set very easy to handle and with remarkable resistance.
5mm diffuser bottom, in charge of capturing the temperature and distributing it evenly over the entire surface of the pan.
Ergonomic and heat-resistant handle, which guarantees perfect ergonomics together with the reduced weight.
100% PFOAS free.
Construction without visible screws or rivets where dirt can accumulate.
Total compatibility with dishwashers and all types of cookers, including induction ones.
Energy efficiency : thanks to the rapid acquisition of temperature and its ability to retain it once the fire is turned off, it will reduce our energy consumption.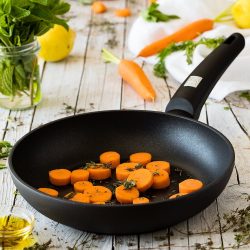 BETWEEN YOU AND ME
We are facing a mid-range pans within the BRA family. Its main qualities are its lightness and the outstanding non-stickiness it has, as long as we are careful not to damage it. For the price of the BRA Silver, they become one of the best options in this range. They are usually priced similarly to the BRA Prior and yet their non-stick is better.
Like everything, we believe that recommending these pans or not always depends on the price. They usually have very interesting offers that make them one of the best value for money options in their range. If you are willing to use wooden or silicone utensils, here are pans for your next 8 years.
ADVANTAGES OF THE BRA SILVER PAN
Its maximum non-stick from the first use. It is perfectly possible to cook with two drops of oil and even prepare grilled eggs.
It is a Spanish brand, and this ensures that it complies with all the guarantees and health standards required by the European Union.
They are 100% free of PFOAS.
They are compatible with daily use in the dishwasher.
They can be used in all types of cookers, including induction ones.
They do not have rivets or screws on the inside of the pan, making it easy to wash.
DISADVANTAGES OF THE BRA SILVER PAN
Its design (something totally subjective) is very simple. If you like the pans to attract a little more attention, they go completely unnoticed.
The non-stick surface, while excellent, can be easily damaged if we use metal utensils.
YOU MAY BE INTERESTED
If you want some pans with a similar price and that you can put in the oven, we advise you to look at the Vitrex Gourmet. They withstand temperatures of up to 200ºC! The rest of the characteristics are very similar to those we are analyzing today. They are the ones that Carlos Arguiñano uses in his programs, so you can see the non-stick on-site every day on TV.
And if you want to go one step further and do not mind increasing your budget slightly, we recommend that you look at what we believe are undoubtedly one of the best quality / price pans, already high-end. It is about the Tefal Expertise. They are also made of aluminum but with two differences: they are compatible with ovens and their non-stick surface is coated with Titanium.