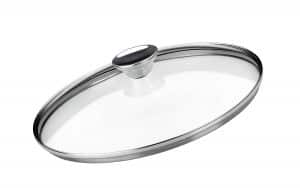 Those who are passionate about cooking should already know all the advantages offered by the BRA Ancora cookware . A kitchenware that covers all consumer needs, at a fairly affordable price. But if you have not yet heard of the brand, in this article we will explain all its peculiarities and characteristics.
BRA has more than 50 years of experience in the manufacture of kitchen utensils. All these years of experience are reflected in the quality of its products, including the Ancora cookware from BRA. This battery includes a set of five pieces, being able to expand it up to seven pieces.
MAIN FEATURES
The BRA Ancora battery is made of 18/10 stainless steel. This implies that it is resistant to corrosion, and the product will last longer. Later, we will explain the advantages of stainless steel in kitchen products.
It is made with a triple diffuser bottom. This guarantees good heat distribution. Thanks to this, you will save energy.
On the other hand, the body of each piece has a satin polished steel finish. It is a simple and traditional design , but incorporating the best in kitchen innovations. The handles and handles in stainless steel, finished in gloss polished steel. The ergonomic and rounded design of the handles and handles allow easy handling of these utensils. Also, the heat from the pot is not transmitted to the handles.
The saucepans and pots include lids made of tempered glass, with a stainless steel knob. This design allows you to monitor the cooking of your dishes without having to remove the lid, and in this way, lose the temperature.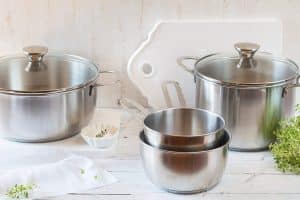 Reading the characteristics offered by this Ancora cookware from BRA, we can see that it is a quality product, in which it is worth investing. One of the reasons why it is a good investment is because it is compatible with any kitchen: ceramic hob, gas stove, induction, even oven.
In addition, the value for money of this product is very good. We explain it to you in this next section, where we talk about the advantages of this battery.
ADVANTAGES OF THE BRA ANCORA BATTERY
BRA Ancora manufactures its products in 18/10 stainless steel. This means that it is an 18% chromium and 10% nickel alloy. Thanks to this alloy, the materials of this cookware become very resistant to heat, hard and resistant to wear.
Stainless steel is one of the best materials for kitchen utensils. It is easy to clean, resistant to environmental effects and accumulates less bacteria than on other materials. In addition, this material does not affect the taste of food. The only drawback of stainless steel is that you must take care of them: do not use the sandpaper of the scourer to clean it and do not wash it with abrasive products.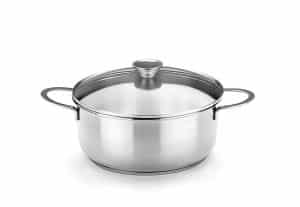 Being made of stainless steel, soap and water will not spoil the product. The BRA Ancora battery is dishwasher safe. You will not need to wash these utensils separately, you can wash them like any other dish.
It has tempered glass tops. The advantage that Ancora cookware has these lids is that you monitor the cooking process without having to uncover it. Cooking with a lid on the pot helps food cook faster. BRA Ancora glass lids will help you save time and energy.
The BRA Ancora battery is designed to be compatible with all types of kitchens. This includes the induction cooker. You will no longer have to renew all your utensils if you change your kitchen.
In addition to being compatible with the induction cooker, you can use the parts of this battery in the oven. That it is compatible with oven, and with induction, implies that you do not need specific containers. With this single battery you can cook on all surfaces.
The BRA Ancora battery parts are made with a triple diffuser bottom. This design guarantees a balanced and efficient distribution of heat. It means that your dishes will be completely cooked for each of its parts. Thanks to this technology, the problem of overcooked dishes on the one hand, and very little done on the other, is over.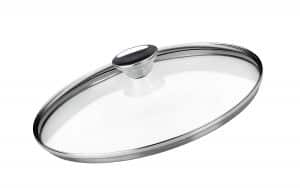 DISADVANTAGES OF THE BRA ANCORA KITCHEN BATTERY
The only downside to this cookware is that there are no designs in different colors. At the moment, BRA Ancora only has the traditional model available: a stainless steel construction, with a matt polished finish. But this is a design that never goes out of style. Thanks to the experience of the BRA brand, it will remain as the first day, even if several years have passed.
BATTERY CONTENT
The kitchenware is made up of various utensils: pots, saucepans, pans, lids … The BRA Ancora battery is made up of five kitchen pieces, which we will explain below.
5 PIECE BATTERY
Two pans, with a 20 and 24 cm lid.
Two pots, which also include two 20 and 24 cm lids.
A saucepan of 14 cm, does not include a lid.
BRA gives you the possibility to expand the kitchenware to 7 pieces. Not surprisingly, it is a bit more expensive than the 5-piece battery. As we have seen before, with its characteristics and advantages, buying the BRA Ancora battery is a good investment.
7 PIECE BATTERY
Two pans, including two 20 and 24 cm lids.
Two pots, with 20 and 24 cm lid included.
A 16 cm saucepan, which does not include a lid.
A 12 cm pot, which does not include a lid.

A 24 cm draining board.
BETWEEN YOU AND ME
Without a doubt, the Ancora cookware from BRA is an excellent choice when it comes to cookware. It allows you to cook on different surfaces using the same utensils and is resistant and durable thanks to the material with which it is made. All this for an affordable price, and with the possibility of expanding it to seven pieces.
And only a brand like BRA, with so many years of experience in the sector, could achieve all this: a great product quality, available to anyone.
YOU MAY BE INTERESTED
If you want to evaluate any other option, we advise you to take a look at the WMF Diadem Plus cookware . It has a similar price (or a little higher) but it is from a premium brand like WMF and it may be worth it.