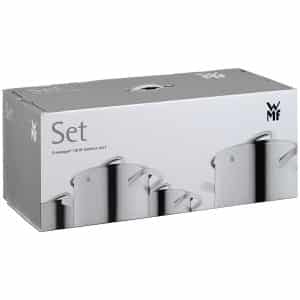 Today we want to talk to you about the WMF Gourmet Plus cookware, from the German manufacturer WMF, which since 1853 has remained a leader in the kitchenware market. This cookware offers you everything you need to prepare your favorite meals without worrying about quality and durability.
We will tell you everything you need to know about the WMF Gourmet Plus cookware , including the material with which it has been manufactured, types of kitchens with which it is compatible, as well as its main characteristics and of course the advantages and disadvantages.
Materials
Let's start by talking about the materials first. As you well know, all WMF brand cookware is made of stainless steel.
In this case it is Cromargan stainless steel, a type of polished stainless steel that not only guarantees that your cookware is highly resistant, but also that it is better for your health.
As we have mentioned on other occasions, Cromargan steel has a composition of 18% chromium and 10% nickel, which generally means that the cookware is more durable.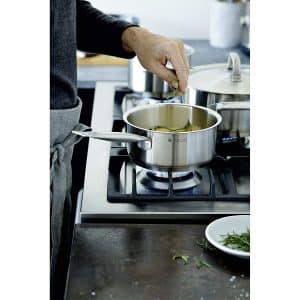 Not only that, it is a type of steel that thanks to this composition can resist temperature changes without problems and prevents the pieces from being scratched.
More importantly, being made of Cromargan steel, the WMF Gourmet Plus cookware does not release any type of substance while you cook your food. What we want to tell you is that the meals you prepare will have the flavor you want to give them, taking care of the health of your loved ones at all times.
It is also important to mention that this type of steel offers high resistance to acids, so regardless of the ingredients you use, the smell and taste of your food will never permeate the battery.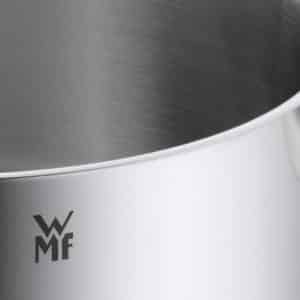 Steel of this quality gives you the certainty that the WMF Gourmet Plus cookware will remain functional and resistant to wear for many years. Even if you are used to cooking at high temperatures, you don't have to worry either as Cromargan steel withstands temperatures of up to 400 ° C.
Compatibility
Whenever you consider buying a cookware, don't forget to keep compatibility in mind. That is, the kitchenware you choose should be able to use it without problems in your home, without having to modify or install anything else. The good thing about WFM cookware is that they offer great compatibility with any kitchen surface, including those that are induction.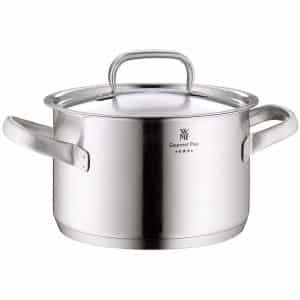 In the case of the WFM Gourmet Plus cookware, you can use it without problems on all types of worktops thanks to the ThansTherm universal base. The advantage of this universal base is that the chrome steel used to encapsulate the aluminum core of which it is composed is magnetic, therefore it is suitable for any kitchen.
Of course, it is also dishwasher-safe, allowing you to do a thorough cleaning. And of course, you can put the pot with its lids in the oven without any problem.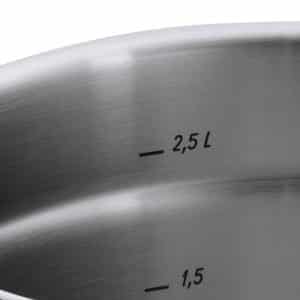 Main features
To begin with, it is a WMF cookware composed of 5 pieces:
A 20 cm saucepan with a 2.5 liter capacity
16 cm saucepan with 1.9 liter capacity
One 20 cm saucepan with 3.7 liter capacity
Another 24 cm saucepan with 5.7 liter capacity
And a saucepan without a lid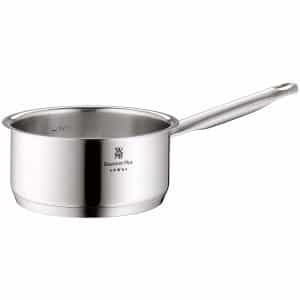 It is a cookware made of Cromargan 18/10 stainless steel that is easy to care for and scratch proof. Also highly resistant and durable.
Pans feature heavy lid and steam vent to prevent rattling and liquids from splashing onto the counter.
Not only that, all the pieces of this cookware have an internal measuring scale so you can use the right amounts of ingredients.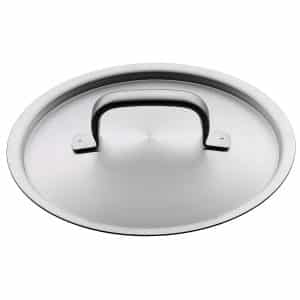 Between you and me
If you enjoy cooking, we definitely recommend the WMF Gourmet Plus cookware. With its five pieces you can cook practically whatever you want since capacity is not a problem.
The quality of its construction is evident just by looking at it and the fact that you can use it in any type of kitchen only makes preparing your food a pleasure. The price is high, but not expensive at all. It will last you a long time and as I said before, the taste and smell of the food you prepare will never be affected by the manufacturing material.
Advantages of the WMF Gourmet Plus cookware
It is a durable and resistant cookware thanks to the fact that it has been manufactured with high quality stainless steel.
It does not scratch or release heavy metals and its design is visually attractive for any type of kitchen.
All pieces have hollow handles that never get hot, even if you tend to cook for long periods of time.
The heavy lid ensures a tight seal and can be quickly set aside whenever needed.
On the other hand, the steam is released in a controlled way through an opening in the lid, which makes the cooking process much more efficient.
The TransTherm Universal Base stores enough heat to turn off the stove much earlier, thereby saving energy.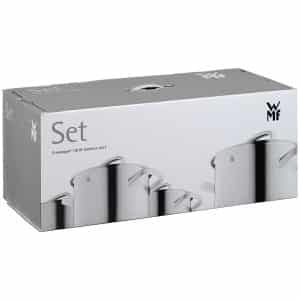 Disadvantages of the WMF Gourmet Plus cookware
It is a cookware that does not have transparent lids, which means that you will have to remove the lid to check the cooking of your food.
The lids are also heavy, which can be a problem for some people with disabilities.
Its price can also be a drawback, especially for those looking for an inexpensive and quality cookware.
Maybe you are interested
If you are interested in other options, you can take a look at the WMF Premium One cookware . It is also a stainless steel battery consisting of 1 saucepan and 3 pots with a lid. It is made of 18/10 Cromargan stainless steel and also features the TransTherm universal base for better heat distribution and compatibility with all types of kitchens.