As we wrote a couple of years ago, the Spanish firm San Ignacio was failing to be lagging behind compared to its more direct rivals Tefal, BRA and Monix. However, in recent years, we have to acknowledge that their policies have changed. They are launching new products, innovative collections and models with groundbreaking prices like these San Ignacio Galaxy.
In this case, the San Ignacio Galaxy range would be in a mid-range with really attractive prices. It cannot compete in resistance with other superior pans like Tefal's Expertise, but if we know how to use them correctly, it can be a perfect purchase.
MATERIALS
San Ignacio's Galaxy pans are made from four layers of forged aluminum. This material is the most used in most pans of all manufacturers. It is light and resistant. Thanks to this, this San Ignacio Galaxy frying pan can be used with one hand without any problem.
The handle is soft to the touch, very resistant and ergonomic, it gives a lot of security when holding them. It is attached to the body of the pan without screws or exterior rivets, a point that we value very positively. Some manufacturers use rivets that protrude into the body of the pan, which encourages the build-up of residue and makes cleaning difficult.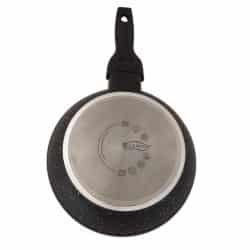 COMPATIBILITY
The compatibility section is one of those things in which we said that San Ignacio was lagging behind, because nowadays more and more cookers are induction. Well, this new San Ignacio Galaxy line was born being 100% compatible with all types of kitchens. It can be used without problem in induction, gas, glass-ceramic or electric cookers.
After use, we were also happy to learn that we can put the pan directly into the dishwasher. Its surface (handles and non-stick) are prepared to withstand the strong pressure of the jets of a dishwasher.
And finally, regarding the use in the oven, we must say that it is NOT compatible. We should not put the San Ignacio Galaxy pan in the oven as its materials are not ready. If you are looking for a pan that is compatible with the oven, we advise you to value other options such as Monix Mineral.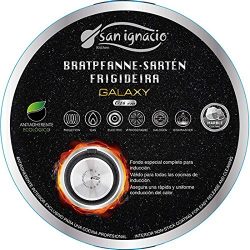 ANTI-ADHERENCE
Non-stick is guaranteed by the Marble + surface. This finish has an appearance that simulates marble or granite. It is really attractive to look at (this frying pan is very aesthetically pleasing). However, we must say that this is purely aesthetic, since of course it is not made of marble.
Over the Marble +, the nonstick would receive a remarkable high. It is quite good in all cases from the first use and we have no complaints about it. Why then is it worth half that of a similar frying pan? For wear resistance.
Almost all pans have outstanding nonstick when we buy them. The differences come after 6 months of use. Some manufacturers protect the non-stick surface with a Titanium surface on top, so it is really difficult to damage the non-stick.
These Marble + do not have titanium and their protection is somewhat weak. However, it will not be a problem if you are careful and do not use metal cutlery or knives directly on the pan. In short: excellent non-stick, but you will have to use wooden or silicone utensils to avoid damaging it.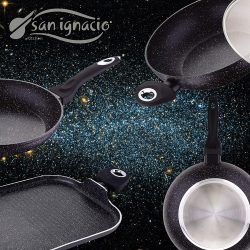 MAIN FEATURES
Eco-friendly non-stick : its Marble + non-stick surface is free of PFOAS so you can cook and eat taking care of your health.
Full Induction Bottom: adapted to the latest technologies, the frying pan is perfectly optimized for induction hobs
Energy saving: the materials with which both the base and the body of the pan are made, allow the temperature to be reached earlier. This means that less energy is required to heat the pan. Likewise, once it is heated, it is able to retain heat so the heat can be turned off a few minutes before finalizing the recipe.
Heat distribution: the diffuser base of the Galaxy de San Ignacio ensures that the temperature is distributed evenly over the entire surface. With this we achieve that the center does not heat up more than the ends, burning the food on one side and leaving it raw on the other.
Compatibility: With induction and with dishwasher. Unfortunately not with ovens.
Ergonomics: thanks to the lightness of its materials and the ergonomic handle, it is very easy to handle by anyone.
BETWEEN YOU AND ME
The Galaxy skillet from San Ignacio is not the best skillet in the world. Its price makes us guess. However, if it can be an outstanding purchase in relation to quality / price if we know what we are buying.
The non-stick pan is excellent, it weighs very little and is very ergonomic. The only downside we see is that if we use metal utensils on the pan we can damage it relatively easily. Therefore, if you are a careful person, for the price that this pan has, you may make a perfect purchase.
GRILL SAN IGNACIO GALAXY
The good thing about taking out a complete collection is that they usually bring Asador-Grill. Specifically, the Asador San Ignacio Galaxy is a highly recommended purchase, since it is truly versatile. With its 35 × 28 cm it is divided into two parts, with and without beteado.
In the first half, you can cook meats to be cooked grill-style. And the other half is perfect for grilled vegetables. It is large enough to prepare the main dish and the side dish all at the same time.
ADVANTAGES OF THE SAN IGNACIO GALAXY
In the first place the low price of the pans, it is difficult to find pans of a first brand with such tight prices.
Ergonomics and low weight are two undoubted advantages for many people.
It is a Spanish firm that manufactures under the strict quality standards of the European Union.
The non-stick is very good.
It is compatible with induction hobs and dishwashers.
DISADVANTAGES OF THE SAN IGNACIO GALAXY
Not oven compatible
The non-stick can easily deteriorate if we hit or scratch it with metal utensils.
YOU MAY BE INTERESTED
If you are evaluating the San Ignacio Galaxy pans, it is because you are looking for something at a reduced price. However, on some occasions, you can find Monix Mineral pans for a similar price ( if they are on sale ) . These pans are a step higher as their non-stick surface is reinforced with titanium and their resistance is outstanding. And Monix is ​​a lifelong Spanish firm, so quality and After-Sales service are assured.