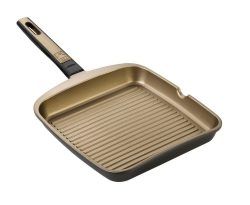 We are facing the Bra Terra, one of the best-selling pans of the Spanish brand BRA. Since its inception, this brand has managed to win over its large audience and its best marketing channel has been word of mouth. It is an excellent brand and its products have finishes worthy of much higher price ranges. In fact, BRA deserves the very good reputation it is building.
With this Terra model, BRA presents us with the latest in efficiency and sustainability. Terra is more than a frying pan, it is an entire collection of kitchenware in which issues such as sustainability, health and low energy consumption have been prioritized.
To do this, they have perfected this range of Terra products to achieve, among other objectives:
Eat healthier, as the BRA Terra pans allow you to cook with very little oil.
Save energy, thanks to the outstanding speed with which they reach the maximum temperature.
Save on water consumption, thanks to its ease of washing (now we will see why).
In this video, the Spanish firm BRA presents the complete Terra family, among which are the pans and the Grill that we are analyzing today.
VIDEO
Colección de menaje TERRA de BRA
Materials
The pans BRA Terra are made of aluminum cast high quality. Aluminum is a resistant material, but its best quality is its lightness. These pans weigh practically nothing and it is perfectly possible to operate them with one hand.
For this, the ergonomic handle that it has incorporated helps enormously . This handle has a large part of its surface with silicone inserts, which facilitates the grip with wet hands or even with traces of oil.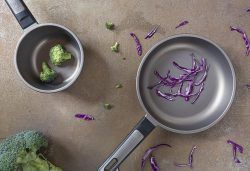 The base of the pan is 5.5mm thick. This facilitates the correct distribution of the temperature over the entire surface of the pan. When a frying pan is the size of the fire, a homogeneous distribution is assumed; But when it is larger than the surface of the fires, you have to trust the quality of the diffuser bottom.
For this, these Terra pans have the system that BRA calls Save Energy System, designed to distribute the heat evenly throughout the pan and maintain a stable temperature.
On the other hand, their construction materials make them compatible with all types of kitchens. They work perfectly in induction, glass-ceramic, gas and electric cookers.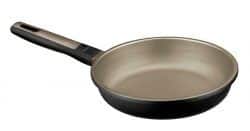 Non-stick
For this purpose, BRA has entrusted the reputed firm Teflon. Thus, in this Terra model, the Spanish firm has chosen the Teflon Select. And it has been a decisive factor in the construction of these pans as we remember that the alma mater of these Terra pans is sustainability. They need a non-stick coating that achieves two things: cook with little oil and guarantee cleaning with very little water.
For the first, it is guaranteed that this Teflon Select allows you to prepare any recipe with the minimum amount of oil, as long as the non-stick coating is in good condition.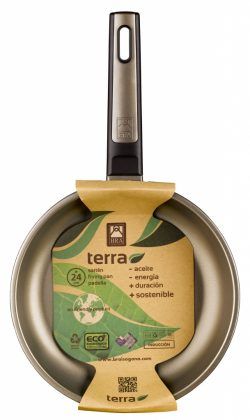 Regarding cleaning, we must say that these pans are fully compatible with the dishwasher. However, it is preferable to clean them under the tap when we finish cooking and cool down. This is extremely easy for one simple reason: They have Teflon Select non-stick inside and out!
With this they ensure that if something splashes into the pan, it never sticks. After cooking, with a small jet of water and a cloth, the pans will be impeccable and ready for the next use.
The Teflon Select of these Tefal BRA pans has 3 layers and 35 microns. It has a great non-stick and an acceptable resistance. The main drawback of this pan is that you must use suitable cooking utensils. Otherwise its non-stick coating can be easily damaged, and that completely spoils the pans.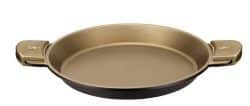 Health
In this case, the Teflon has been removed from the materials that were used to adhere it to the pan that contained PFOA. Therefore, it is completely safe to cook with BRA Terra pans with the certainty that no toxic substances will be transferred to your food. As we said before, as long as the non-stick surface does not show cracks or damage. If so, we will have to change the pans for two reasons:
Food will stick to us
The layers that are under the Teflon or the aluminum of the pan can pass into our food, with the health risks that it can pose.
The Terra family is very extensive, it includes pans, Grill, paella pan, saucepans, pots … Let's see it!
BRA TERRA pans
Pots BRA Terra
With the same technical characteristics as the pans, we find the BRA Terra Pots and Pans. These are pots with advantages over stainless steel cookware. The BRA Terra pans have a non-stick surface, which allows us to cook as if it were a frying pan and finish as a normal pot.
They are resistant and especially light pots. You just have to be careful not to use metal utensils so as not to damage the non-stick surface. If you have that precaution, you will see that it is a joy to sauté a vegetable, poach an onion, add the meat, water and finish the recipe all in the same pot.
Pots BRA Terra
BRA Terra saucepans
Grill BRA Terra
This Grill Terra has the same construction and non-stick characteristics as the pans. Its peculiarities as a Grill are the following:
It has dimensions of 28 x 28 cm.
Its surface is grated, to facilitate the cooking of pieces of meat or fish.
It has a practical notch on the left side to support the tweezers without slipping.
Of course, cooking a good piece of meat, fish or vegetables on the Grill is something totally different from the frying pan.
Paella pan BRA Terra
This Terra Paellera has the same characteristics as the previous ones, differentiating itself mainly in:
Its dimensions are 36 centimeters in diameter, large and perfect for large quantities.
It incorporates some silicone handles to be able to hold it without burning yourself, although they are removable and this can be dangerous if you do not leave them on and someone uses the paella pan.
Special features
To try to differentiate itself from its competition, Bra Terra pans include several technologies to try to make sustainable pans:
Save Energy System diffuser base : as we said at the beginning, this diffuser base ensures rapid heating of the pan and optimum temperature diffusion. Save time and energy.
A lightweight construction that allows to reduce the weight of the pan to the maximum without reducing resistance.
Ergonomic handle : perfectly studied and with silicone finishes, it allows you to manipulate the Terra frying pan with just one hand with it wet or dirty with oil. Of course, it doesn't convey the temperature of the pan at all.
Full Induction is an energy saving system, perfected for induction hobs so that the temperature is transmitted even faster.
Two-layer non-stick : With this, by applying Teflon Select to both the inside and outside of the pan, they ensure that nothing sticks anywhere on the surface of the pan. Thus, if something hits us or if the egg falls out, it will be easily cleaned under a small jet of water and a napkin.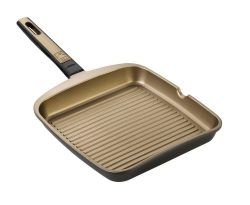 Between you and me
It has been many years since BRA entered the kitchenware industry like an elephant in a china shop. We must recognize that it has positioned itself as one of the brands with the best quality / price. The good reputation you have, you deserve it.
In addition to its good technical qualities, we must say that its design is really beautiful. The inside of these pans and the silicone are golden in color, which makes them different from most pans. They attract attention for good.
These pans are usually on the lists of best-selling pans every month , and when it is one of the most chosen options by families, it will be for a reason.
ADVANTAGES OF THE BRA TERRA PAN
They are very economical and therefore have an excellent quality / price ratio.
Its design is very careful.
They can cook with very little oil and are ridiculously easy to clean.
DISADVANTAGES OF BRA TERRA PANS
In very large diameters, greater than 34 centimeters in diameter, their ability to distribute heat decreases.
Its non-stick coating can be damaged very easily if you don't take good care of it.
Maybe you are interested
If what you are looking for are natural pans, the maximum exponent is the new illa Olivilla. These are pans made in Italy with a non-stick surface based on olive oil. They do not have PFOAS or heavy metals. They are totally natural, non-stick and ecological.
On the other hand, if what you want are more resistant pans, perhaps you should consider some Titanium pans . They are not as expensive as years ago and already compete almost in price. You can read the analysis we made of the Tefal Expertise pans , they are also made of aluminum but reinforced with Titanium and their diffuser bottom is significantly better.