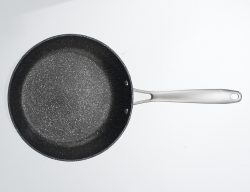 Now yes! After a long wait and many consultations, we can finally analyze the new San Ignacio Vita that have caused such a stir. San Ignacio is one of those lifelong firms, experts in household items and that each collection they launch causes a lot of expectation. They are, together with the San Ignacio Professional Chef frying pan, the best sellers.
This Vita de San Ignacio collection was especially awaited, as the firm spent a long time working on it. For its development and launch, it had the advice and support of the prestigious Chefs Pepe Rodríguez, the Michelin Star jury of Masterchef; and Jorge Brazalez, the winner of this contest in its fifth edition.
Given their declaration of intent, their development phase and the good intentions of San Ignacio with this Vita model, let's see if they are really worth it. These are not cheap pans, so let's see if it is money well spent.
As always, we leave you with a short presentation video.
VITA collection by San Ignacio with Pepe Rodriguez and Jorge Brazalez
MATERIALS
For the construction of these Vita pans, San Ignacio has opted for the lightest material he could choose: aluminum. Thus, the body of these pans is made of high-strength forged aluminum, which is characterized by its extreme lightness. These pans weigh very little, to the point that anyone can easily handle them with one hand.
The handle, in silver and antipyretic color , is strongly attached to the body by means of two rivets. This gives it a lot of resistance and shows us that San Ignacio devised these Vita pans to last for many years.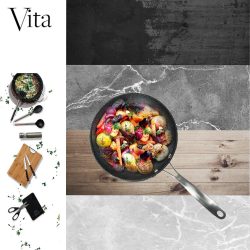 When it comes to compatibility, we couldn't expect less from the latest generation pans. We can use them with all types of kitchens. These Vita de San Ignacio pans are compatible with induction, glass-ceramic, gas or electric cookers . In addition, they go one step further.
They have focused a large part of their efforts on developing an Ultra Turbo base so that on an induction hob it captures the temperature much faster than a conventional frying pan. This has the advantage that we will need less consumption to generate the same temperature. In this way, we will save on our electricity bill.
These pans can also be put into the dishwasher after use. Although as we will see later, it will not be necessary. The non-stick coating does its job and will make us forget about the dishwasher. We see it right away.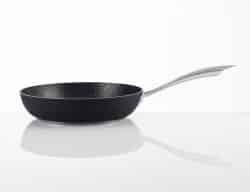 ANTI-ADHERENCE
How could it be otherwise, the non-stick surface used for this Vita de San Ignacio model is also state- of-the-art. And it does not disappoint.
The Spanish firm has hired one of the best non-stick surface manufacturers: WhitFord. This manufacturer, together with DuPont, is one of the largest non-stick developers on the market. And of course, within its collection it has low, medium and high ranges.
San Ignacio has chosen for these Vita pans the Top model in quality, Top in resistance and Top in ZERO toxicity. It is the Eterna Titanium model. This Eterna finish was characterized by its excellent non-stickness, being possible to cook with just two drops of oils. The problem I had is that if metal utensils were used on the surface or not taken enough care, it could deteriorate.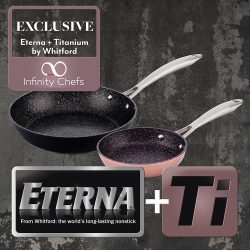 The WitFord firm has solved it in the most forceful (not economical) way possible. It has coated the entire Eterna Titanium surface. This material protects the surface layer so that, while preserving the outstanding non-stick, nothing can damage it. Now we can say that the non-stick surface of the San Ignacio Vita is eternal.
Of course, this non-stick surface is totally safe, as its construction is 100% free of PFOAS.
And an added advantage of this is that when it comes to washing these pans it is really easy. As nothing sticks, it will be enough to put the pan under water for a couple of seconds and pass a little kitchen paper over it. We can forget about scratching and rubbing.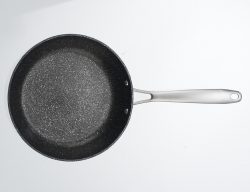 MAIN FEATURES
Made of forged aluminum body, which gives them an extraordinary lightness.
They have a 10-year warranty.
Total compatibility with all types of cookers: vitroceramics, induction, gas and electric.
WhitFord Eterna non-stick surface reinforced with Titanium.
Ultra Turbo base for faster temperature acquisition.
Stain strongly riveted to the body, ensuring optimal durability.
The quality of the pan is endorsed by the Michelin Star Pepe Rodríguez.
San Ignacio, through this Vita collection, collaborates by donating part of the profits from these pans to the fight against breast cancer through the Europa Donna organization.
BETWEEN YOU AND ME
We are looking at pans of outstanding quality. After a long time of development and with the help of the best Chefs, we already counted on San Ignacio to surprise us. And he did.
The quality of these San Ignacio Vita pans is beyond doubt. As for the price, obviously all these technologies have a cost. It is somewhat taller than a conventional frying pan that you can buy in any department store. The question is whether it is worth the outlay.
We believe that if you think about buying some pans for a rental apartment where you will be a couple of months, and then you will leave them there, it may not be worth it for the price. However, if you think about buying a set of pans that will last you for many years, and you are going to give them a lot of time in the kitchen, the investment is guaranteed.
ADVANTAGES OF THE SAN IGNACIO VITA PAN
The titanium-reinforced non-stick surface is outstanding in non-stick and durability.
These are healthy pans, since they are 100% free of PFOAS.
The weight is extraordinarily low, facilitating its handling.
The handle attached with two rivets ensures that it will never move or "dance".
Chef Pepe Rodríguez himself has endorsed these pans, putting his image behind this model. This gives us peace of mind because no one would risk their image on a bad product.
DISADVANTAGES OF THE SAN IGNACIO VITA
The price is higher than a normal frying pan, although it gives us the option of opting for a really complete set.
YOU MAY BE INTERESTED
If you are looking for a cheaper option you can opt for the San Ignacio Pixel PRO Cooper. They are similar in construction and design. The main difference is that the Pixel PRO do not have any coating that protects the non-stick surface, as the Vita pans do.
In this way, the San Ignacio Pixel PRO Cooper are cheaper. However, extreme care must be taken to avoid damaging them, unlike these Vita pans which are almost indestructible.