Pans
San Ignacio Pixel PRO Cooper

When we buy pans, we always prefer to buy something we already know than venture into new brands. And that is why San Ignacio has so much acceptance and success in Spain. It is the perfect example of how a company with very little investment in advertising can remain among the best sellers. And that's why these San Ignacio Pixel PRO Cooper are destined to become a best seller.
The firm, as we said, is waking up from a few years of lethargy in which it hardly launched any great news. However, in recent times it is launching very great novelties, of great quality and in collaboration with other successful manufacturers.
These Pixel PRO Cooper pans from San Ignacio, for example, have been developed in collaboration with another of the best manufacturers, such as Bergner. In case someone does not know, the Bergner Group is one of the largest European manufacturers. A house founded 19 years ago in Vienna (Austria). What has come out of that collaboration? These Pixel Pro Cooper pans! Are they worth it? We tell you:
MATERIALS
For the development of these frying pans, San Ignacio has opted for one of the materials most used by manufacturers: aluminum. For this Pixel PRO Cooper frying pan they have opted for pressed aluminum to give them greater consistency and hardness. However, they still retain their lightness.
And this lightness is one of the greatest virtues of aluminum. These pans are very light and easy to handle with one hand. Any stainless steel or iron skillet will weigh more than these San Ignacio Pixel PRO Cooper pans.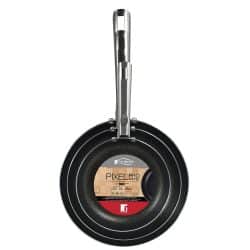 It has a high quality stainless steel finished tube handle with a practical strainer. We say that the mango is beautiful because it really is. However, aesthetics may have come before practicality, as stainless steel is not our preferred material for handles.
From our point of view, if your hands are wet or stained with oil, it can slip. This is more difficult to happen with Bakelite or rubber handles. This handle is attached to the pan by two resistant rivets.
It may not be a problem if you are careful to dry your hands, or if you are not a big hand. Of course, the San Ignacio Pixel PRO Cooper frying pan has an impeccable appearance and aesthetics. The copper color of the pans together with the stainless steel handle will attract the attention of any guest.
COMPATIBILITY
The point of compatibility has been taken care of to the extreme, and for that reason, these San Ignacio Pixel PRO Cooper are compatible with everything. These pans can be used on gas, glass-ceramic, electric or induction cookers . And you won't need special ferritic discs or adapters or anything like that. They will always work and on any surface.

As for their use in the dishwasher, they are also prepared. Neither the powerful jets nor the high temperatures that the dishwasher reaches will damage the pan or its non-stick surface.
And finally, its use in ovens. This is the point where most pans weaken the most. And San Ignacio doesn't have many compatible pans. However, these Pixel PRO Cooper pans can finish your recipe with a bake. The firm warns, yes, that "with due precautions."
NON-ADHERENT
Leaving aside aesthetics and compatibility, non-stick is one of the sections that most influences when choosing one pan or another. These Pixel PRO Cooper pans have outstanding non-stickiness, but you have to be careful.
Its non-stick surface is due to a Marble coating that guarantees that from the first moment it is totally non-stick and with excellent results. It is a marble-type surface speckled in gold and silver. It will not be necessary to do any curing or preparation process. As soon as you take it out of the box, you can cook with this skillet.
However, this pan is not coated with Titanium and therefore can be damaged if we mistreat them. If we are careful to use wooden or silicone utensils, the San Ignacio Pixel PRO Cooper will last many years in perfect condition. Now, if we cut that steak on the skillet, or rub the scramble with a stainless steel slotted spoon, we'll probably end up throwing it away sooner rather than later.
SPECIAL FEATURES
Total compatibility : one of the great strengths of these pans is compatibility with all types of kitchens. Induction, dishwasher, oven … This frying pan can do it all.
High conductivity: The pressed aluminum used in this pan has high temperature conductivity. With this we get the heat to be distributed evenly over the entire surface of the pan.
Energy efficiency: the rapid acquisition of temperature will ensure that the kitchen is on for less time. It will heat up earlier and retain the heat more, so we can turn off the fire a few minutes earlier. With this, we will save a few kW on our electricity bill.
Aesthetics: it is undoubtedly another of the strengths. These Pixel PRO Cooper pans from San Ignacio are gorgeous. Its copper-colored finish together with its stainless steel handle gives them a unique appearance.
Special fast cooking: The combination of materials allows them to reach high temperatures very quickly. For this reason, it is especially recommended for recipes that require high temperature (griddle, fried and sautéed).
BETWEEN YOU AND ME
There is no doubt that San Ignacio has gotten on his feet and is launching very interesting news on the market. These Pixel PRO Cooper pans are one of the most eye-catching. Its aesthetics are really successful. And the fact that it has the seal of collaboration with the Austrian Bergner, is another guarantee.
If San Ignacio has always been among the best-selling pans in our country, it is for something. Word of mouth and good results support the quality and track record of this historic manufacturer of frying pans. And with this new model, they give a renewed air to its already proven quality.
ADVANTAGES OF SAN IGNACIO PIXEL PRO COOPER
They are endorsed by the prestigious Austrian firm Bergner.
Quality non-stick surface.
High energy efficiency.
Aesthetics and VERY cared finishes.
They are light pans and easy to use with one hand.
DISADVANTAGES OF THE SAN IGNACIO PIXEL PRO COOPER
The stainless steel handle can slip if your hands are dirty with oil.
The non-stick surface can be damaged if we use metal utensils.
YOU MAY BE INTERESTED
If you are looking at these pans, it is probably because in addition to some useful pans you want them to be beautiful. For this reason, other pans with a very careful aesthetic are the Monix Cooper. They are high-end pans, from the Spanish firm Monix, which has been doing so well in recent years. The Monix Cooper are one of the best-selling pans today and we must admit that they deserve it. It is a perfect product.
And if, on the other hand, if you are looking for a frying pan with a known non-stick, we recommend one with extraordinary quality / price: the BRA Premiere have the Teflon Classic and for its price, it has very few rivals.