Tips
Magimix Cook Expert: "hire" a great cook at home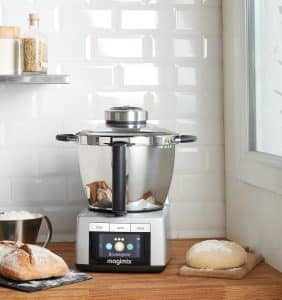 MAGIMIX COOK EXPERT
Find out why a kitchen machine is worth owning. With the appearance in 2018 of the new great kitchen robot, the Magimix Cook Expert, it is very easy to use it because it is very intuitive and has great capacity.
In the kitchen we have various allies : from the various manual utensils for peeling, cutting, shredding … to the blender, the mincer or, one step further, the food processor. When you make the leap to a kitchen robot, what you do is invest in a machine that does all of the above and, in addition, cooks.
The Cook Expert from the French brand Magimix has been recognized as the best kitchen robot 2018. Launched on the market this year, it has revolutionized kitchen machines with its intuitive design and ease of use.
MAGIMIX COOK EXPERT PRICE
See here the offer of the Magimix Cook Expert with a very interesting gift.
What does a kitchen robot give you more?
A kitchen robot is, above all, "a cooking teacher" that will allow you to learn hundreds of recipes and will make them come out perfect. Then you will personalize them with your ideas …
It is, secondly, "the one who cooks at home": you put the ingredients indicated in a recipe in the vat and let the robot cook, while you do other things. It will let you know when the recipe is ready, and it will never burn you.
It is the necessary utensil to make more sophisticated recipes, or when you want to cook for guests or parties. With it you can make several dishes at the same time more quickly, since it takes care of all the necessary steps.
It is an ally of healthy cooking. With a food processor you can make vegetable milk and patés at home, bread, steam with a specific utensil or use little or no oil.
You enter a "cooking club" of expert and amateur chefs who share their recipes with a specific kitchen robot.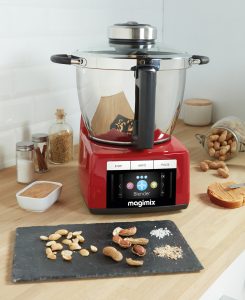 How is the Magimix Cook Expert
The Magimix Cook Expert is a robust kitchen robot with a modern design in 3 colors: red, black or chrome. It has a powerful 1700 Watt motor. A large family-thermo vat (6/8 servings, depending on the recipe) made of stainless steel with pouring spout, handle and fill level markings.
Its tank is made up of 3 tanks in 1, made of resistant BPA-free plastic, with its corresponding blades and a capacity of 1.2 liters to 3.6 liters, which allow the preparations to be linked: chopping, grating, slicing, etc. Large mouth : for fruits and vegetables that are round or in large pieces. Small mouth : for grating and slicing, for small or long and thin fruits and vegetables. It has a glass top with 360º vision and 100% hermetic.
It is a very complete machine that you can learn to use quickly. It works with only 3 buttons and has 12 programs to make the most common preparations. A screen allows you to select the options and explains the step by step:
Cooking: Blended Soup, Creamy Soup, Slow Cooker, Steam
Blender: Sorbet, Crushed Ice, Smoothie
Bakery: Dough / Cake, Whip whites, Bread / Brioche
Robot
Automatic rinsing
The Expert manual program allows all parameters (time, speed and temperature) to be adjusted as required.
It uses an induction disk for cooking, which allows good temperature control from 30ºC to 140ºC. More automatic standby between 2 and 8 minutes and switch 0 W, to save energy. It is a class A + appliance.
All its components are of professional quality, made in France, and its engine has a 30-year guarantee.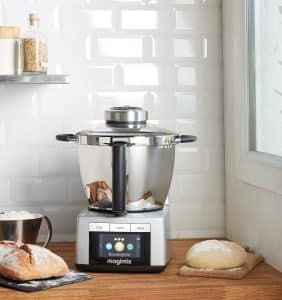 What does the Magimix Cook Expert include
Egg beater to whip whites (meringues, macarons, etc.) and cream.
Universal metal blade for simmering, crushing, kneading, crushing ice, mixing …
Stainless steel discs for grating or slicing in 2mm or 4mm.
Metal blade for chopping, grinding and blending of stainless steel (Thiers) for cutting and mincing.
Steam cooking basket.
Half silicone spatula to mix the food, the other metallic, to scrape the bottom of the tank if there is something stuck.
Kitchen scale adapted to weigh the vats, from 2 g to 10 kg, being able to weigh to the gram.
Book of more than 300 recipes in Spanish, free app for mobile and tablet.
MAGIMIX COOK EXPERT PRICE
See here the offer of the Magimix Cook Expert with a very interesting gift.
It has a wide range of accessories : XXL steam basket, juicer, accessory for juices, smoothies and vegetable milks, cubes and sticks for fruit and vegetables, XL kneading blade, creative cuisine (julienne cuts, wavy cuts, tagliatelle), 6 mm slicing disc , 6 mm grating disc, wavy disc for wavy cuts, 2 thin or wide tagliatelle discs, julienne disc, parmesan and chocolate grating disc, the extra press accessory for making all kinds of shakes. Plus the innovations that will arrive in the coming years.
Maybe you are interested
If you value the purchase of this Kitchen Robot it is because you are looking for something very high-end. In this segment, we can find its eternal rival, the Taurus MyCook. Taurus and Magimix are two firms that manufacture a product of outstanding quality. Which is better? It would be necessary to assess the needs of each client, but with either of the two, they would be fully covered for many years.