Pans
San Ignacio Professional Chef Copper Plus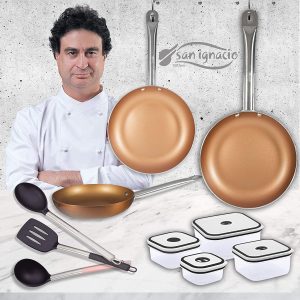 If we talk about a traditional Spanish kitchen brand, San Ignacio products come to mind. The firm, a pioneer for decades, successfully develops from kitchenware, kitchenware or pans such as this San Ignacio Copper Professional Chef Copper Plus frying pan model that we are analyzing today. Do you want to see why these San Ignacio Professional Chef pans are a best seller?
Despite the quality and its long tradition, the Spanish firm is sinning in something, and that is that it is not " digitizing " at the rate that society demands. Therefore, it is not easy to find their products online, or good reviews or opinions. Their website is somewhat neglected and there is not much information.
Lately they are putting the batteries, releasing new products such as the latest San Ignacio Vita. But today we focus on his best seller, which are these Professional Chef. What is the reason for its success? We see it!
Make no mistake. That they do not invest huge amounts of money in Marketing 3.0, does not make the hands of their workers make worse pans. The quality of the product is still intact, and here we are to detail the characteristics of these Professional Chef from San Ignacio .
They are pans that come in various sizes, from 20 to 30 centimeters in diameter and from 4.5 to 6 cm high. This is very positive to be able to choose the perfect measure.
This San Ignacio copper pan model is the so-called Professional Chef COOPER Plus Limited Edition. It is the most exclusive. Of course, the finish of the San Ignacio Professional Chef in copper and platinum finishes, they are sold only in a Set of 3 pans, it is not possible for the moment to buy them individually.
MATERIALS
Regarding the materials, the San Ignacio Professional Chef copper pans use what is usual in the pans of their range: aluminum. Aluminum is a cheaper material than stainless steel, although not as strong. However, it is much lighter and makes it possible to make super light pans that can be perfectly operated with one hand.
If you give top priority to resistance, even sacrificing weight, stainless steel pans or iron pans will be the best option. However, we believe that aluminum pans represent the best strength-to-weight ratio.
The handle of the Professional Chef de San Ignacio pans is now made of stainless steel. Likewise, it has an antipyretic treatment that prevents the temperature of the pan from transferring to it. This handle is somewhat longer than usual, which facilitates handling and pouring. However, it can be harmful when we cook various things on the glass-ceramic and the handles get 'clogged'.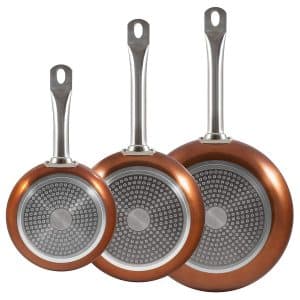 COMPATIBILITY
As we know, aluminum does not go well with induction cookers, but these San Ignacio do. They have found a solution by introducing a stainless steel disc inside the base, achieving complete compatibility with all kitchens. In this way, it will work without problems in induction cookers , vitroceramics, gas or electric cookers.
However, and it can be inconvenient, washing these pans in the dishwasher is not recommended . Continued use of the dishwasher can lead to deterioration of the non-stick surface. Therefore, we will put a NO in our comparison tables in the Dishwasher Safe section .
Regarding the oven, it is not possible to introduce them in it either, as they are not compatible. They are obviously not going to explode, but they may deteriorate to the point where the non-stick surface is damaged or the pan warped.
If what you are looking for are oven and dishwasher compatible pans , we advise you to value other options. Here you can find the complete analyzes of the Tefal Expertise pans , or if you want to continue with the San Ignacio brand, the San Ignacio MASTERPRO, although the first ones are of a higher quality, since they are reinforced with Titanium.
ANTI-ADHERENCE
In this sense, as we have seen, except for iron pans or pure stainless steel pans, they all need a non-stick surface.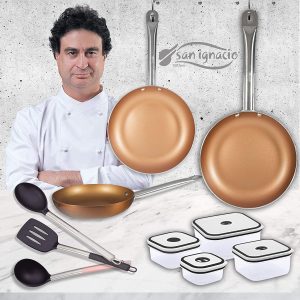 To do this, they can develop their own surface, they can buy it from other manufacturers (usually Teflon) or they can say nothing about it. This last option is the one that we like the least, as it does not provide any information that allows us to see who develops the non-stick surface, what compounds it uses or what degree of resistance it has.
These San Ignacio Professional Chef pans do not provide that information. They only inform us that they have an ecological non-stick surface . We can assure, yes, that it is free of PFOAS. As we saw on the blog, a few years ago its use was banned from all pans.
Despite not having official information from the company ( error ), according to day-to-day tests, this non-stick surface complies with a very good grade. It has good and bad things, let's see:
ADVANTAGES OF THE SAN IGNACIO NON-STICK SURFACE
It fulfills its function with great reliability, its non-stick is very good from the beginning.
The lack of firmness of this surface has allowed to implement it in a really inexpensive frying pan.
It is free of PFOAS.
DISADVANTAGES OF THE SAN IGNACIO NON-ADHERENT SURFACE
It is more delicate than the others, we must use wooden or silicone utensils to damage it.
It can deteriorate relatively quickly if we use metal utensils or knives, which would require changing pans.
TECHNOLOGIES OF THE SAINT IGNACIO COBRE PROFESSIONAL CHEF SKILLET
We can say little in this regard. We are not (at the moment) in front of some frying pans of the stature of Tefal that invests a millionaire each year in R&D to develop new technologies. San Ignacio is satisfied with a few more day-to-day products for not very intensive users. Although it is true that it seems that the brand is changing to launch increasingly advanced products on the market. We will follow this firm very closely.
The best virtue of these pans in terms of applied technology, we could highlight the weight reduction achieved by San Ignacio. The use of pressed aluminum for its construction has resulted in really light and ergonomic frying pans . It is possible to handle them with one hand without any difficulty by very old or especially weak people.
BETWEEN YOU AND ME
We are in front of some San Ignacio pans of medium range. They are very inexpensive for being from the veteran Spanish firm and give excellent initial results. If you are careful with the pans and you use wooden or silicone kitchen utensils, they can be perfect pans.
However, these San Ignacio Professional Chef are not highly recommended if you don't like to wash after cooking. They cannot be put in the dishwasher. They are also not compatible with ovens. On the other hand, you should avoid using metal kitchen utensils so as not to damage their non-stick surface, which does not stand out for its resistance.
Do we recommend them then? Yes if you are a careful person and a not very intensive cook. However, if they do not convince you, below we offer you our alternatives in the same price range.
ADVANTAGES OF THE SAINT IGNACIO COBRE PROFESSIONAL CHEF FRYING PAN
They are very inexpensive pans, from a firm with a very long tradition.
Their aluminum construction makes them extraordinarily light.
Aluminum is a very good conductor of heat, they have good energy efficiency.
Its non-stick surface is free of PFOAS
DISADVANTAGES OF THE SAN IGNACIO COPPER PROFESSIONAL CHEF FRYING PAN
The resistance of the non-stick surface is not very high, you have to be very careful.
It is not advisable to wash the pans in the dishwasher.
It is also not advisable to put the pan in the oven.
YOU MAY BE INTERESTED
As always, we offer you a couple of alternatives that you may be interested in evaluating.
If you don't want to spend more money, for a similar price you could find the Monix Mineral pans , their non-stick is of a superior quality and they are also made of aluminum. From our point of view, it is a more interesting purchase if you find them on sale.
And if you have no problem increasing the purchase budget ( slightly ), we would highly recommend some pans such as the Tefal Expertise coated in Titanium. They are not much more expensive and are some of the best value for money pans you can buy. In addition, they are fully compatible with induction, oven and dishwasher.